News & Politics
Mass shooting in Buffalo and Eric Adams visited Albany
Rounding up the week's political news.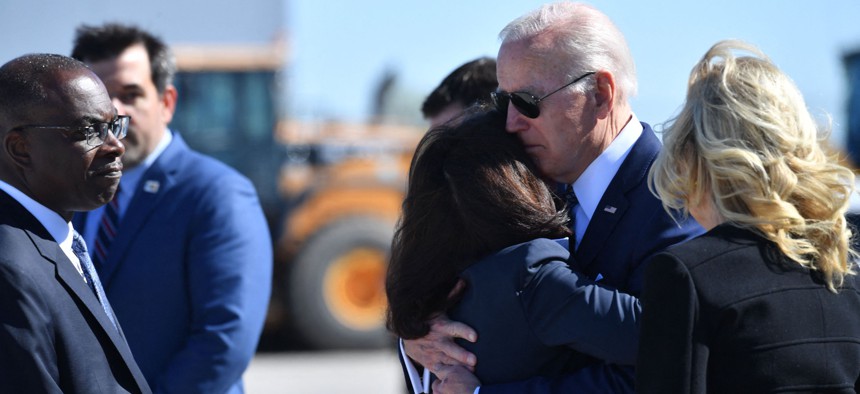 It seems everyone and their mother is interested in running for Congress with a fresh chance to petition and new districts in which to run – especially in the 10th Congressional District in Manhattan and Brooklyn. Before a judge even finalized the lines, politicians were lining up to compete for that open seat. Former New York City Mayor Bill de Blasio – who has needed a job since the end of his tenure – announced he would run for the seat. Assembly Member Yuh-Line Niou, who had planned to run for state Senate against incumbent Brian Kavanagh, may announce she's running for Congress as soon as Saturday afternoon. State Sen. Brad Hoylman, Assembly Member Robert Carroll and New York City Council Member Carlina Rivera may also have interest in the seat. It's shaping up to be quite the primary. For the rest of this week's news, keep reading.
Deadly mass shooting in Buffalo
A racist mass shooting at a Tops supermarket in Buffalo left 10 Black New Yorkers dead and three other people injured after a white man allegedly drove hours from his Southern Tier home in order to target the majority-Black community. He allegedly livestreamed the shooting online after planning the attack for months. Posts online apparently made by the alleged shooter included a lengthy manifesto that references the racist "great replacement" conspiracy theory, which posits that people of color are systematically replacing white people and displacing their electoral influence. The alleged shooter has been indicted on first-degree murder charges, although federal investigators are also looking into bringing hate crime and domestic terrorism charges against him as well.
Biden, Hochul comfort victims
Immediately, Democratic lawmakers and other officials called the Buffalo shooting a racist act of domestic terrosism that targeted Black New Yorkers. Gov. Kathy Hochul called out social media platforms in the immediate aftermath of the shooting for allowing the video of that attack to be streamed online and for permitting the proliferation of white supremacy online. President Joe Biden visited Buffalo soon after the shooting as well, where he similarly spoke out against white supremacist extremism as calls for stricter federal gun laws were rekindled. Hochul announced several bills and executive orders meant to combat both online extremism and to tighten the state's already strict gun control laws. She required through executive order the state police to file for extreme risk protection orders under the state's Red Flag Law in instances where it could be needed after the law enforcement failed to invoke the law with the Buffalo shooter last year. Hochul also set up a new unit focused on domestic terrorism within the state Division of Homeland Security and Emergency Services in order to track the spread of white supremacist ideologies online. State Attorney General Letitia James also launched an investigation into various social media platforms to look into how they have facilitated the spread of racist violent extremism.
Adams goes to Albany
New York City Mayor Eric Adams made a rare appearance in Albany to push for his priorities as state lawmakers wrap up for the year. Some unfortunate timing meant that he missed both legislative leaders and the governor when he visited – all three were in Buffalo for the president's visit – but it didn't damper his enthusiasm or confidence. Adams focused on a handful of issues that topped his agenda – an extension of mayoral control of schools, home rule on speed cameras and renewing or replacing the 421-a tax break for developers to build affordable housing. Things seemed to be looking good for Adams when it came to a mayoral control extension as a key lawmaker in those debates said the mayor will likely get what he wants, albeit with some tweaks. And soon after his visit, Adams and state lawmakers said they reached a deal on speed cameras that will allow the city to keep them on 24/7 while also extending and expanding the existing program. The fate of the developer tax break, however, is far more uncertain.
Adult Survivors Act set to pass Assembly
After it once again unanimously passed the state Senate, a spokesperson for Assembly Speaker Carl Heastie indicated that the lower chamber had the votes to pass the Adult Survivors Act. The bill would create a lookback window for people who had been victims of sexual abuse as adults to bring civil suits against their alleged abusers. Despite its broad bipartisan support, it stalled in the Assembly last year. But now that it appears poised to pass the state Legislature as a whole, Hochul said she would sign the bill once it hits her desk.