Politics
Sources: Scott Stringer plans to run for state Senate
The former New York City comptroller could make a political comeback in an open West Side seat.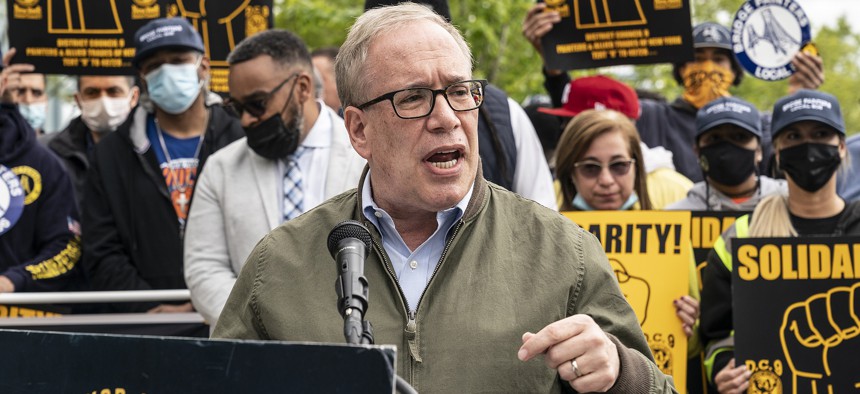 Former New York City Comptroller Scott Stringer is planning to run in an open state Senate seat on the West Side of Manhattan, according to a source familiar with his plans and confirmed by multiple other sources.
Stringer was term limited out of office at the end of 2021, and the state Senate run would be a political comeback for the man who finished fifth in the 2021 Democratic primary for mayor, after his momentum was stalled following two, decades-old accusations of sexual harassment. Stringer maintained he did nothing wrong, and many of his allies, from U.S. Senate Majority Leader Chuck Schumer to Rep. Alexandria Ocasio-Cortez, have seemed eager to show their support and get him back into public service. He did not respond to a request for comment on his electoral plans.
Stringer has deep ties on the Upper West Side, where he lived for decades, and represented in the Assembly for 13 years. Stringer has since moved to the Financial District, but in a redistricting year, candidates do not have to live within the bounds of the district they would like to represent.
The newly drafted state Senate District 47 stretches down the West Side of Manhattan from the Upper West Side down to the Meatpacking District. No current senator lives within its borders, creating an open seat. However, the district lines are still a draft, after the court-appointed special master published those lines on Monday. The final lines are due Friday, and while most experts don't expect major changes, some are wary.
"It's very unlikely that anything is going to happen to blow up the maps," one experienced political consultant told City & State, "with the caveat that everybody has been wrong at every step in the process."
Winning a state Senate seat could put Stringer in prime position to one day succeed Rep. Jerry Nadler in Congress – a role that many have thought he was preparing for since Nadler took office in the early '90s. Stringer has been a close ally of Nadler's and worked for him starting in the '80s. The draft maps put Nadler and Rep. Carolyn Maloney's homes in the 12th District, and both said they plan to run against each other in the Aug. 23 primary. Whether Nadler or Maloney wins, the successful representative would be expected to retire within a term or two, given that they're both in their 70s. That would create an open seat and possibly another opportunity for the 62-year-old Stringer.
One other candidate planning to run for the West Side Senate seat is Maria Danzilo, who unsuccessfully ran on an anti-crime "safe streets" platform for the Upper West Side City Council seat against Council Member Gale Brewer in 2021. Brewer denied having any interest in the seat to City & State. "I like my job as is, thank you very much," she said. "I don't know why anybody would want to go to Albany, no thank you."
Stringer has previously been considered as a contender for the open 10th Congressional District seat, spanning lower Manhattan and western Brooklyn, but running for state Senate would take him out of contention. Other potential candidates for that seat include former New York City Mayor Bill de Blasio, state Sen. Brad Hoylman, Assembly Member Yuh-Line Niou and Dan Goldman, the former lead counsel on House Democrats' first impeachment of then-President Donald Trump.