Campaigns & Elections
Endorsements in the 2022 Democratic primary for lieutenant governor
Here's who's supporting who in what has become a very interesting race.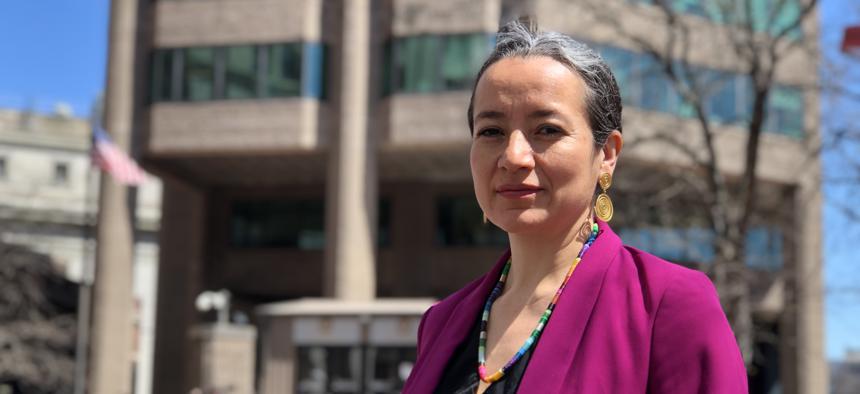 The race for lieutenant governor has unexpectedly become the one to watch after former Lt. Gov. Brian Benjamin was arrested under federal corruption charges and resigned. He maintains his innocence, but incumbent Gov. Kathy Hochul convinced the state Legislature to change the law to allow Benjamin's removal from the ballot. She swiftly replaced him with Rep. Antonio Delgado.
The Hudson Valley Congress member is now the mainstream pick for LG. And Ana María Archila and Diana Reyna, the two challengers, will now be running in a race with very different dynamics. 
Candidates for lieutenant governor and candidates for governor run separately in the primary. They join together on the same ticket in the general election. 
Archila is allied with socialist gubernatorial candidate and New York City Public Advocate Jumaane Williams, but they two have separate campaign apparatuses. Reyna and her informal running mate, moderate Rep. Tom Suozzi, have fused their campaigns so far and are counting nearly every endorsement for Suozzi as one for Reyna as well – even though they will be running separately in the primary. 
Endorsements signal to voters a candidate's ideological positioning and demonstrate the breadth, depth and nature of their support. A particularly popular endorser can help mobilize voters. We scoured press releases, social media and candidates' websites to compile a list of the most current endorsements, as of June 22.
Ana María Archila, former co-executive director of the Center for Popular Democracy
Organizations: Alliance for Quality Education, Bay Ridge Democrats, Be A Hero Action Fund, Brooklyn Young Democrats, Center for Popular Democracy Action, Citizen Action, Churches United For Fair Housing Action, Coalition for a District Alternative, Community Voices Heard Power, Empire State Indivisible, Equality New York, Food & Water Action, Four Freedoms Democratic Club, Grand Street Democrats, Independent Neighborhood Democrats, Indivisible NationBK, The Jewish Vote, Jim Owles Liberal Democratic Club, Lamba Independent Democrats of Brooklyn, Lesbian and Gay Democratic Club of Queens, Long Island Activists, Long Island Progressive Coalition, Make the Road Action, Met Council Action, Mijente, New Kings Democrats, New York Communities for Change, New York Immigration Coalition, New York Progressive Action Network, New York Working Families Party, One Fair Wage Action, Our Revolution, People's Action, Stonewall Democratic Club of New York City, Suffolk Progressives, Sunrise Movement NYC, Tenants PAC, United We Dream Action, VOCAL-NY Action Fund, #VoteProChoice, Vote Mama
Elected officials: Gubernatorial candidate New York City Public Advocate Jumaane Williams, New York City Comptroller Brad Lander; Reps. Jamaal Bowman, Alexandria Ocasio-Cortez and Nydia Velázquez; state Sens. Alessandra Biaggi, Jabari Brisport, Michael Gianaris, Andrew Gounardes, Gustavo Rivera, Julia Salazar and James Sanders Jr.; New York City Council Members Alexa Avilés, Tiffany Cabán, Shahana Hanif, Crystal Hudson, Shekar Krishnan, Sandy Nurse, Chi Ossé, Lincoln Restler and Julie Won; Assembly Members Harvey Epstein, Mathylde Frontus, Emily Gallagher, Jessica González-Rojas, Ron Kim, Zohran Mamdani, Marcela Mitaynes, Yuh-line Niou, Phil Ramos and Phara Souffrant Forrest; Albany County Legislator Sam Fein; Albany Common Council Members Sergio Adams and Gabriella Romero; Beacon Council Members Dan Aymar-Blair, Justice McCray and Paloma Wake; Binghamton City Council Member Aviva Friedman; Cheektowaga Council Member Brian Nowak; Monroe County Legislator Rachel Barnhart; Newburgh Council Members Giselle Martinez, Ramona Monteverde and Omari Shakur; Orange County Legislators Kevindaryan Lujan and Genesis Ramos; Rochester City Council Members Susan Hughes-Smith, Mary Lupien, Stanley Martin and Kim Smith
Other public figures: Actor and former gubernatorial candidate Cynthia Nixon, more than 65 other Latino leaders, congressional candidates Melanie D'Arrigo and Brittany Ramos DeBarros; state Senate candidates Sarah Blas, Kristen Gonzalez and Japneet Singh; Assembly candidates Vanessa Agudelo, Keron Alleyne, Jessica Altagracia Woolford, Juan Ardila, Delsenia Glover, Samy Nemir Olivares, Steven Raga, Illapa Sairitupac and Jonathan Soto
Antonio Delgado, lieutenant governor, former Congress member
Organizations: Bronx Democratic Party, Delaware County NY Democratic Committee, Carib News, The Collective PAC, Everytown Action Fund, Hell's Kitchen Democrats, New York State Democratic Party
Labor: 32BJ SEIU, Council of Administrators and Supervisors, CSEA Local 1000, Empire State Supervisors and Administrators Association, Hotel Trades Council, New York State Building & Construction Trades Council, New York State AFL-CIO, New York State Iron Workers, New York State United Teachers, Uniformed EMTs, Paramedics and Fire Inspectors Local 2507, Uniformed EMS Officers Union Local 3621, Uniformed Firefighters Association of Greater New York
Elected officials: Gov. Kathy Hochul, Reps. Yvette Clarke, Brian Higgins, Hakeem Jeffries, Greg Meeks and Ritchie Torres, state Sens. Jamaal Bailey, Jeremy Cooney, Tim Kennedy, Sean Ryan and José M. Serrano; Assembly Members Rodneyse Bichotte Hermelyn, William Conrad, Michael Cusick, Inez Dickens, Jeffrey Dinowitz, Nathalia Fernandez, Eddie Gibbs, Chantel Jackson, Latoya Joyner, Karen McMahon, Crystal Peoples-Stokes, Yudelka Tapia, Al Taylor and Monica Wallace; New York City Council Members Eric Dinowitz and Kevin Riley; Buffalo Mayor Byron Brown, Bronx Borough President Vanessa Gibson, Erie County Executive Mark Poloncarz, six Erie County legislators
Other public figures: Former U.S. Sen. Hillary Clinton, Satmar Rabbi Aaron Teitelbaum, Satmar Rabbi Zalman Teitelbaum, Erie County Chair Jeremy Zellner, Manhattan Democratic Party Chair Keith Wright
Diana Reyna, former New York City Council member
Labor: Brotherhood of Railroad Signalmen Local 56, BRS Local 241, IATSE Local One, IBEW Local Union No. 3, IBEW Local 25, IBEW 1049, UWUA Local 1-2
Elected officials: New York City Council Members Bob Holden and Rafael Salamanca Jr.
Other public figures: Gubernatorial candidate Rep. Tom Suozzi, former Bronx Borough President Fernando Ferrer, former state Sen. Rubén Díaz Sr.
With reporting by Sara Dorn
Powered By
NEXT STORY: Here are the New York Democratic Assembly lawmakers facing 2022 primary challenges