News & Politics
GOP gubernatorial candidates use Boudin's recall to rebuke DA Bragg, Hochul
All four of the candidates highlighted the recall of progressive San Francisco District Attorney Chesa Boudin, as New Yorkers' concerns about crime remain high.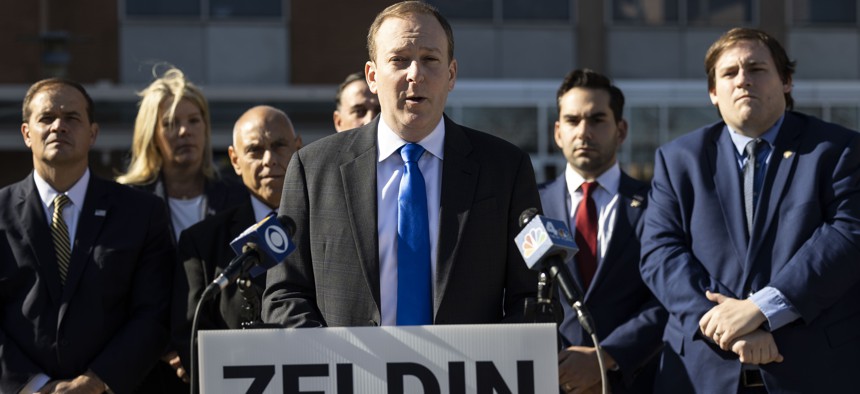 New York's Republican gubernatorial candidates leveraged Tuesday's recall of progressive San Francisco District Attorney Chesa Boudin to boost their own criminal justice strategies – and denounce those of Democrats. While it's unclear whether Boudin's recall is a harbinger for progressives in New York, according to experts, it is indicative of shifting attitudes on criminal justice policies at a time when New Yorkers' concerns about elevated crime is expected to weigh heavily on voters during the upcoming midterm elections.
Amid one of the most competitive GOP gubernatorial primary competitions in New York in the better part of a decade, the candidates were quick to hone in on voters' rebuke of Boudin, with several calling for the removal of Manhattan District Attorney Alvin Bragg. "Yesterday, Californians made their voice heard, and, in November, New Yorkers will too when they remove Kathy Hochul for, among many reasons, her refusal to fire pro-criminal Manhattan District Attorney Alvin Bragg. New Yorkers are sick and tired of criminals ruling our streets, and they're ready to end the attacks on our safety, repeal cashless bail, take back our streets and Save Our State," GOP nominee Rep. Lee Zeldin said. 
Andrew Giuliani released a statement that said: "It turns out rampant shoplifting, drug dealing and car thefts are unacceptable for the people of San Francisco, who voted to recall their activist DA, Chesa Boudin. Americans are begging to be safe on their streets again. As governor, I'll recall any district attorney who chooses to serve the criminals instead of the people — and I'll start with Manhattan's Alvin Bragg." 
And Rob Astorino tweeted: "We need recall in New York . . . But at least we can recall (Gov. Kathy Hochul) this year and as governor I will recall and remove any woke DA who refuses to prosecute crime." 
When asked about Boudin's recall, Harry Wilson, who donated to Bragg's 2021 campaign, said in a statement: "Woke District Attorneys across the country are making their constituents less safe. Fortunately, in New York, the Governor has the authority to remove rogue District Attorneys, which is exactly what I will do as Governor. New Yorkers need an outsider, not a politician, to make the tough choices to keep us safe." In an op-ed in The New York Post in April, Wilson wrote that he would fire Bragg.
While votes have yet to be finalized in the San Francisco election, 60% of voters were in favor of Boudin's recall as of Wednesday. Boudin, elected in 2019, ran on a platform to balance wealth discrepancies in the criminal justice system and lower the jail population. He also promised to end the use of cash bail, stop prosecuting minors as adults and prioritize diversion and mental health programs over jail sentences. He was the first San Francisco district attorney to charge police officers with homicide, and he never sought a death penalty during his tenure. Bragg has preached many of the same philosophies and promised similar policies.
In both New York and San Francisco, some crime categories have risen sharply over the past two years, including vehicle thefts and homicides. Both cities have struggled to curb homelessness. In a poll conducted by the Bay Area Council in March, 65% of voters polled said they avoided downtown areas because of concerns about crime. Recent New York City polls reflect a similar trend. In a Spectrum News/Siena College poll released Tuesday, 70% of respondents said they feel less safe in the city than they did before the pandemic.
Bragg faced constant criticism from conservatives early in his tenure following the release of a memo that laid out his policies for limiting sentences for some crimes and reducing charges in certain circumstances. Even some in his own party distanced themselves from him, and Hochul warned that she was watching him "very closely." Unlike in San Francisco, a recall election against Bragg would first require the state Legislature to approve a constitutional amendment, which voters would then have to sign off on. Hochul, however, has the power to remove him under the public officers law.
But Siena College pollster Steven Greenberg said the Republican attacks in the wake of Boudin's recall are less about targeting Democrats than they are intended to draw Republican voters to the primary polls, where turnout is historically low. 
"They're targeting their message at Republican base voters. They're not targeting their message at Democrats . . . They're trying to get through a primary in three weeks," Greenberg told City & State. "There are 2.6 million Republicans in the state of New York. What percent of them are going to come out and vote on the last Tuesday in June, the Tuesday before July Fourth weekend?" 
Boudin's recall is seen, in part, as a sign of San Franciscans overall dissatisfaction with rising crime and quality of life concerns, rather than of Boudin himself. "People have really had it with things not changing around safety in the streets," Deb Walker, a member of the San Francisco Police Commission who did not support the recall, told The Los Angeles Times. "I don't know that it's anti-progressive, per se. I think it's anti-extremist on the left. Just as there are extremes on the right, there are extremes on the left, and in general, they aren't working very well."
Democrats from the city to federal levels have taken note of the shifting attitudes on criminal justice displayed Tuesday by voters in one of America's most liberal cities. 
"The Siena poll makes clear that the crime epidemic is literally changing how New Yorkers are leading their lives," Bradley Honan, CEO & President of the Democratic polling firm Honan Strategy Group told City & State in an email. "If Democratic elected officials don't see Boudin's recall as a big wake up call, they are in for a very rude awakening on Election Day."
Biden on Wednesday said "voters sent a clear message last night. Both parties have to step up and do something about crime as well as gun violence." Days earlier, New York City Mayor Eric Adams said the city's criminal justice system has become a "laughing stock of our entire country." Hochul's campaign declined to comment on Boudin's recall, but released an ad today promoting the package of anti-gun violence laws she signed last week. 
A spokesperson for the governor, in a statement responding to questions about Boudin's recall and Hochul's stance on Bragg's job performance, said "Governor Hochul has taken strong action to crack down on the spread of illegal guns, prevent gun violence, and protect communities across the state, and she will continue working with the legislature, law enforcement, and local leaders to combat crime and keep New Yorkers safe," Hazel Crampton-Hays told City & State in an email.
Notably, Bragg was among the district attorneys in attendance when the governor signed the gun-reform laws last week. 
"Hochul is in a serious pickle when it comes to Bragg – while she knows he is becoming a political pariah, her support among African Americans is tenuous and there is growing fear among Democrats that many base Democrats may well sit out the November elections," Honan said.