Transportation
Gov. Kathy Hochul opens application period for Penn Station redesign proposals
As the governor announced the request for proposals on Thursday, preservationists and community organizations reiterated concerns about destruction of the surrounding neighborhood.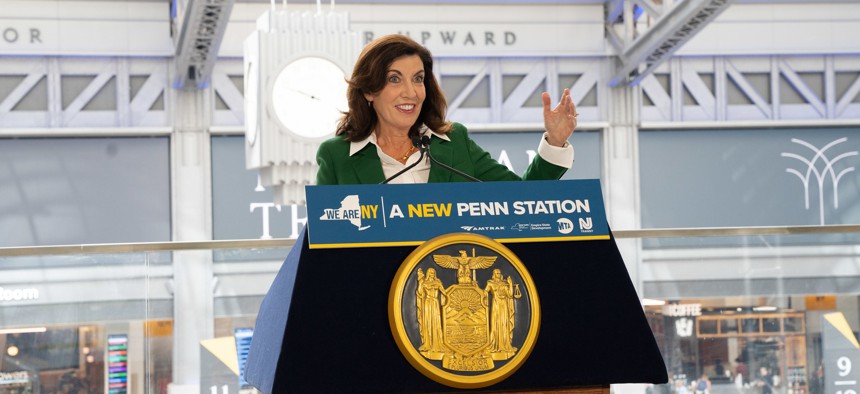 Gov. Kathy Hochul announced the reconstruction of Penn Station has entered the "design phase" and said the state will begin accepting proposals from architecture and engineering firms. Proposals will be due July 28 and the state will select a firm by late summer or early fall, Hochul said Thursday from Moynihan Train Hall. 
Hochul also said she will form a "public realm task force" to create "a long-term plan for public investment" in Penn Station. "I want to hear from the community. I want to hear from the people who experience this area every day of their lives," she said. 
Hochul's plan for the long-sought redesign of the midtown transit hub will incorporate 1,800 new residential units, 540 of which will be "affordable housing," along with 18 new entrances to Penn Station and widened sidewalks. New buildings will be required to have "engaging retail and community facilities" along at least 40% of their facades. The state's plan centers on the reconstruction of the existing station, plus a new nine-track station, along with the construction of 10 privately developed commercial and residential towers on eight surrounding sites. Converting Penn Station into a single-level train hall with heightened ceilings and an expanded concourse space is expected to cost up to $7 billion.
"We're going to reimagine not just the physical station, but the entire experience," Hochul said at the press conference, where New Jersey Gov. Phil Murphy, New York City Mayor Eric Adams, Metropolitan Transportation Authority President Janno Lieber, NJ Transit President Kevin Corbett and Amtrak board Chair Tony Coscia also spoke. "Rather than a point of pride, (Penn Station) has become a source of embarrassment," the governor said.
As Hochul announced the next steps in the project, community organizations and preservationists who are against the destruction of historic buildings in the plan – including the 19th century Church of St. John the Baptist on West 30th Street – reiterated their concerns about how it could drastically alter the neighborhood. 
"There is a better way to improve Penn Station without demolishing homes, places of worship, and small businesses," the Penn for All coalition of 14 organizations opposed to the plan said in a media advisory sent Thursday. The group is in favor of a "new rebuilt, above-ground station" without the demolition of existing residences, historic structures and spaces housing small businesses.
The group, which includes the City Club of New York and the Penn Area Residents Committee, among others, is calling on the U.S. Department of Transportation to stop the project until an independent analysis of alternatives can be completed.