Hochul and Suozzi get heated at final Democratic gubernatorial debate
Days away from the start of early voting, Suozzi and Williams also joined forces to take aim at Hochul's record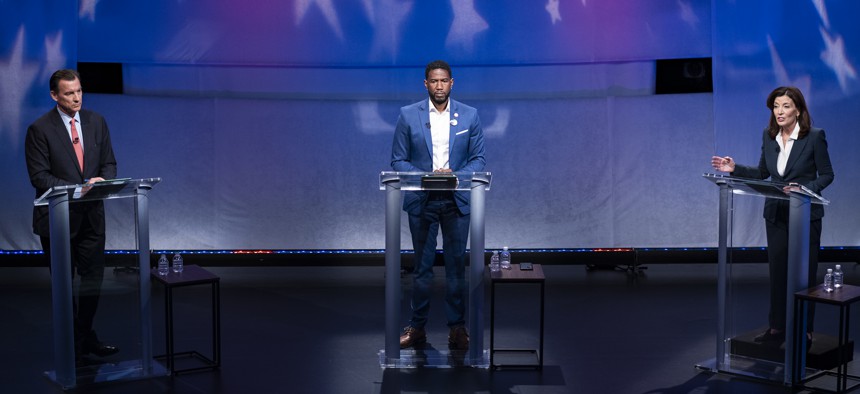 There was little tolerance for hypocrisy on the Democratic gubernatorial debate stage on Thursday night. 
When New York City Public Advocate Jumaane Williams called attention to Gov. Kathy Hochul's history of support from the National Rifle Association as she touted a package of gun laws passed towards the end of the legislative session, debate moderator and NBC New York reporter Melissa Russo was quick to jump in. "You've asked New Yorkers to accept your evolution on issues like abortion rights and same-sex marriage, so what's the difference," she asked Williams. The public advocate brushed off the comparison to the conservative personal views he expressed on those issues earlier in his career.
As Rep. Tom Suozzi questioned Hochul's ethics, noting among other things, her choice of Brian Benjamin as lieutenant governor before his arrest on corruption charges (which he has denied), Hochul didn't let the allusion to ethics pass without mention. "The word hypocrisy does come to mind," Hochul said, noting that Suozzi is under investigation by the House Ethics Committee over disclosure of stock trades. Suozzi has said that that is just an issue of late paperwork.
And Williams and Suozzi both argued that anyone who was disappointed by the state leadership over the last few years – including during the COVID-19 pandemic – can look to not just former Gov. Andrew Cuomo but Hochul too. "You can't spend six years taking credit for the good things that happened but not take accountability for the bad things that happened," Williams said, saying that Hochul did not speak out as lieutenant governor about a policy starting early in the pandemic that sent people recovering from COVID-19 back to nursing homes. Cuomo, who resigned after facing allegations of sexual harassment and assault, came up at another point on Thursday, when all candidates were asked if they would accept the former governor's endorsement. Only Suozzi said he would. 
But despite some of those more exciting flare-ups, the second and final Democratic gubernatorial debate largely held to the status quo, with challengers Williams and Suozzi not missing any opportunity to lay into Hochul, targeting the apparent front-runner's record in nine months in office – and many years before. 
It's similar to their tactic at the first debate, and viewers of Thursday night's debate would be forgiven for thinking they'd stumbled back in time to June 7. Suozzi and Williams targeted Hochul on gun legislation, New Yorkers' concerns about crime, and transparency critiques from Hochul's first budget and legislative session. Williams played to his left base, calling to progressives' disappointment in what they argue is insufficient action taken in the state budget and legislative session to protect New York from climate change and keep vulnerable tenants in safe and affordable housing.
But while Williams reliably revived those criticisms of Hochul, it's Suozzi who took center stage as Hochul's antagonist, rarely missing an opportunity to turn an answer into a criticism of Hochul's history of support from the NRA or the $850 million deal in the state budget to build a new Buffalo Bills stadium. Suozzi at several points interrupted Hochul and called for her attention, to the governor's obvious frustration.
That Hochul's record is in the spotlight is no surprise, as the incumbent with a consistent lead in polls and a massive campaign war chest. When cornered about her action on environmental policy, Hochul stated her support for congestion pricing despite the still-long road ahead to implementing the tolling program in New York City. "I had a meeting today to talk about how we can shave more time off the implementation of this," Hochul said. "We talked to the White House … and they are now saying, 'Okay, we understand your sense of urgency." Despite passing the legislature in 2019, congestion pricing still appears a way off from implementation. Hochul said at the last debate that its implementation could be delayed again because of a new environmental issue raised by the federal government.
Williams did not manage to press Hochul to answer whether she would sign a recently passed two-year moratorium on proof-of-work cryptocurrency mining at fossil fuel power plants – a top concern for some environmental advocates – however. For months, Hochul has been noncommittal about whether she would support the bill if it passed, with advocates expressing concerns that the cryptocurrency industry has the governor's ear. Now that the bill has passed, Hochul is also facing pressure from New York City Mayor – and noted crypto enthusiast – Eric Adams to veto the bill, with Adams joining the chorus of crypto proponents who say pausing mining will harm the larger crypto industry in New York. 
That's one issue Hochul may successfully avoid having to take a specific stance on before the election. Early voting in the Democratic gubernatorial primary starts Saturday, ahead of election day on June 28.