Campaigns & Elections
City Council Speaker Adrienne Adams endorses Elizabeth Crowley for state Senate
In her first major endorsement, the speaker broke from some of her progressive colleagues to endorse a moderate candidate in District 59.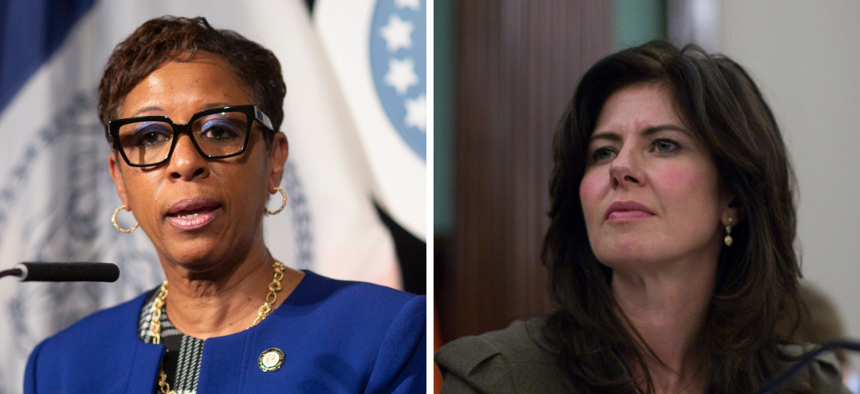 New York City Council Speaker Adrienne Adams is weighing in on one of the more competitive state Senate primaries this year, endorsing former City Council Member Elizabeth Crowley to represent state Senate District 59, which covers parts of Queens, Brooklyn and Manhattan.
The Democratic primary has drawn attention from high-profile progressive politicians and groups, including Reps. Alexandria Ocasio-Cortez and Nydia Velázquez, the Working Families Party and the New York City Democratic Socialists of America – all of whom endorsed Kristen Gonzalez, who works in tech and is a DSA organizer.
But Crowley, the former council member from Queens and co-founder of 21 in '21 – the organization that aimed, apparently too modestly, at electing at least 21 women to the City Council in 2021 – has no shortage of endorsements. Crowley is supported by Queens Democratic Party Chair Rep. Greg Meeks. And earlier this week another Democratic candidate, Françoise Olivas, dropped out and endorsed Crowley.
In her first major endorsement as speaker, Adams joined City Council Member Lynn Schulman in supporting Crowley, even as several of their colleagues – including Council Members Tiffany Cabán, Lincoln Restler, Chi Ossé and Jennifer Gutiérrez – have lined up to back Gonzalez.
Crowley told City & State that she first knew Adams when the speaker served as chair of Queens Community Board 12, and added that she was one of the people who encouraged Adams to run for her current council seat. "It is an honor to be endorsed by Speaker Adrienne Adams, a true trailblazer and advocate for working families," Crowley said in a statement.
"Elizabeth Crowley has been a tireless fighter for the people of New York," Adams said in a statement. "As a former colleague I've seen her work firsthand. As an advocate to elect the first majority female council, she's helped to create more change in New York City."
With about a month before the Aug. 23 primary, Crowley has a fundraising advantage, with $286,346 on hand compared to Gonzalez's $88,891. Also running in the primary is progressive Nomiki Konst and Michael Corbett, vice chair of the state Democratic Party who was endorsed by Rep. Carolyn Maloney.