Campaigns & Elections
Tracking the contested state Senate primary races in New York
At least seven Democratic incumbents are facing primary challenges, and competitive races are underway for open seats in Brooklyn and Staten Island.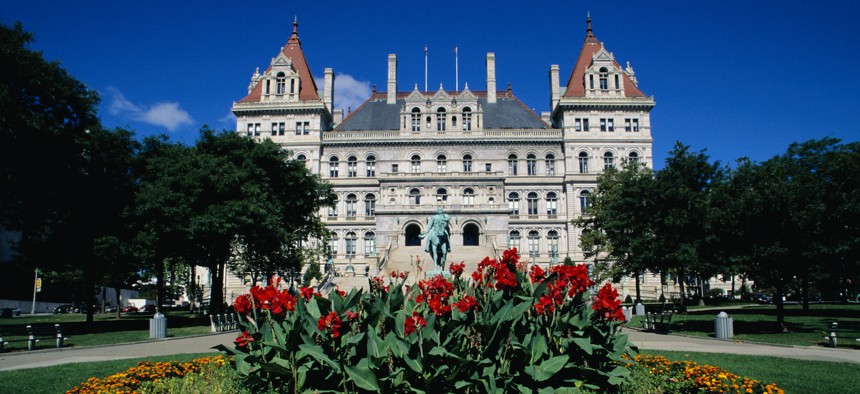 Early voting for state Senate races begins Aug. 13 ahead of the primary election on Aug. 23, and in an election cycle shaken up by redistricting, candidates are hoping to take advantage of the new lines to unseat incumbents, while others are vying to fill open seats.
Shifting population in the state meant New York City now has two more seats in the 63-member chamber, while upstate lost two. (The Center for Urban Research at The CUNY Graduate Center created a helpful tool to visualize the new districts here.) Iwen Chu, a former Assembly staffer, is uncontested in the Democratic primary for the newly created District 17 in southern Brooklyn. But other seats, including the newly drawn District 59 spanning waterfront neighborhoods in Queens, Brooklyn and Manhattan, will have competitive primaries, as progressives face off against more moderate Democrats.
Here's a look at some of the most competitive state Senate primaries. As usual in New York, all of these are Democratic primaries, as Republicans have traditionally cooperated to avoid primaries for the Legislature. Cash on hand was last reported in many cases in July 22 filings. This story has been updated as of July 27.
State Sen. Joseph Addabbo Jr.
First elected: 2008
Current district: 15, parts of Queens from Maspeth to the Rockaways
New district: 15, parts of southwestern Queens, including Rego Park and Richmond Hill
Reported cash on hand: $330,567
Challengers: Japneet Singh, Albert Baldeo
Prior to the finalization of new state Senate lines, Japneet Singh, who just ran for New York City Council, was planning to run for an open seat. Singh, who would be the first Sikh state legislator, is a former taxi driver and accountant campaigning as a "voice for the working class." He has been endorsed by progressives like New York City Public Advocate Jumaane Williams and former lieutenant governor candidate Ana María Archila, though his campaign is shying away from the "progressive" label, in the relatively conservative district – even against state Sen. Joseph Addabbo Jr., who voted against codifying the right to an abortion in state law. With about $19,000 on hand, Singh lags behind fellow challenger Albert Baldeo, president of the Alliance of South Asian American Labor's Richmond Hill chapter, in fundraising. Baldeo, who had about $89,000 on hand by late July, is a perennial candidate with a checkered past, who was convicted in 2014 of interfering in an FBI investigation of campaign finance corruption charges associated with his City Council run. Baldeo unsuccessfully ran for Assembly Member David Weprin's seat in 2020 and again in the June 2022 primary, but did successfully unseat an incumbent Democratic district leader in the June primary.
State Sen. Jabari Brisport
First elected: 2020
Current district: 25, parts of Brooklyn from Red Hook to Ocean Hill
New district: 25, parts of Brooklyn from the Brooklyn Navy Yard to Brownsville
Reported cash on hand: $41,865
Challengers: Renee Holmes, Conrad Tillard
State Sen. Jabari Brisport, a former teacher, is one of two candidates backed by the Democratic Socialists of America in the state Senate. He's running for reelection with their full support, and while he doesn't have much money on hand for an incumbent, is also backed by unions including 1199SEIU and District Council 37. Conrad Tillard, formerly known as Conrad Muhammad, was a minister in the Nation of Islam and a protege of Louis Farrakhan in the 1980s and 1990s. He built a reputation as a mediator for rappers, earning him the nickname "the hip-hop minister." He has since become a Christian pastor in Bedford-Stuyvesant and is running as a more moderate alternative to Brisport, with endorsements from state Sen. Kevin Parker and former New York City Council Member Robert Cornegy Jr. He reported $18,444 on hand in late July, with a major donation from the Striving for a Better New York PAC, which is associated with Mayor Eric Adams and intends to boost centrist candidates. Also running is Renee Holmes, who hasn't yet filed a disclosure.
State Sen. Andrew Gounardes
First elected: 2018
Current district: 22, parts of Brooklyn from Bay Ridge to Gerritsen Beach
New district: 26, western Brooklyn from Dumbo to Fort Hamilton
Reported cash on hand: $531,564
Challenger: David Yassky
Former New York City Council Member and Bloomberg-era Taxi and Limousine Commissioner David Yassky was expected to run in an open race to succeed retiring state Sen. Diane Savino, but ultimately settled on challenging state Sen. Andrew Gounardes, whose Bay Ridge base was redistricted into the newly drawn District 26. Gounardes is being treated as the incumbent and is picking up all the major endorsements, but Yassky has friends in high places – and a base in vote-rich Brooklyn Heights. Yassky was recently a member of New York City Mayor Eric Adams' transition team. He served as the director of state policy under then-Gov. Andrew Cuomo from 2019 through 2021. From 2014 through 2019, he was the dean of the Elisabeth Haub School of Law at Pace University. Yassky had $182,804 on hand by late July – amounting to a significant fundraising gap between him and Gounardes.
State Sen. Robert Jackson
First elected: 2018
Current district: 31, parts of Manhattan's west side from Inwood to Chelsea
New district: 31, parts of Upper Manhattan and the western Bronx
Reported cash on hand: $114,523
Challengers: Angel Vasquez, Ruben Dario Vargas, Francesca Castellanos
Angel Vasquez was the chief of staff to former Independent Democratic Conference state Sen. Marisol Alcantara, who Robert Jackson unseated in the anti-IDC wave in 2018, but the gay, 32-year-old Washington Heights resident said his campaign is more about education policy than avenging Alcantara's loss. He's reported $64,074 on hand. Vasquez is a former junior high teacher with a master's in public administration from Columbia University, who more recently was deputy political director at the United Federation of Teachers. The union is backing Jackson, but Vasquez has the support of Rep. Adriano Espaillat's powerful political operation. Racial politics could be key in this race as well. Jackson is Black, while the district's population is majority Hispanic. Also running are two perennial candidates: former NYPD employee Ruben Dario Vargas and Spanish-language interpreter Francesca Castellanos. Neither have filed campaign finance reports by the deadline.
State Sen. Anna Kaplan
First elected: 2018
Current district: 7, parts of northeast Nassau County bordering Queens
New district: 7, parts of the North Shore of Long Island from Great Neck to Oyster Bay
Reported cash on hand: $516,897
Challenger: Jeremy Joseph
Jeremy Joseph is a programmer and an organizer with the Nassau County chapter of the Democratic Socialists of America. He doesn't have DSA's formal support, but he's running on a progressive platform highlighting the moderate state Sen. Anna Kaplan's lack of support for the New York Health Act and parole reform. His $15,944 on hand as of late July was dwarfed by the incumbent, who sent a March fundraising email stating Joseph's "motivation to run seems to be rooted in his disapproval of (her) strong support for the State of Israel and strong stand against the antisemitic (Boycott, Divestment, Sanctions) movement." The DSA supports the BDS movement, and Kaplan's move is likely an attempt to appeal to the prominent Jewish population in her district.
State Sen. Brian Kavanagh
First elected: 2017
Current district: 26, parts of lower Manhattan and the Brooklyn waterfront
New district: 27, lower Manhattan
Reported cash on hand: $205,864
Challengers: Vittoria Fariello and Danyela Egorov
State Sen. Brian Kavanagh was going to face a vigorous challenge from Assembly Member Yuh-Line Niou – but she then decided to run for Congress instead. Still, he has two fellow Manhattanites as challengers. Democratic District Leader Vittoria Fariello, a lawyer, is running on an anti-development platform and said Kavanagh hasn't been active enough on those causes. Fariello has support from New York City Council Member Christopher Marte and some prominent local political clubs, including the Downtown Independent Democrats. She has reported $32,249 on hand. Danyela Egorov, a charter school advocate, reported $12,843 on hand after loaning her campaign $70,000. Both are running uphill battles against Kavanagh, who is running with the power of incumbency and deep-pocketed interest groups.
State Sen. Kevin Parker
First elected: 2002
Current district: 21, parts of Central Brooklyn, including Park Slope and Flatbush
New district: 21, parts of central and southern Brooklyn, including Flatbush and Mill Basin
Reported cash on hand: $131,551
Challengers: David Alexis, Kaegan Mays-Williams 
Kevin Parker, the chair of the state Senate Energy and Telecommunications Committee, just had a poor showing in the 2021 New York City comptroller Democratic primary. But he did well in his own district and has been gathering big money and endorsements as he faces off against two primary challengers. The Democratic Socialists of America-backed David Alexis, who reported $80,219 on hand as of late July, could theoretically win by appealing to the left and fellow West Indian immigrants like himself. The new district may be difficult for a progressive, and incumbents fared well in the June Assembly primaries. Kaegan Mays-Williams is a former assistant district attorney in Manhattan who got some attention for her prosecution of swindler Anna Sorokin. She had $89,375 on hand as of late July. The incumbent was late in filing his disclosure, just like he was late in filing his previous two disclosures, but he has more money than either challenger with $131,551 on hand.
State Sen. Gustavo Rivera
First elected: 2010
Current district: 33, parts of the northwestern Bronx from University Heights to Van Nest
New District: 33, parts of the northwestern Bronx from Riverdale to Van Nest
Reported cash on hand: $441,941
Challenger: Miguelina Camilo
Miguelina Camilo was the Bronx Democratic Party's pick to run for the open seat being vacated by state Sen. Alessandra Biaggi, who is running for Congress. After the new maps came out, she retained the county's support – even after state Sen. Gustavo Rivera chose to run in this substantially different district. Bronx Democratic Party Chair Jamaal Bailey told The Riverdale Press the decision to go against the incumbent was an "unfortunate" one, but said the party ultimately decided that reversing course would be unfair to Camilo, a former vice chair of the party. Born in the Dominican Republic, Camilo currently lives in Riverdale and is the president of the Bronx Women's Bar Association. She's got $105,181 on hand as of late July. She also has the support of Reps. Adriano Espaillat and Ritchie Torres – while Rivera is maintaining strong support from his state Senate colleagues, the progressive movement and the labor sector, including the state AFL-CIO and 1199SEIU, plus elected officials such as Rep. Jamaal Bowman and state Senate Majority Leader Andrea Stewart-Cousins.
Open Races
State Senate District 4
Incumbent: Phil Boyle, not seeking reelection
District lines: Landlocked parts of the South Shore in Suffolk County, including Brentwood
Candidates: Monica Martinez, Phil Ramos
Republican state Sen. Phil Boyle, who represents much of the district now, isn't seeking reelection. Monica Martinez represented parts of the new district in the state Senate in 2019 and 2020 after flipping it blue – but lost reelection to Republican state Sen. Alexis Weik. Now Martinez is trying to reclaim a seat in the chamber, but standing in her way could be Assembly Member Phil Ramos. Martinez has the county Democratic Party's support, but she and Ramos have had bad blood. Martinez reported $75,303 on hand, while Ramos reported $60,495. The winner in the safely Democratic, Hispanic plurality seat would face off in November against the Republican pick, Wendy Rodriguez.
State Senate District 23
Incumbent: Diane Savino, retiring
District lines: Staten Island's North Shore and parts of southern Brooklyn, including Coney Island
Candidates: Jessica Scarcella-Spanton, Bianca Rajpersaud, Sarah Blas, Rajiv Gowda
Jessica Scarcella-Spanton, a former staffer to state Sen. Diane Savino and the current assistant director of government and community relations at the Metropolitan Transportation Authority, is the establishment pick, having earned an early endorsement from the retiring state senator as well as former Rep. Max Rose and the Staten Island Democratic Party. She's also got a cash advantage, with $246,569 on hand as of late July. Bianca Rajpersaud, a lobbyist at Davidoff Hutcher & Citron, is the daughter of Guyanese and Dominican immigrants and girlfriend of Staten Island Assembly Member Charles Fall, who is backing her campaign. She's well connected, having previously worked for Assembly Member Michael Cusick, so her campaign against Scarcella-Spanton has created a rift in the tight-knit county party. She had $34,155 on hand as of late July. Sarah Blas, the daughter of U.S. military veterans and granddaughter of Brooklyn pastors, is pitching herself as the progressive choice with support from the Working Families Party and Assembly Member Mathylde Frontus. She currently serves as the director of health equity, diversity and inclusion for Staten Island Women Who March and reported having just $4,694 on hand in late July. If elected, Blas would be the first New York City Housing Authority resident to serve in a state legislative office, the Staten Island Advance reported. Rajiv Gowda, a civil engineer who has "overseen dozens of public and private infrastructure projects for the NYC Department of Design and Construction," according to his website, fell far short in his 2020 primary challenge to Savino. He had $19,956 on hand as of late July.
State Senate District 34
Incumbent: Alessandra Biaggi, running for Congress
District lines: East Bronx and parts of Westchester County, including New Rochelle
Candidates: Nathalia Fernandez, Christian Amato, John Perez
Assembly Member Nathalia Fernandez is the Bronx Democratic Party's pick for the seat, though her current Assembly district has limited overlap with this Senate district. Still, she's got deep ties to the district as a staffer for then-Assembly Member Mark Gjonaj and time as then-Gov. Andrew Cuomo's Bronx representative. Christian Amato is a former Broadway producer and political consultant who is pitching himself as the progressive choice in the district. He worked on state Sen. Alessandra Biaggi's successful 2018 campaign and worked in her government office before the two had a falling out leading to his firing in 2019. Also running is perennial candidate John Perez, a U.S. Army veteran. Fernandez reported $48,073 on hand in late July. Amato reported just $8,345 on hand in January and hasn't yet reported for July. Perez has never filed.
State Senate District 52
Incumbent: Fred Akshar, running for Broome County sheriff
District lines: Cortland, Tompkins and parts of Broome counties
Candidates: Lea Webb, Leslie Danks Burke
A former Binghamton City Council Member, Lea Webb works for Binghamton University as the diversity education coordinator. She's presenting herself as the progressive choice, with support from the Working Families Party, 1199SEIU and state Sen. Rachel May. While Leslie Danks Burke has support from state Sen. John Mannion and state Comptroller Thomas DiNapoli, she ran unsuccessfully against Republican state Sen. Thomas O'Mara in 2020 and 2016 and founded the Trailblazers PAC, a nonpartisan group focused on getting money out of politics. Danks Burke is a lawyer with experience in tax legislation, policy analysis, human rights litigation and public housing issues. Webb had $74,688 in her campaign account by late July, while Danks Burke had $60,015. The winner of the August primary will face Republican Richard David in the general election.
State Senate District 59
Incumbent: None – new seat
District lines: Astoria and Long Island City in Queens, Greenpoint in Brooklyn and parts of Midtown East in Manhattan
Candidates: Elizabeth Crowley, Kristen Gonzalez, Michael Corbett, Nomiki Konst
Elizabeth Crowley represented areas of Central Queens in the New York City Council for eight years before losing reelection to Council Member Bob Holden. She has run for Queens borough president twice since then and is now attempting another comeback in a new area far from her old council district. She is a moderate Democrat with high name recognition and establishment support, including endorsements from Rep. Greg Meeks and the United Federation of Teachers. She's also got a fundraising advantage, reporting $286,346 on hand as of late July. She's related to former Rep. Joseph Crowley, who was famously unseated by DSA-backed Rep. Alexandria Ocasio-Cortez in 2018. Now the DSA is trying to beat another Crowley and is supporting Kristen Gonzalez, a credit card company product manager and DSA organizer. The city's progressive movement is throwing its whole weight behind her, including the Working Families Party and state Sen. Michael Gianaris, who currently represents much of the new district. Gonzalez had $88,891 on hand as of late July. That's just slightly more than Nomiki Konst's $​​74,240 – though that included a $50,000 loan from herself. Konst is a political pundit who ran for public advocate in 2019 is also running as a progressive in this district that seems tailor-made to get a leftist elected. But Crowley isn't the only one competing in the moderate lane. Michael Corbett may appeal to would-be Crowley voters as a vice chair of the state Democratic Party and a longtime political aide who has the support of Rep. Carolyn Maloney. He reported $33,279 on hand.
– with reporting by Zach Williams
Powered By
NEXT STORY: City Council Speaker Adrienne Adams endorses Elizabeth Crowley for state Senate