New York City
De Blasio returns to City Hall to call for new COVID-19 strategy
The former mayor's campaign events took him to City Hall Park for his second press conference this week.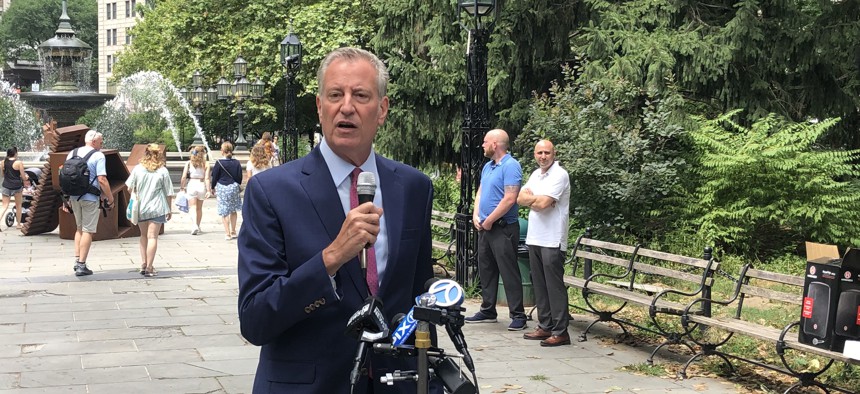 Former New York City Mayor Bill de Blasio just can't keep away from his old stomping grounds. The 10th Congressional District candidate held his second press conference of the week outside City Hall on Thursday, this time to call for additional actions by the city, state and federal government to fight the current surge in COVID-19 cases as the highly transmissible BA.5 variant becomes dominant.
"When you see cases surging, when you see the worst variant we've ever seen in terms of transmissibility, when you see hospitalizations going up rapidly, it's time to do something different," de Blasio told reporters outside City Hall's gates.
The former mayor outlined six actions for different levels of government to take, though most of them would fall on the city. They included the city and federal government distributing at-home test kits, masks and information about the antiviral drug Paxlovid to every New York City household by mail; the city partnering with the private sector to distribute N95 and KN95 masks at every venue where people congregate like theaters and gyms; the city actually enforcing the private sector vaccine mandate; redefining the meaning of "fully vaccinated" to mean adults who have received at least one booster shot, or two booster shots for the most vulnerable adults; the federal government authorizing a second booster shot for all adults; and the city working with the U.S. Centers for Disease Control and Prevention to set a new and higher standard for indoor air quality, and the federal government releasing stimulus and infrastructure funds to support businesses in making those upgrades.
Mayor Eric Adams has declined to enforce the private sector vaccine mandate, which was enacted in the final days of the de Blasio administration, saying they've been focusing instead on education about the importance of vaccination. The new mayor has also rolled back several other policies put in place under his predecessor, including mask mandates and a vaccine requirement to enter indoor venues like bars and theaters, known as the Key to NYC program. Adams has also discontinued a color-coded alert system for different risk levels of COVID-19, with recommended actions for the city and individuals to take based on the current risk level. The city has said that it is reevaluating that system. 
"Now that we have a strong supply of at-home tests – which we know people prefer – and treatments – which we know save lives – that is what we are focused (on) putting in the hands of New Yorkers," Adams spokesperson Kate Smart wrote in an email. "That is why we're leading the nation in treatment delivery and have provided 35 million free test kits to thousands of locations across the five boroughs so that people can quickly identify their status. We will continue to monitor the numbers and follow the guidance of health experts to keep New Yorkers safe and healthy." The administration pointed to plans to expand at-home test distribution, as well as the distribution of approximately 90,000 courses of Paxlovid and the recent launch of a treatment hotline for New Yorkers who test positive, and cited its distribution of millions of high-quality masks at schools, community centers and cultural sites. On de Blasio's suggestion to redefine "fully vaccinated" to include booster shots, the city said it would evaluate CDC guidance if and when it's updated.
Adams has said that as COVID-19 evolves, the city's strategies for fighting the virus need to evolve too. The administration has shifted its focus to COVID-19 testing at mobile sites, distributing at-home test kits and making antiviral drugs available to those who test positive, including through a new test-to-treat program that provides antivirals directly at mobile testing sites. The city's health department website says that COVID-19 transmission levels are "high," and that individuals should stay up-to-date on vaccinations, test before and after travel, gatherings or after being exposed to someone who tested positive, stay home if sick, and wear a high-quality mask in all public indoor settings and around crowds outside.
Despite holding his call-to-action press conference outside one of Adams' offices, de Blasio held back on directly criticizing his successor. "We have a very respectful relationship, we communicate a lot," de Blasio said of his relationship with Adams. "He has often asked my advice related to COVID over the months." De Blasio added that he spoke to Adams yesterday about the need to enforce the private sector vaccine mandate. 
Though several elected officials have called for New York City to bring back a mask mandate as cases rise, de Blasio said he doesn't think the city is at the point of needing to mandate masks again yet. He also said it wasn't yet time to bring back the Key to NYC vaccine requirement, but said it should be readied to be brought back if needed, with a new booster requirement.
Earlier this week, de Blasio held a press conference outside City Hall to criticize the federal government's distribution of monkeypox vaccines. In a new poll from the progressive firm Data for Progress, de Blasio ranked seventh out of eight candidates in getting likely voters' support in the crowded Democratic primary in New York's new 10th congressional district. 
While de Blasio shared his opinions on what New York should be doing differently to fight COVID-19, Adams held a press conference in Astoria to announce changing the fare structure of the NYC Ferry, one of de Blasio's signature programs. Though de Blasio was adamant about keeping the fare even with a subway or bus ride at $2.75, Adams announced Thursday that the cost of a single ride will go up to $4. Customers can still get the $2.75 rate if they package a 10-pack for $27.50, however, and low-income riders and other eligible New Yorkers will be able to apply for a $1.35 rate. "I think keeping the ferry price low is essential to getting more people to use it," de Blasio said in response to Adams' announcement on Thursday.
The NYC Ferry, which is subsidized at a high rate in order to keep the fare at $2.75, came under scrutiny last week when New York City Comptroller Brad Lander released a report finding millions in undisclosed expenditures for the ferry under de Blasio.