2022 congressional primaries
Candidates scramble as Dan Goldman gets inside track in NY-10
Outside spending and last-minute endorsements (sincere and not) flooded into the Democratic primary in the Brooklyn-Manhattan district as Election Day nears.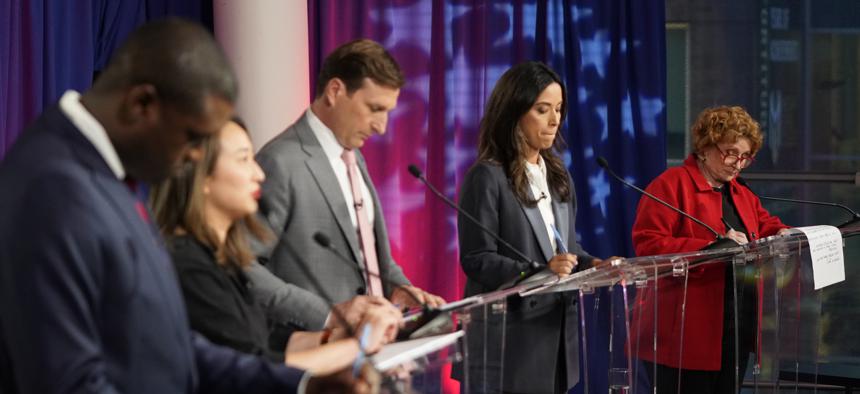 For the past few months, the Democratic primary for New York's 10th Congressional District has been mostly void of political attacks, candidates going negative, and dark money-funded ad campaigns. But with little time to waste before primary day, candidates – and the organizations backing them – are getting less shy about calling out the competition. 
At a joint press conference on Friday, candidates Carlina Rivera, a New York City Council member and Liz Holtzman, a former member of Congress, said that abortion access is on the ballot and urged voters in the Brooklyn and Manhattan district to support one of the female candidates in the race. "We know that not every candidate in this race has made this a priority," Rivera said. "Particularly, I'll name Dan Goldman, who has changed his position on abortion four times in three weeks."
Anybody's race – but Goldman's a target
Though political observers still call it a close and hard-to-predict race – thanks in part to unpredictable voter turnout in this late August primary – Goldman has undoubtedly captured an inside track in the last week of campaigning. The Levi Strauss heir and the Democrats' counsel for then-President Donald Trump's first impeachment, Goldman secured the all-important endorsement of The New York Times editorial board and leads the field in fundraising, after donating $4 million to his own campaign. (Though Hudson Valley Rep. Mondaire Jones, who moved to Brooklyn to run in the 10th district, is in a distant second. The others lag by millions.) Goldman also recently won the endorsement of Hasidic leaders in the district, which includes a section of Brooklyn's Borough Park, where there is a large Orthodox Jewish community.
Though there's been little public polling in the race, a Pix11/Emerson College/The Hill poll conducted from Aug. 10 to Aug. 13 – prior to the Times endorsement – showed Goldman with 22% support among 500 Democratic voters surveyed. Behind Goldman at 17% was Assembly Member Yuh-Line Niou, who is running with the support of the Working Families Party and local progressive elected officials. Following Niou was Rivera at 13%, who is running with an array of endorsements from local elected officials, political clubs and labor groups, and Jones also at 13%. Though Jones hasn't won many local endorsements, the Times editorial board mentioned him alongside Goldman as a standout in the race.
"I think it's better to say that Dan Goldman is in the pole position right now," said Lupe Todd-Medina, a political consultant who is not working with any of the campaigns in the race, when asked whether Goldman is the candidate to beat in the race. "But this race, given that it's an open seat and it's a newly defined district, is still anybody's guess."
Since the Times' endorsement of Goldman on Saturday, the candidate has drawn fire from his competitors – including Rivera, Holtzman, Jones, Niou and Assembly Member Jo Anne Simon. That has included criticisms of his largely self-funded campaign, his more moderate stances on issues like Medicare for All, and – despite its obvious backhandedness – his endorsement from Trump.
Rivera and Holtzman's Friday presser drew particular attention to Goldman's previous comments on reproductive rights. In a July interview with Hamodia, Goldman said that he wouldn't object to a state law banning abortion after a fetus is viable, as long as the mother's health wasn't at risk and it wasn't a case of rape or incest. Hamodia reported that he then conferred with an aide and walked that answer back, saying that his "personal views on the termination of pregnancy are secondary to the right of a woman to make the decision about a pregnancy herself."
Following Rivera and Holtzman's plea to voters to support a female candidate who will "fight like hell" for women's reproductive freedoms, Goldman said at his own press conference that his views on abortion have been misrepresented by his opponents. "I have been unequivocally clear that a woman has a 100% right to choose, and that the decision on whether to have an abortion should be solely between a woman and her doctor, and that the government should have no intervention," he said. Goldman's campaign also sent out a mailer to voters last week, apparently trying to clear up the confusion. It read, in massive font: "100% Pro-Choice. Always."
Despite Friday's joint presser, candidates have so far not shown signs that they will take an "anyone but Goldman" pitch as far as dropping out to coalesce behind a single competitor. Holtzman and Rivera offered praise for each other on Friday, but neither dropped out or offered an actual endorsement of the other. Earlier this week, Niou and Jones held a joint press conference to criticize Goldman's self-funding, with Jones calling Goldman a "conservative Democrat." Still, neither has dropped out. 
Seven days into early voting and four days before primary day on Aug. 23,  there's not an obvious path for candidates to coalesce without dropping out and directing their supporters to vote for an alternative choice. 
"This isn't ranked choice," said Chris Coffey, CEO of Tusk Strategies. "The only way that that works is if Mondaire Jones said, 'For the good of the progressive movement, I'm going to get out of the race, I'm going to endorse candidate X,'" Coffey said, offering one example. "If the progressives coalesced, even a little bit, behind either Yuh-Line or Carlina – or Mondaire, I guess – that could be impactful." It may be late for that to happen though, he said. (Coffey is not working with any of the candidates but has donated to both Rivera and Simon.)
Still, Coffey and Todd-Medina said that Rivera and Niou have potential to edge out a win, thanks in part to their ground game in the last week of campaigning and the unpredictable turnout in the late August election. Wealthier liberal neighborhoods that are likely to support Goldman – including brownstone Brooklyn – are also neighborhoods whose residents tend to decamp for summer houses at this time of year, Coffey said. Niou's support from the Working Families Party and Rivera's support from a number of political clubs and local leaders in Brooklyn and Queens, are expected to bolster their get out the vote efforts in the final days of campaigning.
Outside spending could be a factor
As candidates spend down their campaign coffers, super PACs are also getting involved, with nearly $1.1 million in outside spending reported so far, most of it coming in the last few days. The biggest beneficiary is Rivera, who is being supported with a $500,000 TV and digital ad buy from Nuestro PAC, which aims to turnout Latino Democrats. Chuck Rocha, a senior advisor to the PAC, didn't respond to a request for comment on the source of the funding, though previous funding has mostly been from small dollar grassroots donors, as well as some larger contributions from construction trades unions. 
A dark money super PAC which hasn't disclosed its donors is also playing in the race, spending $225,000 on mailers and digital ads attacking Niou directly on her record, and even her personal finances. One mailer from the newly formed organization, "New York Progressive, Inc." criticizes Niou for joining a lawsuit to block the proposed development of affordable housing in Nolita, and also cites protesters who called her a "fake progressive" for not doing more to protect workers rights. Another mailer from the secretive super PAC placed Niou's face on a fake wanted sign," accusing her of tax evasion. Government records indicate that the state of New York placed a $3,047 tax warrant on Niou on Nov. 30, 2017, when she was a sitting Assembly member. Niou paid off the amount within months, by Feb. 7, 2018. Niou's unpaid taxes have apparently not been previously reported, but the campaign confirmed the facts. 
"This real estate dark money PAC has taken a situation many students face – confusion over how to classify scholarship stipends on tax returns – and spins a fantasy about tax evasion," Niou campaign spokesperson Max Burns wrote in a statement provided to City & State. "In reality, Yuh-Line paid the $700 tax on her stipend as well as late fees as soon as she was contacted about it. It's disappointing how low some people will stoop to protect big developer interests." Burns added that Niou is being attacked "because she has spent her career holding those big money interests accountable to the people," and called the mailers a "disgusting smear campaign."
Niou's biography states she received a masters in public administration from Baruch College, in Manhattan. Niou has previously spoken of her financial struggles when running for office, and even said in a Jan. 2018 deposition that, "with my legislative salary, I can't afford to be a member of a gym," and that she could not afford a medical expense not covered by her health insurance.
Burns assumed the super PAC was funded by real estate, but it isn't actually clear who is funding it. New York Progressive will not have to file information about contributions until mid-October, per Federal Election Commission regulations. However the consultant behind the super PAC, Jeff Leb, has been active with other independent expenditure groups both in the 2021 New York City elections and the June 2022 Assembly primary. These groups normally oppose progressive candidates in favor of moderate Democratic opponents, and have largely been funded by big real estate interests. 
While Niou has been targeted, she's also been the beneficiary of outside spending in this election. A super PAC affiliated with the Working Families Party, which has endorsed her, reported spending $150,000 on digital ads on her behalf. Other spenders include Opportunity NY, which spent more than $117,000 on cable TV ads supporting Jones and 1199 SEIU, which spent $50,000 on digital ads backing Rivera, who the union has endorsed. 
One notable super PAC has not been spending in the 10th. Many observers were waiting to see if Protect Our Future would spend big to help Rivera, but no spending has been reported so far on her behalf. That group, funded by cryptocurrency billionaire Sam Bankman-Fried, is meant to help candidates who take pandemic preparedness seriously, and an affiliated nonprofit has endorsed Rivera.
Powered By
NEXT STORY: The endorsements for New York's 10th Congressional District