New York City
Five things to watch in Tuesday's New York congressional and state Senate primaries
Marquee races, progressives try a comeback and a couple confusing special elections.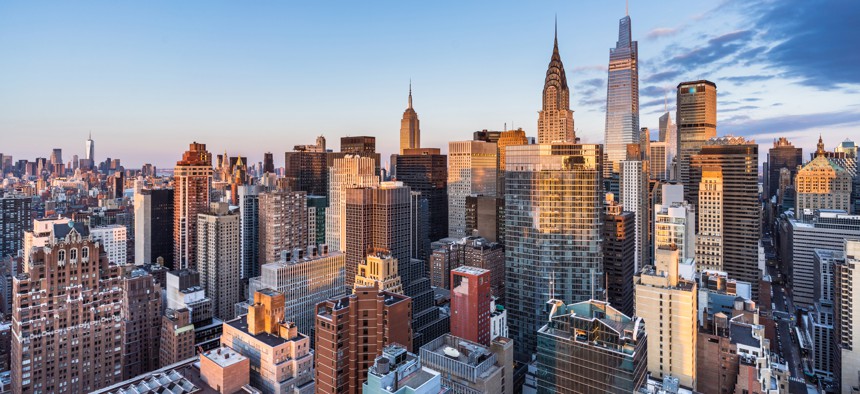 Unsatisfied with a single primary, New York has returned to the pre-2019 days of old with two primary dates. The June primaries for Assembly and statewide offices have come and gone. On Tuesday, voters will weigh in on state Senate and Congress. Vacancies in the House thanks to retirements, resignations and running for other offices – not to mention redistricting – have resulted in a large number of candidates running in congressional races across the state. And several high-profile state Senate races could have reverberating impacts on the direction of the chamber. It's a lot to keep straight, so here are four of the biggest things to watch on Tuesday.
Heavyweight fights
The two marquee Democratic primaries on Tuesday are in the 10th and 12th Congressional Districts. The 10th District is a close, crowded and open seat in lower Manhattan and northwestern Brooklyn, while the 12th District across the Upper East Side and Upper West Side features longtime Reps. Jerry Nadler and Carolyn Maloney, as well as attorney Suraj Patel.
Dan Goldman, the Democrats' House counsel on then-President Donald Trump's first impeachment, has the rest of the candidates in the 10th District scrambling after he was endorsed by The New York Times and has a small lead in the most recent polls. Political watchers don't expect major policy differences to determine this race that features many incumbents, including Assembly Members Yuh-Line Niou and Jo Anne Simon, New York City Council Member Carlina Rivera and Rep. Mondaire Jones.
No matter what happens in the 12th District, New York will lose at least one influential committee chair in the House. Both Nadler and Maloney refused to run in a different district, so the two heavyweights are now facing off against each other due to redistricting. Maloney has spent nearly $1 million on her own campaign, but a new PIX11/Emerson College Polling/The Hill poll suggested that Nadler has taken a commanding lead. Facing off against both of them is Patel, who in a 12th District debate co-sponsored by City & State said it was time for a new era of leadership.
Take two for progressives
Candidates from the left wing of the Democratic Party didn't fare well in the June primaries, with Democratic Socialists of America and Working Families Party insurgents coming up short in most races. Only two of their nonincumbent candidates won despite a large joint slate of candidates supported by the organizations. It represented a change compared to the previous two election cycles in 2018 and 2020, when progressive Democratic insurgents defeated a bunch of sitting lawmakers. Now, left-wing groups have a second chance to get their candidates elected to the state Senate and Congress. A few key races will test whether progressives still have the juice, including in state Senate District 59, where DSA-backed Kristen Gonzalez is hoping to win the vacant seat; the crowded 10th Congressional District, with more than one candidate claiming progressive bona fides; and the 17th Congressional District, where state Sen. Alessandra Biaggi is attempting an upset victory over Rep. Sean Patrick Maloney.
Revenge of the moderates
While progressives attempt to win some new seats, several incumbents are facing challenges from moderate challengers with powerful supporters. The most notable example comes in the Bronx, where state Sen. Gustavo Rivera is fighting to keep a spot in the state Senate after redistricting split up his seat. He's facing attorney Miguelina Camilo to represent the 33rd District – and he's going up against the Bronx Democratic Party, which has endorsed Camilo. In addition to having the party's backing, Camilo has also earned powerful endorsements from Reps. Adriano Espaillat and Ritchie Torres, plus New York City Mayor Eric Adams. Rivera, a progressive who has served in the state Senate since 2011, meanwhile has the backing of some of his colleagues and a few left-wing organizations. He's not the only person facing a primary. State Sen. Robert Jackson is competing against Angel Vasquez, who also has the backing of Espaillat, in Manhattan's Washington Heights, while first-term state Sen. Jabari Brisport faces a challenge from Conrad Tillard, another of Adams' candidates.
Special elections
With two open seats in Congress, there's also two special elections taking place on Tuesday. In the 19th District, Ulster County Executive Pat Ryan, a Democrat, will face off against Dutchess County Executive Marc Molinaro, a Republican. They're seeking to replace Antonio Delgado, who stepped down to become lieutenant governor. In Western New York, Republican Joe Sempolinski and Democrat Max Della Pia will compete for the 23rd District to replace former Rep. Tom Reed. In both cases, candidates are running in the current districts, not the redistricted ones that take effect in January, and the winner in both races will only serve until the beginning of next year. Gov. Kathy Hochul had announced the special elections to coincide with the August primaries to consolidate the number of elections and make things easier for the voters.
That doesn't mean the special elections don't have the potential to cause confusion. As candidates compete to fill vacant seats for the remainder of the year, other candidates are running in primaries to represent the new districts. And they're not always the same people. In the 19th District, Democrats Josh Riley and Jamie Cheney will appear on the ballot for the newly drawn version of the district, with the winner set to face Molinaro in the general election. Ryan, meanwhile, decided to run in the 18th District for a full term, since new district lines place him home there. In the 23rd District, state Republican Party Chair Nick Langworthy and businessperson Carl Paladino also square off in the primary, with Sempolinski choosing not to seek a full term in addition to the handful of months he would serve if he wins the special election. Della Pia, who isn't expected to win in the heavily Republican district, will appear on the November general election ballot as well to face the winner of the GOP primary.
If you thought turnout was low before …
The June election had low turnout, even by New York standards. This second primary in August is expected to have an even worse turnout due not only to lack of knowledge about the bifurcated primaries, but also because so many New Yorkers go away this month. That means that a very small percentage of the electorate will have an outsized influence on a number of consequential races, some of which may ultimately impact Democrats' control of the House of Representatives. Several seats that could flip in November have open primaries currently, notably on Long Island in the 3rd and 4th Districts, as well in the Hudson Valley in the 19th District and potentially the 17th District.