Politics
State Sen. Luis Sepúlveda is Dominican now. Other Dominican lawmakers don't like how he did it.
His critics wondered if the move was for political gain after he was redistricted into a Dominican community.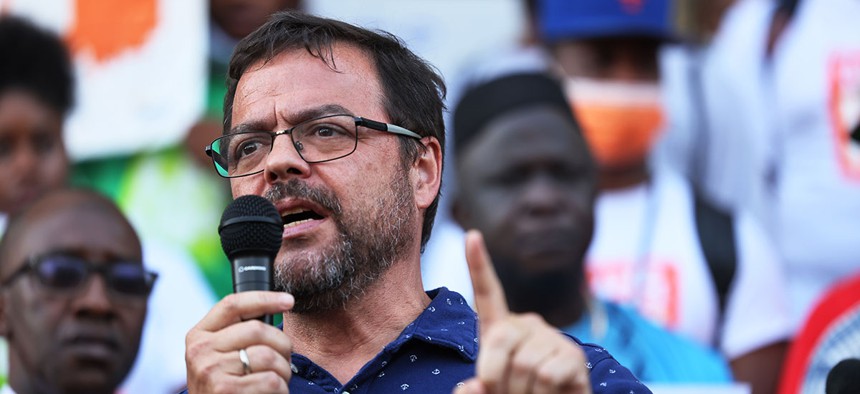 Dominican American lawmakers are fed up with state Sen. Luis Sepúlveda, saying that the Puerto Rican legislator has gone too far in adopting a Dominican identity for political gain – without allying with actual Dominicans.
Tension boiled over in the Bronx after Sepúlveda announced on Oct. 14 that he had been granted Dominican citizenship in a ceremony at the presidential palace in Santo Domingo. Sepúlveda was born in Brooklyn to Puerto Rican parents and has never lived in the Dominican Republic. But he has been building political relationships in the country, and just this month introduced a bill that would make New York recognize Dominican driver's licenses.
But fellow lawmakers said he hasn't been putting in the work with Dominicans in the Bronx. "I think the whole thing is outrageous and a slap in the face to the Dominican community on so many levels," Assembly Member Amanda Septimo, who is Dominican, told City & State. "The senator has never really taken an interest in the Dominican community here or abroad … but now in the name of political expediency given the redrawing of his district lines to include more Dominicans, he's fashioning himself as a champion."
Sepúlveda has represented state Senate District 32 since 2018. But this year's redistricting shifted his district away from the East Bronx and into Central Bronx neighborhoods with growing Dominican populations, such as East Tremont. Earlier this year, Sepúlveda hired a journalist who had been working in the Dominican Republic, Rusking Pimentel, as his communications director.
But fellow legislators like Assembly Member Karines Reyes, who was born in the Dominican Republic, said he has been doing it all wrong by co-opting the identity, rather than working with Dominicans. "I feel like he has burned a lot of bridges. He's not a very easy person to work with," Reyes said. She and Septimo both pointed to the way that Sepúlveda in July began organizing a New York delegation trip to the nation  on his own, without any apparent input from Dominican legislators. They felt as if they were invited as an afterthought. "We've all given him the opportunity and had conversations with him," Reyes said, but she felt like he hasn't changed.
Sepúlveda expressed surprise at lawmakers taking offense, saying nobody had complained to him about it. "If anybody's upset about that, that's unfortunate, because all I'm trying to do is help an island that I absolutely love," he told City & State. "I don't want to cast aspersions on anyone, but I think that sometimes, maybe elected officials complaining feel that only they can do things for the Dominican Republic."
Sepúlveda added: "When they do things for the island of Puerto Rico, I don't get offended. I don't get upset. They don't have to come and get my blessings."
Some outsiders thought Sepúlveda had a point. "This is a sign of their growing political power. They should embrace it!" said one political consultant, who asked for anonymity to discuss the conflict among lawmakers they had worked with. The consultant compared Sepúlveda's alleged pandering to the way that many elected officials visit Israel, as a way to appeal to Jewish constituents and political leaders.
Dominicans have been building influence in New York politics for decades in Washington Heights, Manhattan. In the past few years, more Dominican American candidates have been elected than ever before, particularly in the Bronx. Many have come up with support from Rep. Adriano Espaillat, the godfather of Dominican politics and the first Dominican American member of Congress in the United States. Others, like Reyes and Septimo, or Brooklyn Borough President Antonio Reynoso, have won outside of Espaillat's power structure. But Dominicans – both allies of Espaillat and otherwise – said Sepúlveda hasn't helped in elections. One Dominican American politician, who asked for anonymity to discuss a colleague, called Sepúlveda's actions "disrespectful," saying he "didn't help us achieve what we achieved."
Sepúlveda himself said he has a "great working relationship" with Espaillat. But Espaillat's office did not respond to a request for comment. Sepúlveda also emphasized that his love for the country was nothing new, and that his own son, and many other family members, are of Dominican descent. But that speaks to the other tensions at play here – and why fellow politicians were willing to take the relatively rare step of criticizing a fellow Democrat on the record. Sepúlveda's estranged wife is Dominican, and he was arrested and charged with strangling her last year. She had sought an order of protection against him years earlier. The state senator denied wrongdoing in the 2021 case, and prosecutors dropped the charges in October 2021. Sepúlveda also annoyed some fellow Democrats – particularly fellow Latinos – by staying in the primary for Bronx borough president last year despite having no path to victory while facing the charges. His campaign may have contributed to Vanessa Gibson, who is Black, winning the seat rather than a Latino candidate. Sepúlveda has largely been welcomed back into the Democratic conference in the state Senate, but some bad feelings remain. "There is some irony there that the woman who accused him of domestic violence multiple times happens to be a Dominican woman," Septimo said.
Sepúlveda didn't see anything wrong with becoming Dominican. "I really feel a closeness to that island," he said. "Now as a citizen, I'm going to do everything I can to help the people that live there and help the diaspora here."