News & Politics
Williams and Conole cling to the center at NY-22 debate
A months-long game of "he said, he said," continued at Wednesday's debate for the competitive Central New York seat.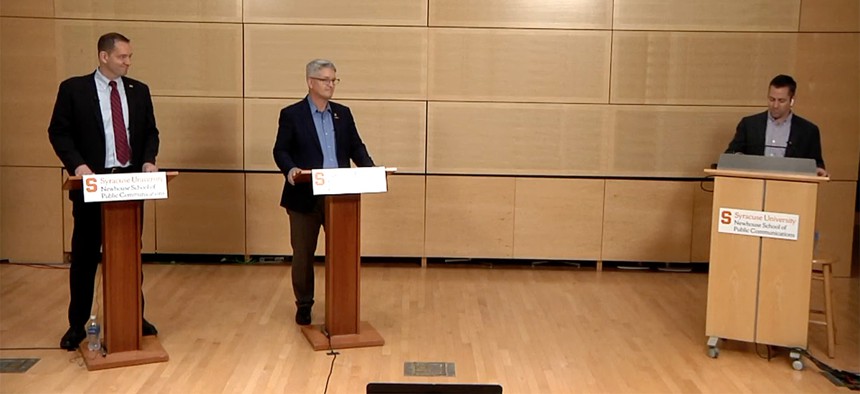 Congressional candidates and relative political newcomers Brandon Williams and Francis Conole spent much of Wednesday's 22nd Congressional District debate beating back attempts by the other to cast them at the far ends of their political parties, as one of the most competitive House races in the country intensifies ahead of the Nov. 8 election. 
The debate, hosted by Syracuse.com and Syracuse University, marked the first time Conole and Williams have gone head-to-head. Conole, a Democratic Navy veteran and defense policy adviser, repeatedly described Williams, a Republican tech entrepreneur and also a Navy veteran, as having extreme views, including supporting the insurrection on Jan. 6, 2021, and favoring a total ban on abortions. 
Not for the first time during this campaign, Williams attempted to refute those claims. "I've always been against the violence in the Capitol, and I've always stated that clearly," Williams said, adding that he accepts Joe Biden as the duly elected president. Williams was reported as saying as much during the primary, telling Syracuse.com that the Electoral College rules were followed. But Williams also said legitimate questions about election rules were raised, and didn't answer whether he thought Donald Trump incited the mob on Jan. 6.
Asked about his stance on abortion, Williams described himself as pro-life, but in favor of allowing exceptions in cases of rape, incest or when the life of the mother is at risk. Williams specifically said that he would vote against a bill from Sen. Lindsey Graham that would ban abortion at 15 weeks, and said that he isn't in favor of a federal abortion ban. Williams, who beat a party-backed candidate in the Republican primary this summer, has moderated some of his messaging about abortion since then, now highlighting his support for those exceptions on his website where during the primary it only said that he was pro-life. 
Conole meanwhile, attempted to beat back attempts by Williams to cast him as a member of the progressive left. While Williams, like all Republicans in this midterm election, is campaigning on inflation and Biden's low approval ratings, Williams also attempted to link Conole to local leaders and policy. "Kathy Hochul is known as the Queen of cashless bail and has eagerly and enthusiastically endorsed my opponent," Williams said, citing cashless bail as one of the "plagues" New York is suffering through.
"I've never supported bail reform, and I've never supported 'defund the police'," Conole countered. "I don't even really know Kathy Hochul that well. I've met Kathy Hochul once." 
"I haven't been to Albany since the 90s," Conole added, going so far as to physically distance himself from Hochul, who is facing her own increasingly competitive election in which Republican candidate Lee Zeldin has made crime a focal point.
With early voting set to begin on Saturday and less than two weeks to go before Election Day, it's not entirely surprising to see the candidates in this highly competitive upstate district cling to more moderate points on the political spectrum.
The district favored Biden by seven points in 2020, but has a history of electing Republicans to local office too. The new 22nd Congressional District includes Onondaga County, which is currently represented by retiring Rep. John Katko, a moderate Republican who broke with his party to vote to impeach Trump during his second impeachment. Katko, notably, has not endorsed either candidate in this race.
A Spectrum News/Siena College poll conducted in late September showed Williams with a slight lead over Conole, though it also showed a large swath of respondents had no opinion of either candidate. Wednesday's debate offered Central New York voters some more insight into the candidates' backgrounds and priorities, and two more scheduled debates still to come could continue to do that in the final weeks of campaigning.