Politics
5 things to watch in the final days of the race for New York governor
Gov. Kathy Hochul and Rep. Lee Zeldin are using everything from endorsements to prioritizing crime heading into the final days until Election Day.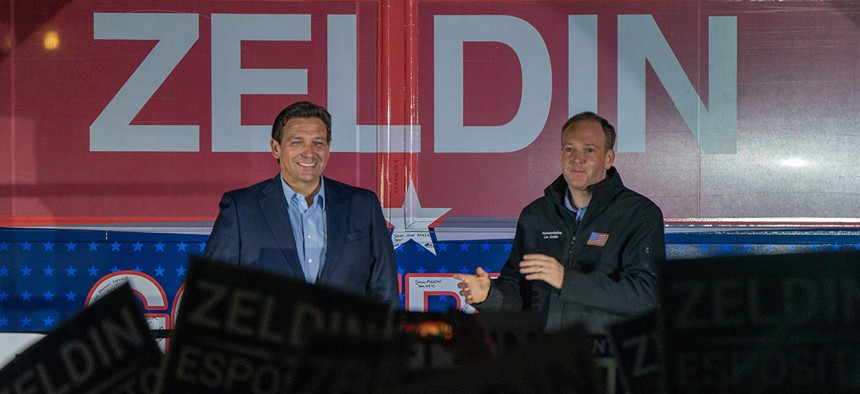 For months, political enthusiasts have been engulfed in the ongoing gubernatorial race between incumbent Gov. Kathy Hochul and Republican challenger Rep. Lee Zeldin. In the final days leading into Election Day, campaign efforts by both candidates are in full swing. Here are five things to look out for before Nov. 8.
Help from national political figures 
Historically, midterm elections are known as a referendum for the president and his political party. With Democrats in control of both the White House and Congress, and President Biden with consistently low approval ratings, Republicans across the country are trying to galvanize their base to take control of Congress and statewide elections. This is also true in New York where Rep. Lee Zeldin held a rally in Westchester with conservative Virginia Gov. Glenn Youngkin – who less than a year ago bested former Democratic Virginia Gov. Terry McAuliffe in a political upset. Florida Gov. Ron DeSantis, a potential 2024 presidential candidate, has also campaigned for Zeldin on Long Island in the final days of the election. While Republicans plan to take back control, Democrats face the threat of low voter turnout. Hochul has prioritized the "Get Out The Vote" message with New York top officials. Vice President Kamala Harris and former Secretary of State Hillary Clinton are also set to help Hochul's campaign efforts with a rally in Manhattan. In a radio ad released at the start of early voting, former President Barack Obama urged New Yorkers to vote for Hochul. First Lady Jill Biden also hit the campaign trail for Hochul with a rally at a Long Island mall.
Prioritizing crime and public safety
Until recently, Hochul has focused most of her campaign platform around abortion rights. But as polls continue to highlight crime as a top issue for voters, the incumbent has shifted to focus on public safety. Along with New York City Mayor Eric Adams, Hochul announced an increased police presence to patrol New York City subways and reduce violence underground. A few days later, the governor highlighted her focus on public safety since being in office while touting the state's red flag laws at a press conference with state Attorney General Letitia James. Hochul has claimed that Zeldin would "repeal common sense gun laws." Zeldin has focused his campaign on crime from the start and has vowed to declare a crime emergency on his first day as governor. A shooting outside his Long Island home in October galvanized his platform. The Republican candidate has continued to criticize Hochul for her position on crime and will likely continue his crime strategy in the final days.
Securing essential endorsements
Securing endorsements can put candidates on the radar of the few voters who might still be undecided leading into Election Day. Zeldin recently secured the endorsement of several key Hasidic Jewish voting blocs in New York City: Bobov, Bobov-45, Belz and Satmar. One of the groups notably endorsed other Democratic incumbent candidates running, including Letitia James and U.S. Sen. Chuck Schumer, but chose Zeldin over Hochul. The Republican candidate, who is Jewish himself, has been publicly critical of the state's oversight of Yeshivas – which have been under scrutiny for failing to teach sufficient "non-religious" subjects. Meanwhile, Hochul has secured the endorsements of several editorial boards, including the New York Times, Syracuse.com and Newsday. She also nabbed an endorsement from the New York Hotel Workers Union.
Tapping lieutenant governors 
Hochul and Zeldin have been utilizing their running mates in different ways. Recently Hochul's Lt. Gov. Antonio Delgado campaigned at various churches with predominantly Black members, including Rehoboth Cathedral, New Life Tabernacle and Mt. Ollie Baptist Church. Delgado has also been campaigning at early voting rallies with Hochul and local elected officials ahead of Election Day. Meanwhile, Zeldin's running mate Alison Esposito has barely made any campaign appearances on her own but has been campaigning alongside Zeldin in Long Island, Staten Island and Westchester.
Campaigning in New York City
To secure a win, Hochul can't take New York City for granted. The governor has been spending time campaigning in the Bronx where early voter turnout has been lackluster in recent elections. In a recent appearance on Power 105.1 FM's The Breakfast Club, Hochul highlighted her accomplishments in the past year as governor while urging New York City voters to cast their ballot for her on Election Day. New York City is also an important part of Zeldin's plan to win the gubernatorial race. According to Zeldin's campaign, he needs to secure at least 30% of votes in New York City to win. Zeldin is confident that he'll win enough votes in New York City and will likely spend time there in the last days of the election.