Politics
Is gender bias hurting Kathy Hochul?
The first woman governor of New York is trailing among men, and political consultants said this is a very familiar "likeability" issue.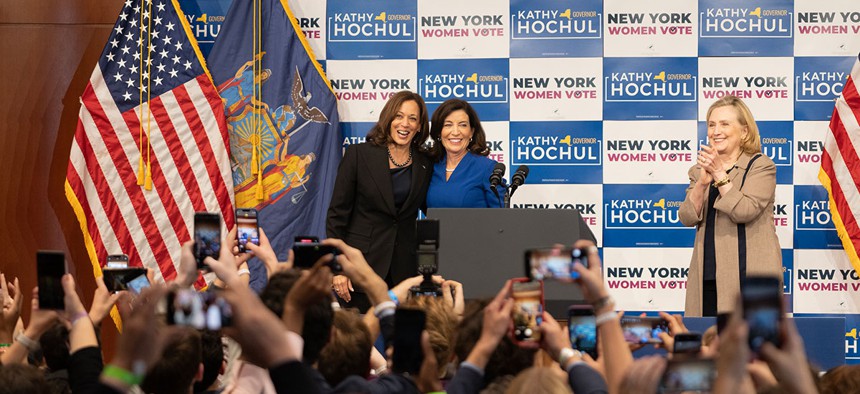 Gender is one of many factors in the governor's race – but it could be a big one. Gov. Kathy Hochul campaigning with Hillary Clinton yesterday got some people in the political world talking about whether Hochul – in her bid to be the first woman elected governor – is struggling with the same gender-related "likability" issues that may have contributed to Clinton's defeat in the 2016 presidential race.
"I think it really goes to an unconscious bias," said one woman in politics, who asked for anonymity because she wasn't authorized to speak for her employer. "I think she's much more likable than Hillary Clinton, but in an election where crime and public safety is the No. 1 issue, does it hurt her where she's a woman, and not an aggressive man? Yes."
So is being a woman hurting Hochul at the polls? "That's not the question, that's a given," said political consultant Alexis Grenell, who's written extensively about gender and politics. "Zeldin has been attacking her for her lack of leadership. Women are more vulnerable to this kind of attack because every piece of data we have shows that the qualities and adjectives we associate with the leadership concept are coded as male."
There's certainly a gender gap in the polling. A mid-October Siena College poll found that Hochul is up on Republican Rep. Lee Zeldin 61-32 among women, but down 44-49 among men. An October Quinnipiac poll found a similarly huge gap – Hochul led Zeldin 57-39 among women, but trailed 41-55 among men. Some of that is just party identification – women skew Democratic. But in a Quinnipiac poll taken a month before the election in 2018, then-Gov. Andrew Cuomo led Republican nominee Marc Molinaro 54-40 among men. 
But the interplay of gender and politics is more complicated than that – just look at the persistence of some women's support for Cuomo. Some observers think the way Hochul came into power may be hurting her now too. "She's linked inextricably to the downfall of a powerful man who did want to give up power because of the way he treated women," said another woman working in city politics, who asked for anonymity to speak freely about people in power. "Anybody who hated #MeToo and felt like it was unfair? Hochul is the beneficiary of that."