Politics
Where do Hochul and Zeldin stand on big policy issues affecting New York?
A guide to the gubernatorial candidates' stances on everything – from abortion rights to crime, the economy and threats to democracy.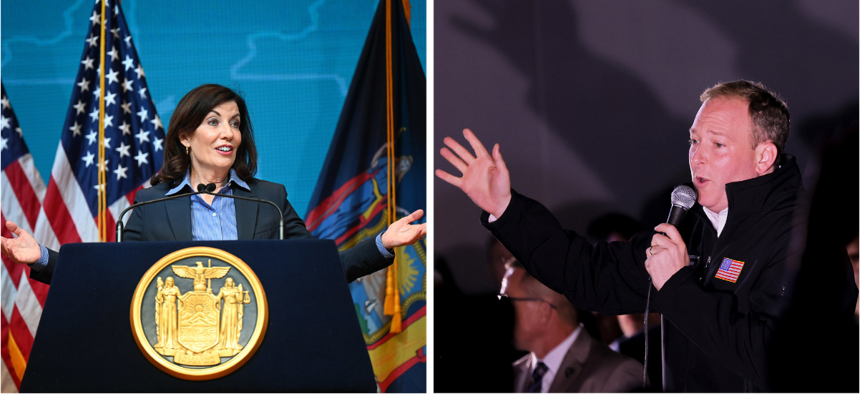 It's been a hectic midterm election for New York's gubernatorial candidates Gov. Kathy Hochul and Republican challenger Rep. Lee Zeldin, complete with controversial polls, energetic rallies, and a contentious debate. With just a few days until Election Day, voters may be finding it difficult to remember where each candidate stands on some of the most pressing issues affecting the state – from abortion rights to crime and public safety. 
Here's a guide to navigating Hochul and Zeldin's perspective on these important issues:
Crime and Public Safety
Recent polling has shown crime is amongst the top issues for New York voters heading to the polls. Hochul, who only recently shifted her campaign focus to crime, has prioritized focusing on gun violence and gun trafficking to address crime. The governor has touted the state's red flag laws which are aimed at preventing individuals who show signs of being a threat to themselves or others from possessing firearms. And she has highlighted her push late in the 2022 state budget process to further roll back bail reform as well as a recent decision to add more police to the subways. However, Hochul has shied away from offering concrete details on what additional steps she would take during her first full term if elected, relying on her existing track record and criticizing Zeldin for missed votes in Congress that included support for local law enforcement.
While focusing heavily on crime throughout his campaign and highlighting crime on the New York city subway, Zeldin has encouraged voters to "vote like your (lives) depend on it, because it does." The Republican candidate has vowed to declare a crime state of emergency if elected, using his expanded emergency powers to suspend criminal justice reforms, most notably the law that eliminated cash bail for most non-violent crimes. He opposes the existing gun laws in New York as well, and supports repealing the 2013 SAFE Act. Zeldin is prepared to fire Manhattan District Attorney Alvin Bragg immediately on day one and remove all district attorneys who "don't enforce the law." Zeldin also has plans to repeal the HALT Solitary Confinement Act and appoint a new state Department of Corrections and Community Supervision chair. 
Abortion Rights
The U.S. Supreme Court ruling in Dobbs v. Jackson that ended nearly 50 years of federal protections for abortions is another important issue heading into New York's midterm elections. Hochul signed legislation to protect reproductive health care providers and establish the state as a safe haven for those seeking abortions. As the state's first female governor, Hochul made abortion rights a key campaign issue early on and has vowed to continue fighting to protect abortion rights in the state if reelected.
Meanwhile, Zeldin has had a pro-life abortion stance for years. Last year while in Congress, Zeldin co-sponsored a bill to implement a federal ban on abortions after 20 weeks. The Republican candidate has expressed interest in appointing a pro-life health commissioner, but has also claimed he "would not and could not" change the state abortion laws.
Inflation and the Economy
With the rising cost of grocery items and fuel, inflation is another top concern for voters heading to the polls. Hochul recently announced major economic development investments in Central New York and the Hudson Valley with great fanfare and national figures in tow. She quickly capitalized on those announcements, releasing ads touting the $100 billion Micron computer chip manufacturing deal near Syracuse and the $20 billion IBM program near Poughkeepsie. To curb the effect of rising gas prices on vehicle owners, Hochul implemented a "gas tax holiday" to suspend certain state taxes on fuel for vehicles. The governor has not indicated plans to extend the holiday past its expiration date at the end of this year.
Meanwhile, Zeldin has indicated support for an extension of the gas tax holiday and plans to cut other taxes across the state. The Republican candidate has vowed to reassess the state's spending and implement a state spending cap. Zeldin also plans to lift the long-standing ban on extracting natural gasses in an effort to create more jobs. The Republican candidate has been very critical of Hochul for the state's population loss, which he says was driven by the economy. However, aside from tax cuts and fracking, Zeldin has offered few details on his plans for economic development in the state.
Threats to Democracy
The state of the nation's democratic values has continued to rank relatively high in the list of voter priorities according to public polls, especially among Democrats. And it has been a theme for Hochul throughout her campaign as she targeted Zeldin for his vote against certifying the 2020 presidential election and stoking unfounded claims of election fraud in the aftermath of former President Donald Trump's loss. She has also sought to tie him to the Jan. 6, 2021 riot at the Capitol where Trump supporters attempted to violently overturn the election results.
Zeldin, for his part, has not shied away from his decision against certifying election results in two states and has indicated that if given the option, he would vote the same way. But when asked directly whether he would accept the election results if he loses, Zeldin affirmed that he would. Still, the Republican Party has long stoked fears of voter fraud despite clear evidence that occurrences are rare. Zeldin has said he supports voter ID laws, which the state does not currently have, but recently expressed confidence in the state's expanded absentee ballot process in a break with many members of his party.