News & Politics
Senate Judiciary chair says prospects are dim for Hochul's chief judge pick
State Sen. Brad Hoylman's committee is tasked with reviewing the nominee and deciding whether to advance Hector LaSalle for a floor vote.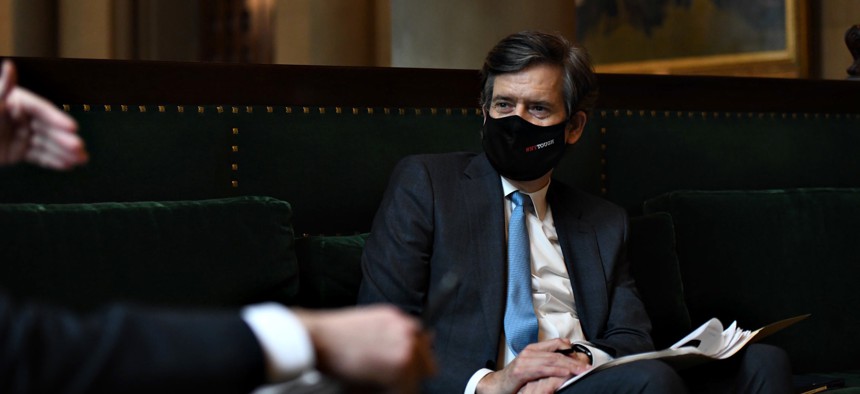 State Senate Judiciary Committee Chair Brad Hoylman said that Gov. Kathy Hochul's pick for chief judge has almost no chance of being confirmed by the Senate, now that 12 Democratic senators have publicly announced that they would vote not to confirm him.
"I'm not in a position to give political advice to the governor, but I think she and her team can count and would see that this nominee has a very steep hill to climb given the public opposition by 12 of my colleagues at this point," Hoylman said in an interview with City & State. "That doesn't include those who have made their opinions known privately, several of whom sit on the committee and out of respect for the process, haven't stated their positions."
On Thursday, Senate Deputy Leader Michael Gianaris announced that he would not vote to confirm Hector LaSalle, whom Hochul nominated as chief judge last week. 
"While I respect the Governor's prerogative to nominate a Chief Judge of her choosing, the most important criteria must be to ensure a change from the harmful tenure of Janet DiFiore and her three followers still serving on the Court of Appeals," Gianaris said in a statement. 
State Sens. Kristen Gonzalez, Julia Salazar, Jabari Brisport, Gustavo Rivera, Robert Jackson, Samra Brouk, Michelle Hinchey, Rachel May, Cordell Cleare and Lea Webb previously said that they would not vote to confirm LaSalle, and Sen. Jessica Ramos announced her own opposition to the pick shortly after Gianaris, bringing the total number of Democrats publicly opposed to LaSalle to 12.
Although it would be theoretically possible for LaSalle to receive the 32 votes necessary for confirmation if some of the Senate's 21 Republican members voted for him, there is virtually no chance this will happen. In order to even make it to a full floor vote, LaSalle would need to be approved by the Senate Judiciary Committee.
The Center for Community Alternatives, the criminal justice reform group that has spearheaded the progressive opposition to LaSalle's nomination, is now calling on the governor to withdraw LaSalle's nomination and instead nominate a more progressive candidate for chief judge.
"We urge Governor Hochul to withdraw the nomination and choose a unifying path forward by selecting one of the three excellent candidates on the list provided by the Commission on Judicial Nomination," Center for Community Alternatives director of judicial accountability Peter Martin said in a statement.
Hoylman also suggested that the governor should think seriously about withdrawing the nomination.
"Committee votes are not generally unknown, and I would think that if a nominee was in danger or decidedly not going to receive the requisite vote in committee, then the governor's team would pull the nominee and bring forward an individual acceptable to both the committee and the full Senate," he said.
One possible way forward would be for Hochul to ask LaSalle to withdraw himself from consideration so she could then nominate judge Edwina Richardson-Mendelson as chief judge.
In accordance with the state constitution, the Commission on Judicial Nomination produced a shortlist of seven candidates that Hochul could nominate for the chief judgeship: LaSalle, Richardson-Mendelson, acting chief judge Anthony Cannataro, appellate judge Jeffrey Oing, Legal Aid Society attorney Corey Stoughton, Yale Law professor Abbe Gluck, and Albany Law School dean Alicia Ouellette. 
A coalition of nearly 150 progressive organizations endorsed Richardson-Mendelson, Stoughton, and Gluck, while warning the governor that LaSalle, Cannataro and Oing would not be "acceptable" choices for chief judge given their conservative judicial records. 
Nonetheless, on Dec. 23, Hochul announced that she would nominate LaSalle, who would be the first Latino chief judge in the state's history. She also announced that LaSalle intended to appoint Richardson-Mendelson as the court system's chief administrative judge.
Within hours of Hochul's announcement, three senators affiliated with the Democratic Socialists of America announced that they would vote not to confirm LaSalle. Even as Latino political groups and politicians praised LaSalle's nomination, the state's powerful labor unions – spooked by a decision LaSalle joined that would allow employers to sue union leaders for defamation – joined criminal justice reformers and reproductive rights groups in encouraging senators to oppose LaSalle.
Yet Hochul has remained defiant in the face of growing opposition to LaSalle, insisting that his critics have distorted his judicial record.
"Judge LaSalle is a highly qualified, experienced, and respected jurist, and his historic nomination deserves a full hearing and confirmation process," the governor said in a statement. "I expect that the Senate will fulfill their constitutional duties and engage in a robust, fair process. I know that Judge LaSalle is the best candidate for the job, and I believe that when Senators hear from him directly, they will agree."
LaSalle has also received support from a group of prominent Latino officials calling themselves "Latinos for LaSalle," which has accused LaSalle's critics of distorting his record and denying him a fair hearing. The group includes former City Council speaker Melissa Mark Viverito, former Bronx borough president Fernando Ferrer and well-connected political consultant Luis Miranda, Jr.   
Hoylman said that he is committed to holding fair hearings on any nominee, including LaSalle.
"Whoever the nominee is, at the end of the day, I'm committed to a fair and thorough hearing as chair of the Senate Judiciary Committee so that we in the Senate fulfill our constitutional responsibilities to provide advice and consent for this appointment," he said.
But any hearings seem unlikely to change the political reality that LaSalle has virtually no chance of being confirmed.
"There must be recognition of how steep the hill to climb is and how much political capital it's worth it to expend on the nomination that at this point would seem to have little chance of moving forward," Hoylman said.