News & Politics
Latino politicians split on Hochul's embattled chief judge pick
In a letter shared exclusively with City & State, more than 70 Latinx leaders explained their opposition to chief judge nominee Hector LaSalle.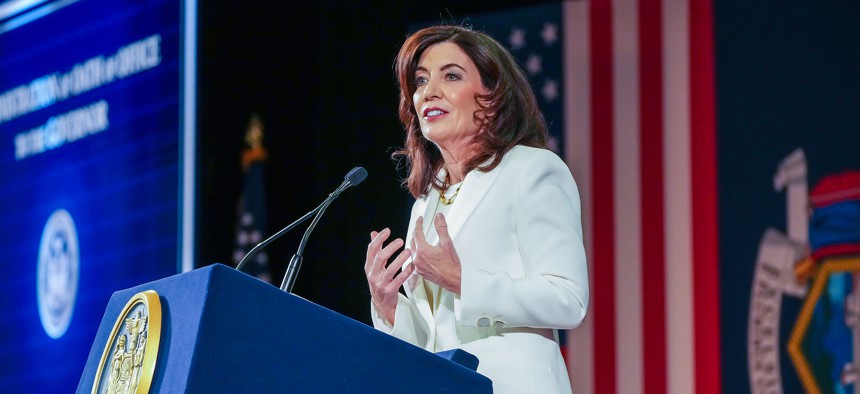 The political backlash to Gov. Kathy Hochul's nomination of Hector LaSalle to be chief judge, and the subsequent backlash to the backlash, has exposed deep divisions within New York's Latino political community, pitting "Latinos for LaSalle" against a group of "Latinx leaders" who oppose his nomination.
LaSalle currently presides over the appellate courts in Brooklyn, Queens, and a number of suburban counties. If confirmed by the state Senate as chief judge, he would be the first Latino chief judge in state history. When Hochul first announced his nomination on Dec. 23, a number of prominent Latino politicians — such as Lieutenant Governor Antonio Delgado, Congressional Reps. Adriano Espaillat and Nydia Velázquez, state Senators Luis Sepúlveda and Monica Martinez, and Assembly Member Catalina Cruz — praised the historic nomination. 
But LaSalle's relatively conservative judicial record, including decisions that blocked the state Attorney General's office from fully investigating anti-abortion "crisis pregnancy centers" and allowed employers to sue individual union leaders for defamation, have led dozens of labor unions, progressive nonprofits, and reproductive rights organizations to oppose his nomination. As of publication time, 14 state Senators have publicly announced that they plan not to vote to confirm him as chief judge.
The fierce opposition has prompted a group of the embattled nominee's supporters — including political consultant Luis Miranda, former City Council Speaker Melissa Mark-Viverito, and law professor Natalie Gómez-Vélez – to launch a campaign called "Latinos for LaSalle" aimed at defending the would-be chief judge's record.
The group has implied that opposition to LaSalle may be racially-motivated, pointedly noting that previous candidates for chief judge position, who were white, never faced such public opposition from the state Senate. 
But the Latino political community is not wholly united in favor of LaSalle. As City & State reported last week, the nomination has exposed a generational split between an older generation that prizes representation above all else and a younger generation that prioritizes ideology as much as ethnicity.
And on Thursday, a group of more than 70 progressive "Latinx leaders" released a letter of their own explaining their decision to oppose his historic nomination.
"Diversity without a focus on equity is not enough," reads a copy of the letter shared exclusively with City & State. "Not every Latinx candidate for higher office is the same. As Latinx leaders we demand that Latinx candidates for higher office demonstrate values and principles that uplift Latinx communities and working class communities."
The letter's signers include two state Senators (Julia Salazar and Kristen Gonzalez), three Assembly Members (Jessica González-Rojas, Marcela Mitaynes, and Juan Ardila), and three City Council members (Tiffany Cabán, Sandy Nurse, and Jennifer Gutiérrez), along with local officials from around the state, members of the Democratic Party's state committee and leaders of a number of progressive nonprofits.
Brian Romero, a state committee member and González-Rojas staffer who was one of the first to sign the letter, told City & State that the letter shows that the Latino community is not monolithic. 
"Latinx New Yorkers are diverse in a myriad of ways and it's important as with any community that our nuances and various stances are shared so that it's not assumed there is a general opinion by any community," he said.
Latinos for LaSalle has demanded that the state Senate Judiciary Committee give LaSalle a fair hearing before deciding on his nomination.
Romero said that he does not believe it's necessary for critics to wait for a hearing before voicing their opposition. 
"LaSalle can certainly have a hearing in front of the State Senate, and if Senators want additional opportunities to examine his record and question him about it, a hearing would be valuable. But many of us outside of the Senate can also, and have, reviewed his record and formed our own evaluations," he said.
The Judiciary Committee — which is expanding in size from 15 to 19 members — has announced that it will hold hearings on LaSalle's nomination, although committee chair Hoylman previously told City & State that LaSalle is very unlikely to be approved by the committee.