Heard Around Town
Eric Adams' approval rating is underwater with New Yorkers
Most city voters agree there's a migrant crisis, but there's widespread disapproval of how he's handling it.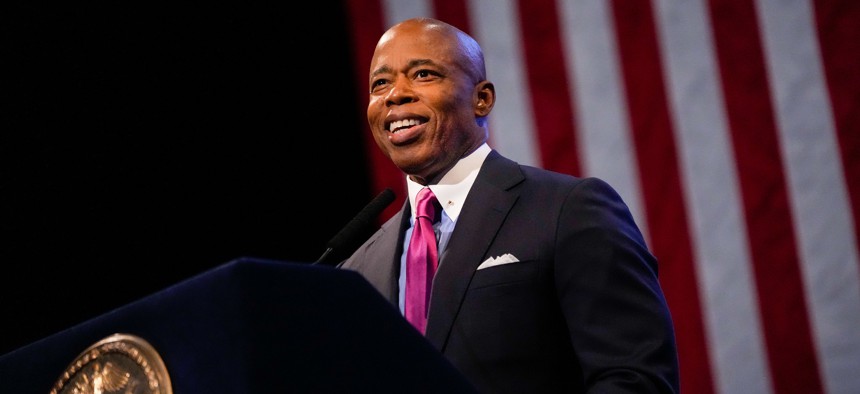 New Yorkers are unhappy with Mayor Eric Adams, with more people disapproving of the job he's doing in his second year than approving. A Quinnipiac University poll of New York City registered voters out Wednesday found that 37% approve of the way he's handling his job, while 43% disapprove and 20% don't know. 
That negative 6-point approval rating is a flip from Quinnipiac's last poll, in May 2022, where 43% of voters approved, 37% disapproved, and 20% didn't know – a 6 point approval rating. A year ago in Feb. 2022, 46% of voters approved, 27% disapproved, and 27% didn't know, for a +19 point rating for the mayor, then one month into his tenure. 
Some 70% of voters agree with Adams' assessment that the number of migrants coming to New York City from the country's southern border is a "crisis," and a whopping 80% think the federal government has a responsibility to help – even as Washington has provided little to no financial support so far. But on the whole, voters are not pleased with how Adams is handling immigration. A majority, 63%, thought the city doesn't have "the ability to accommodate the migrants seeking sanctuary." Just 39% approve of the way Adams is handling immigration, compared to 46% disapproving. And even more disapprove of the way he's handling the closely related issue of homelessness – 26% approve and 61% disapprove. 
"Polls go up and down, up and down. And we're just going to continue to do what we do. And that's produce for New Yorkers," Adams said at an unrelated press conference Wednesday, after being told about the results of the poll. "I am really pleased with the administration the way they are. We're going to continue to stay focused, no distractions and grind."
And while lack of support could hinder Adams' ability to "get stuff done," the mayor doesn't have much reason to be worried just yet when it comes to elections. He's not up for reelection again until 2025, and among registered Democrats, he has a positive approval rating, 43% to 38%. And Adams is still quite popular among one of his major bases, Black voters. But the other three citywide politicians – with lower profiles and fewer responsibilities – are all significantly more popular than Adams. 
Quinnipiac polled 1,310 people between Jan. 26-30 with live interviews on cell phones and landlines. It has a margin of error of +/- 2.7 points.
Approval of Adams may have gone negative long ago. A Siena/NY1 poll in June 2022 found just 29% of city residents thought Adams was doing an excellent or good job, while 64% rated it as fair or poor. But that came after a strong start very early in his tenure. In March 2022, a Marist poll found 61% of city residents approved of the job Adams was doing and 24% disapproved. But even then, he started out on worse footing than most other recent mayors, after winning the 2021 Democratic primary by a relatively narrow margin.
At the same point in former Mayor Bill de Blasio's term, he had a +9-point approval rating. Quinnipiac found in Jan. 2015 that 49% of voters approved of the job he was doing and 40% disapproved.