News & Politics
LaSalle rejected, a shooter sentenced and a truck rampage in Bay Ridge
Rounding up the week's political news.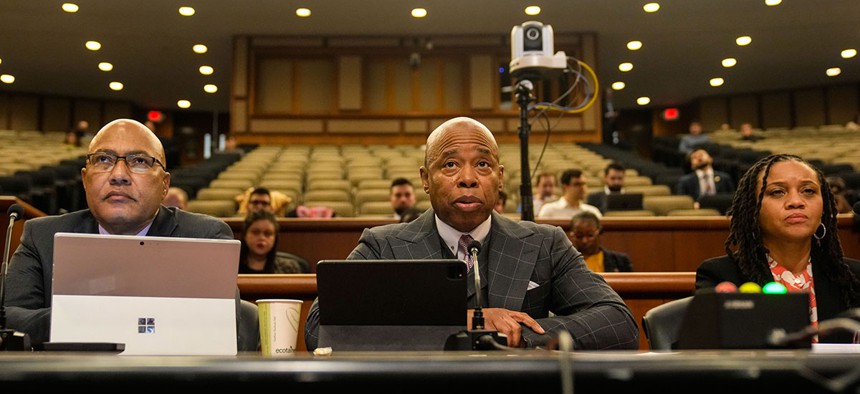 "Come up with creative ways of having flexibility." That's what City Hall has begun telling city agencies about remote work. After ardently opposing the idea for some time, New York City Mayor Eric Adams now appears to be more open to the prospect of letting city employees work from home than he was when he first took office a year ago. His recent comments are certainly a far cry from what he'd said early in his tenure that "you can't stay home in your pajamas all day. That's not who we are as a city." Well, only time will tell, but perhaps city employees will be able to reunite with said pajamas during the daylight hours afterall. Read on for more of the week's biggest news. 
Fill my cup
"Tin Cup Day,"  in which mayors across the state make their case to the Legislature to plead for more money, posed a fresh opportunity for Adams. In the lead up to the annual rite, he worked to deepen his relationships with Hochul and made earlier, more focused efforts to communicate with lawmakers, hoping to find more success than he did in Albany last year. Throughout his meeting with lawmakers Feb. 15, Adams warned that the city is unable to provide the additional $500 million a year to support the Metropolitan Transportation Authority proposed by Hochul. He also asked for more help with the ongoing migrant crisis and expressed concerns that the governor's plan to lift the charter school cap could cost the city an additional $1 billion through associated costs. 
LaSalle won't be chief judge
After months of political grandstanding and a lawsuit, Gov. Kathy Hochul's controversial nomination of Hector LaSalle as chief judge is officially dead. The full state Senate ended the stalemate between the Legislature and the governor over his fate on Feb. 15, rejecting him in a sudden largely party-line vote of 39-20. What comes next is largely unprecedented. Hochul said that she would move ahead with nominating a new candidate and the Commission on Judicial Nomination will likely again provide a shortlist of candidates. As for what her relationship will look like with Democratic lawmakers going forward, that remains more uncertain, although Senate Majority Leader Andrea Stewart-Cousins said she hopes to still have a cooperative partnership with Hochul going forward. This will be put to the test soon enough. Budget negotiations are on the horizon and the governor will need to work closely with the Legislature on several controversial sticking points. Political experts anticipate that they'll be more tension heading into negotiations, although her power over the budget hasn't weakened.
Tops shooter sentencing 
The 19-year-old gunman who shot and killed 10 Black people and injured three others at a Buffalo grocery store in May last year was sentenced to life in prison last week. He won't be eligible for parole. "There can be no mercy for you, no understanding, no second chances," Judge Susan Eagan said, addressing him. Wednesday's hearing was emotionally charged.  Survivors of the racist attack as well as victims' family members delivered emotional statements about how the shooting has personally impacted them and the surrounding predominantly Black community. In one especially tense moment, a victim's family member rushed the gunman. Officials quickly restrained him, however, and said he wouldn't be charged.
U-haul attack 
One person died and eight others were injured on Monday, Feb. 13 after a man driving a U-Haul truck went on a deadly rampage in Bay Ridge, Brooklyn. For over 48 minutes, the driver veered into people and swerved onto sidewalks until police managed to corner him after chasing him for miles. The alleged driver, 62-year-old Weng Sor, has since been charged with one count of second degree murder and seven counts of attempted murder. New York City Police Department officials have said they believe he was suffering from a mental health crisis and that the incident was not related to domestic terrorism. 
School safety
Concerned by the growing volume of youth violence, officials have taken several recent steps in what they hope will bolster safety. New York City Schools Chancellor David Banks has been especially concerned about a string of recent shootings that involved young people, several of which took place right after school dismissal. In response to this, Banks announced that 1,600 public schools will start meeting virtually on a weekly basis with local police precinct commanders to collaborate on school safety. A few days later, New York City's panel for Educational Policy voted in favor of a controversial proposal to lock the front doors of public schools.