Labor
NY legislative staffers aren't the only ones fighting to unionize
Long hours, health care and cultures of harassment have prompted union talk at state houses across the country.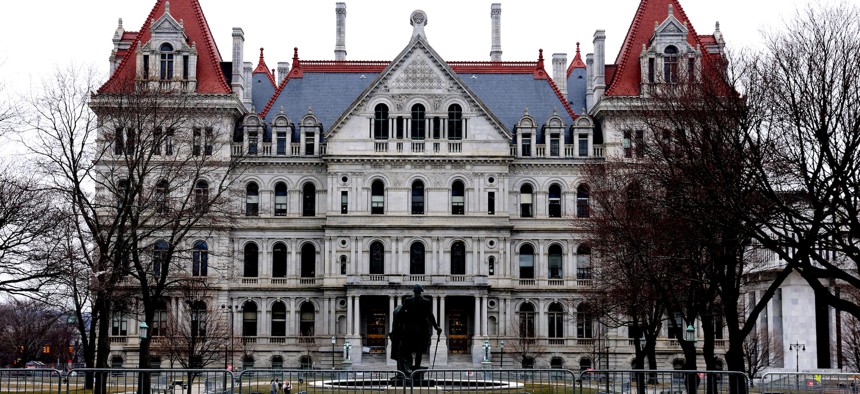 After New York state Senate staffers announced their unionization campaign on July 15, staffer and organizer Astrid Aune was added to a group chat.
Along with Aune, an organizer with New York State Legislative Workers United and the spokesperson for state Sen. Jessica Ramos, were state house staffers from across the country each at their own stage of unionizing. 
Many of the country's state house unions are in their infancy, only having started a public campaign over the last few years. Legislative staff in Democratic states like Oregon, Washington and Massachusetts have all started drives over the past three years to unionize legislative workers in their respective state houses. Last year, both Minnesota and New Hampshire had legislation fail that would have extended bargaining rights to at least select groups of legislative employees. 
Only one state, Maine, has had a legislative union since the early 2000s. However, its two bargaining units only cover nonpartisan legislative employees. Despite geographical differences, their asks and processes toward unionization are similar: improved pay, reduced hours and a seat at the table.
"Even though we work in different states, there are a lot of common themes throughout why we're organizing," Aune said. "It's very affirming in that way."
Overtime and health care demands
On Beacon Hill in Massachusetts, state House and Senate staffers are unionizing through the Massachusetts State House Employee Union to improve issues around overtime and health care. Kevin Holland, the vice president of International Brotherhood of Electrical Workers 2222, which backs MSHEU, said that especially during budget season, tracking overtime becomes a problem.
"Some offices will track the extra hours that the legislative staff are working, and they'll use it to comp time when things quiet down, and they're encouraged to use it," Holland said. "Other offices will track that same time, but when the staff goes to use it, it is discouraged. And then you have the other offices that just don't track it at all."
New York staffers are also looking to address problems with their overtime. As it currently stands, legislative workers in the state do not have their overtime hours rolled over to the next calendar year, leading to hundreds of hours unaccounted for, staffers report. 
"We're not trying to be billionaires, we just want to be able to pay our bills and do the work that we love," Aune said.
IBEW 2222 is also fighting to improve health care in the Massachusetts state house. Staffers new to the legislative body are currently subject to a minimum 60-day new hire waiting period before they're covered by insurance. IBEW 2222 wants them to be covered on day one, Holland said.
One legislative staffer in Massachusetts, who is also in the group chat with Aune, told City & State that while staff members are recognized for their work, their material support is "quite low." The state house's equal employment opportunity officer position, the staffer said, is still unfilled. The Boston Globe reported that the Massachusetts House of Representatives originally created the position in 2018.
"We've seen unlivable wages, a lack of support for health care (and) pervasive harassment," the staffer said.
Fighting harassment 
While legislative union efforts in Oregon and Washington focused on more traditional issues like pay and overtime, the two states also have had a special focus on the physical safety of workers within their state houses.
In 2019, two former interns of then-Oregon state Sen. Jeff Kruse filed a lawsuit saying that Kruse "routinely sexually harassed women at the Capitol and created a sexually hostile work environment for many years." In March of that year, the Oregon Legislature was ordered to pay $1.1 million in damages to eight women sexually harassed at the Capitol.
One former Oregon legislative staffer said after that, legislative leadership acted as if the problem, and the Capitol's culture, were solved. 
"That was deeply frustrating for staff internally because legislators were writing the rules to police themselves without informing or really including staff and other impacted parties," they said.
City & State attempted to contact the union representing Oregon's legislative staffers, IBEW Local 89, but was unable to set up an interview. 
Nikkole Hughes worked in the Washington state House of Representatives from 2014 to 2021. During her time as a nonpartisan research analyst, she said she had to work for a "notoriously awful and abusive legislative member." The representative only left when politics deemed it such, she said, not because of his mistreatment of staff.
Hughes also sat on a working group put together to create a code of conduct regarding sexual assault in the House of Representatives in wake of the state Legislature's reckoning with #MeToo. The outcome the Legislature adopted, she said, was nonbinding. 
Both experiences left her jaded, leading her to unionization like the staffers in Oregon. 
Barriers to unionization
While different states had similar problems to deal with through their unionization, each faced unique roadblocks. Only one state legislative union drive over the last decade, Oregon's, has successfully resulted in a recognized union. In California and Washington, some legislators and union advocates are pushing for legislation that would more easily allow legislative staff to unionize. 
A series of Democratic legislators in California introduced Assembly Bill 1 on the first day of the state's current session. If passed, the bill would grant legislative workers the right to form a union.
Assembly Majority Leader Eloise Gómez Reyes, a joint author of the bill, wrote in a statement to City & State that their staff are critical to the state Legislature's work. 
"They ensure each of California's more than 39 million people are represented by connecting them with essential state services and resources," Reyes wrote. "We are proud of their efforts, and we have to ensure that they receive the level of support needed to continue this important work and thrive in their positions."
In Massachusetts, IBEW 2222 and legislative workers are pushing for less explicit recognition. Currently, Massachusetts General Law defines a public employee as "any person in the executive or judicial branch of a government unit employed by a public employer." MSHEU is supporting a bill that would add the word "legislative" to its definition. 
"All we're looking to do is amend the law to give the staff the right to decide whether or not they would like to join the union," Holland said.
Washington state already passed legislation to allow their legislative staff to unionize – just not right away. Washington Rep. Marcus Riccelli supported legislation that would have extended collective bargaining rights to legislative employees in early 2022. However, before the 2021-22 session ended, the bill died in the Rules Committee. After a "sick-out" from state staffers, Riccelli was able to pass another bill, which Hughes, the organizer, criticized as a "study bill."
The bill established the office of state labor relations, which will handle collective bargaining negotiations between the Washington Legislature and its staff. The office's first task, however, was to create a report regarding the union's potential implementation.
"We're just looking to be informed," Riccelli said. "We created the office of state labor relations and it's up and running, it's employed and they've had a preliminary report back to us."
Also in the legislation are key dates for unionization within the state unless otherwise changed by the Legislature following the final report due on Oct. 1. Collective bargaining with legislative employees cannot start until May 1, 2024, and agreements cannot take effect until July 1, 2025.
Riccelli, a former state Senate staffer himself, said Democrats need to walk the walk when it comes to unions.
"We're passing all kinds of legislation in Washington state that I think is great for working families, and you got to put a mirror to our own house, like literally our own House of Representatives and Senate and say, 'Are we living up to our values that we are, for right reasons, imposing on the rest of the state?'" he said.
Under the legislation, legislative staffers would not be able to strike during the legislative session, Riccelli said. 
New York legislative staff have a similar problem. The Taylor Law, or the Public Employees' Fair Employment Act, compels state and local public employers to recognize unions, wrote Ken Girardin of the watchdog think tank the Empire Center. But under the Taylor Law, public employee unions within New York state cannot legally strike.
Girardin also argued in a report for the Empire Center that NYSLWU would not be covered under the Taylor Law either way, writing that it "would raise numerous practical and constitutional issues."
However, Aune said NYSLWU has consulted with a former general counsel to the Public Employment Relations Board and a series of public sector legal experts who concluded that the union would not be excluded from the right to organize. 
Because of the union's insistence that they are covered by the Taylor Law, NYSLWU is not pushing for any additional legislation to allow them to unionize. 
Despite the hurdles across the country, Aune said NYSLWU is in a hopeful and optimistic spot.
"Since we launched last January, we have had an overwhelmingly positive response," she said. "It's given us a chance to connect, not just through all the things that we have to ask each other for in the day to day, but on a more solidarity-based level to check in on each other."