Heard Around Town
Activists went full throttle in the Capitol's War Room this week
Arrests, profanity, furniture removal. The War Room has seen it all.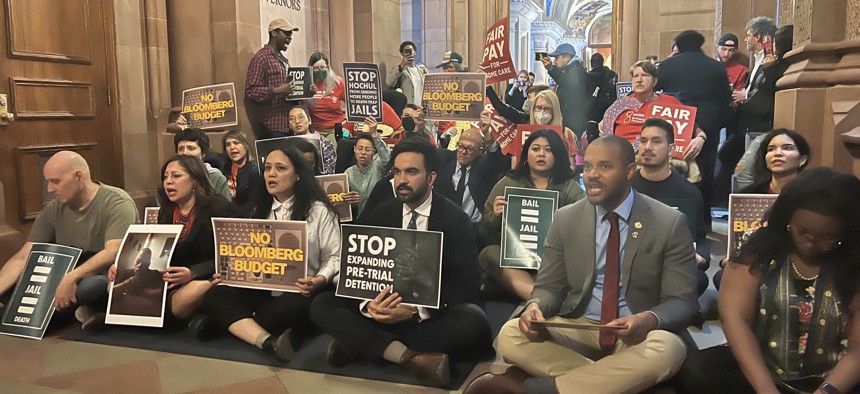 If you were in the Capitol this week, you might have noticed the impassioned chants – including "Tax the rich! Tax the motherfucking rich!" emanating from the second-floor War Room. Occupying the second floor multiple nights in a row, a coalition of advocates made it their mission to have their voices heard and presence felt amid budget negotiations – calling it the #TaxTheRichTakeover week – put on by the Invest In Our New York Campaign.
The groups – including the Alliance for Quality Education, New York Communities for Change and others  – tackled a different controversial policy each day. Housing advocates called for "good cause" eviction protections, workforce and immigrant activists coalesced for the unemployment bridge program and education advocates were vehemently against lifting the charter school cap. All activists called for Gov. Kathy Hochul to increase taxes on the wealthy and address the needs of working-class New Yorkers in the final state budget. Meanwhile, the governor and Legislature have been knee-deep in negotiations and keeping a tight lip on how negotiations are progressing. One thing remains clear: The budget will be delayed. "The budget is late because the governor is too busy fighting for the ultra-rich," said Jasmine Gripper executive director of the Alliance for Quality Education.
Midway through the week, the furniture in the war room was completely removed in response to the continued occupation. Activists were arrested by state troopers after refusing to disperse from the governor's hall after 7 p.m. but ultimately were not charged with criminal trespassing. Several lawmakers – including Sen. Jabari Brisport, Assembly Members Harvey Epstein, Phara Souffrant Forrest, Jessica González-Rojas, Zohran Mamdani, Marcela Mitaynes and Sarahana Shrestha –  joined the activists as they held a sit-in front of the governor's office Thursday night. "They were standing in solidarity. They were showing the governor that they were on our side – the people who elected them," said Erica Vladimer, comms director for the Invest in Our New York campaign. 
The groups held a closing-out presser on Friday,  driving home their gripes about the governor's executive budget. Newly elected Assembly Members Steven Raga and George Alvarez also joined in on the momentum of the culmination of the week-long effort. "We have a few hours. Let's bring it home for all New Yorkers in 2023," Raga said.