Politics
This Assembly member didn't file campaign finance reports for nearly 5 years. No one noticed.
The state Board of Elections seems ill-equipped to enforce basic reporting requirements, as Assembly Member Amanda Septimo illustrated.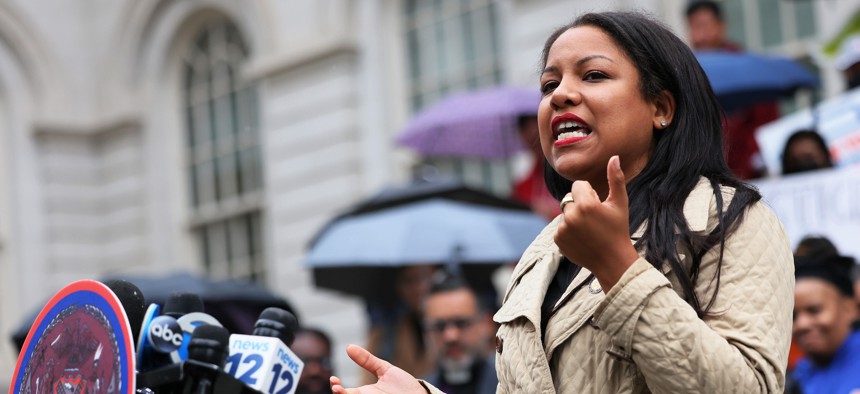 Assembly Member Amanda Septimo filed a campaign finance report on July 17, 2018, during her first run for the Legislature. She brought in just over $50,000, and had $43,000 on hand. She didn't file again until March 17, 2023, almost five years later, and only after City & State contacted her about the issue. No one at the state Board of Elections seemed to care. 
In the meantime, Septimo had lost that 2018 Assembly primary, and lost again in the general on the Working Families Party line. She ran again in 2020 and won, after incumbent Assembly Member Carmen Arroyo was booted from the ballot for alleged petition fraud. And Septimo won her South Bronx district again in 2022, facing down a healthy primary challenge from attorney Alberto Torres, who got 35% of the vote. All that time, constituents and New Yorkers had no idea who was donating to her campaign – lobbyists, interest groups, labor unions, late filings now show – or how she spent the tens of thousands of dollars. 
Septimo is far from the only one who has flouted New York state election law by not filing reports on time – or not filing them at all. José Rivera and Jeffrion Aubry had served in the Assembly for decades, but both members and their opponents missed key filing deadlines last year. State Sen. Kevin Parker was habitually late in filing during his competitive primary race last year too.
But enforcement from the BOE is rare, and weakly applied. Prior to the 2014 creation of an enforcement counsel role nominated by the governor, the board brought civil actions against every non-filer, Public Campaign Finance Commissioner David Previte wrote in a late 2019 report. Since then, the counsel hadn't brought a single action. There were more than 3,000 political committees that hadn't submitted timely filings as of late 2021, New York Focus reported, and the board lacked the resources to work through the backlog.
Enforcement seems to have picked up a little bit since then, and some non-filers have the bad luck of not getting completely ignored. A review of final determinations from the state Division of Election Law Enforcement showed 45 of cases reviewing a failure to file since late 2021, including determinations against Saratoga Springs Mayor Ron Kim and Striving for a Better New York, a political action committee allied with New York City Mayor Eric Adams. Many committees, like Kim's, are let off with no punishment after they file late. Others, like the PAC, were fined $1,000 and required to return illegal donations. 
The board does track non-filers internally, BOE Deputy Director of Public Information Jennifer Wilson told City & State. But unlike the New York City Campaign Finance Board, it doesn't publish that list publicly. Asked for the list, Wilson said City & State would have to file a Freedom of Information Law request. New York Focus first reported the board was considering publishing such a list in March, 2022. A year later, Wilson said the board is working on creating a report that could be posted on the site, but it hasn't been deployed yet. 
"The (New York City) Campaign Finance Board is one of the most toothy boards in the country. And our state board does nothing. And this is a prime example of it – a sitting Assembly member didn't file for five years," said one political consultant who asked for anonymity to avoid annoying regulators. 
The BOE's relative lack of enforcement has been top of mind again for many political players as the state starts implementing a public campaign funding system, where certain private donations are matched and multiplied by public dollars. The BOE got more money for administration and staffing last year, and seems on track to get more this year – but last month, lawmakers reportedly privately discussed delaying public funding by at least two years. Supporters of the program jumped to its defense, including Rachael Fauss, senior policy adviser for Reinvent Albany. She admits to a healthy skepticism about the BOE's management of enforcement. But the law includes an audit requirement, and Fauss thinks the BOE will rise to the task. "There is always reason for concern," she told City & State, "but it's moving us so much in the right direction, having public financing."
Septimo said some members were leery of the new public funding program because joining in requires more stringent reporting requirements – and presumably, actual enforcement.
"So many of us have citizen treasurers. Like my treasurer's not a trained accountant," she said, "and this makes me think, OK, we're probably going to have to restructure how we do this." That's great news for election lawyers and accountants. "It's funny because a few law firms have reached out to members, myself included, saying hey, 'We can do this thing for you. Because we know it's about to get complicated.'"
Septimo ended up posting many, but not all, overdue filings last week, after City & State contacted her. "My treasurer handles all of our filing stuff. I talked to her, we had a real come to Jesus moment, I won't make excuses – we haven't been on top of it," she said. 
Septimo said she's committing to getting in campaign filings going forward. But the progressive member insisted this was an oversight, and not anything deliberate. "I'm not exactly flush in cop cash and oil cash," she said. "It's not like 'I'm an oil baron and I'm trying to hide it.'"
Correction: Ron Kim, the mayor of Saratoga Springs, was investigated for a failure to file campaign finance disclosures, not Assembly Member Ron Kim. Additionally, a quote attribution was altered, because Septimo was not laughing when talking about her donations.
Powered By
NEXT STORY: Brian Benjamin argues to keep the dropped corruption charges dropped