Kathy Hochul
Poll: New Yorkers back bail changes, millionaires tax
A new Siena College poll has bits of good news for everyone heading into the budget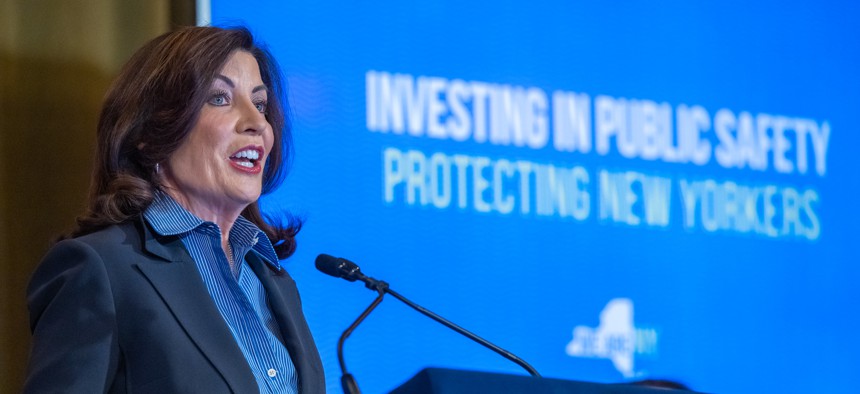 In a positive sign for Gov. Kathy Hochul, a solid majority – 72% – of New York voters support giving judges more discretion to set bail, according to a poll out Monday from Siena College. That includes 76% of polled Democrats. That's a higher percentage than both Republicans – 69% of whom support the idea – and independents. Crime also remained a serious concern for a majority of New Yorkers as well. Hochul has proposed eliminating the "least restrictive" standard for major crimes in order to give judges greater discretion to set bail. The governor held up the budget for nine days last year in a bid to roll back bail reform, but both legislative leaders this year have expressed resistance to yet more tweaks to the 2019 law.
Progressives in the Legislature are also getting a boost since registered voters of both major parties also back proposed increased income taxes on millionaires. While Hochul proposed an extension of the heightened 2021 corporate tax rate, she left income tax alone and pledged not to introduce new taxes. The Assembly and the state Senate, however, included a higher millionaire tax in their one-house budget resolutions.
And in a public relations win for suburban officials, a plurality said that incentives rather than mandates are the way to go to build more housing. Of New Yorkers polled, 48% said that the state should use incentives alone, while a paltry 15% said that the state should use only mandates. When adding in those who supported a mix of the two methods, only 30% of those polled backed mandates at all. Suburban lawmakers from both parties have lobbied against Hochul's requirements, which pro-development groups say is needed to actually spur new building. 
The poll also asked New Yorkers their thoughts on providing health insurance to undocumented immigrants, something that advocates are lobbying Hochul to apply for a federal waiver to get done. Of those polled, 49% said they opposed the idea, while 44% said they supported it. The governor promised to do that after announcing last year's budget deal, but didn't follow through in her budget proposal this year. 
As she heads into her second budget, Hochul's favorability slipped slightly, dropping to 43%-43% from 46%-43% in the previous Siena College poll from a month ago. "It will be interesting, after the dust settles from the budget battles in the coming days – and weeks? – to see how voters grade Hochul – and the Legislature," Siena pollster Steven Greenberg said.