Heard Around Town
Al Sharpton won't let David Dinkins' fate happen to Eric Adams
The mayor appeared on a panel with Chicago Mayor Lori Lightfoot at the National Action Network convention.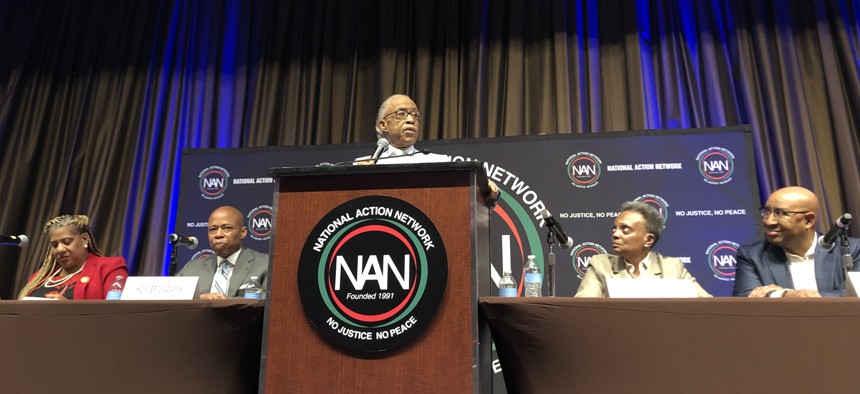 New York City Mayor Eric Adams expressed solidarity with outgoing Chicago Mayor Lori Lightfoot Thursday on a panel on urban crime at the friendly confines of Rev. Al Sharpton's National Action Network convention in Manhattan.
"We always say there are three types of parties in America," Adams said. "There's the Democratic, the Republican, and then the mayors. The mayors, we're on the ground."
Adams served as moderator, so didn't do much talking himself, but some of others' words could have come out of Adams' mouth. Lightfoot complained that the press blamed her alone for the violence in her city. "There is a different level of expectation in the public safety realm, for Black mayors," added former Philadelphia Mayor Michael Nutter. "We are supposed to make everyone safe, and nothing bad is ever supposed to happen." Adams audibly laughed at that, and earlier, Sharpton talked about how New York City's first Black mayor, David Dinkins, lost reelection after Rudy Giuliani "scared the city" about crime. "I don't know about you, but we're NOT going to let them play that game on Eric Adams in New York," Sharpton said. 
Lightfoot just faced a similar fate, losing her reelection bid. Sharpton said she was "an example of the disrespect that Black women have to face," earning her a standing ovation. But he did have one complaint: "The only thing I'm mad at you about is you stole the democratic convention from Eric and I."
Earlier Thursday, Adams spoke on a panel about Black economic empowerment with basketball star turned investor Magic Johnson. Adams made the point that everyone plays a role, and the wider Black community must come together. "Magic didn't win all those championship rings without having a playbook to execute the plays. Everyone can't get on the court and just run around to do whatever they want," he said. You executed plays. It's time for us to create a blueprint to economic development."