Campaign Confidential
The Democrats positioning for a special election in George Santos' district
Jay Jacobs may hold the power, as candidates like Robert Zimmerman, Anna Kaplan and maybe Tom Suozzi jockey for support.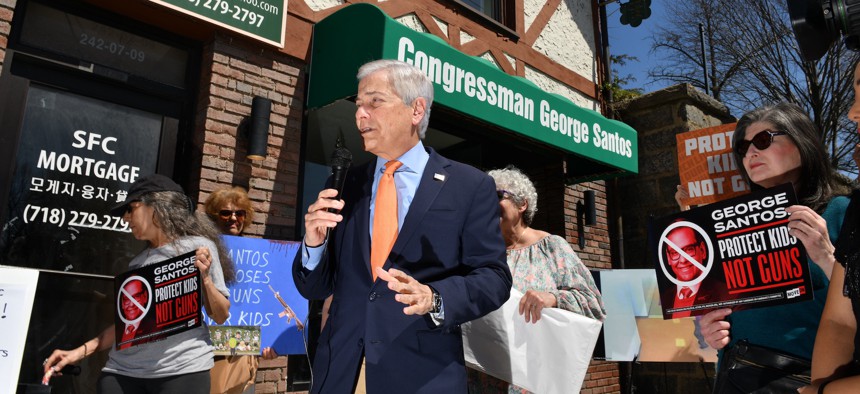 Embattled Republican Rep. George Santos maintains that he has no plans on resigning and has announced his reelection campaign – but he might not get a choice in leaving office. House Speaker Kevin McCarthy said Tuesday he wants the Ethics Committee to "move rapidly" on a resolution to expel Santos from Congress. And even if that's a gambit to slow down Democrats' charge? Pressure is only building to get the Long Island Republican out of office after he pleaded not guilty to 13 counts related to scamming donors, and the country.
And if Congress and Santos don't act first this term, U.S. Attorney for the Eastern District of New York Breon Peace might. Former state Senate Majority Leader Dean Skelos, for example, was indicted in May 2015 and convicted that December. Unlike the state Legislature, a member of Congress does not automatically forfeit their seat after a felony conviction (see: Skelos, Sheldon Silver, John Sampson, etc.) but it would certainly increase the pressure further, even with Republicans' slim majority in the House.
That is to say: a special election in the 3rd Congressional District seems more likely than ever. And a lot has changed since January, the last time City & State looked at who was eyeing Santos' seat. New candidates have filed. Former Rep. Tom Suozzi got a new job. Nassau County Legislator Josh Lafazan seems to be running even though he said he wouldn't. And Nassau County Democratic Party Chair Jay Jacobs, somehow, remains the most powerful figure in the race.
Under state law, the governor would schedule a special election within two and a half to three months of a vacancy, give or take some time for technicalities of the law. But it wouldn't be a free for all – county party leaders pick who will have their ballot lines. Since Nassau County has 72% of the district's Democrats to Queens' 28%, that suggests Jacobs would have the biggest say. Local parties can handle these conventions differently, and county leaders don't always get what they want – but Jacobs is a good friend for any aspiring representative to have.
In a statement to City & State, Jacobs said he appreciated the interest from the several well-qualified candidates but declined to speculate about a potential special election. "We are preparing for the 2024 cycle vis-à-vis the strong candidates we have recruited for local elections in 2023, and we are confident these competitive campaigns and their infrastructures will lay the groundwork for successes this November and beyond," Jacobs wrote.
Of course, there's going to be an election for the seat in November 2024, whether or not there's a special election before that, and some candidates may be positioning themselves for that race instead, with control of the House hanging in the balance.
Republicans, for the record, desperately want to hold on to the seat too. But the campaign action on that side has been much quieter. And they've got a shot, in a district that has been backing conservatives – even if the Nassau County and Queens County Republican Party chairs are split on Santos.
But after Republicans took control of the House in last year's election – by and large because of GOP gains in New York – Democrats have already begun the fight to regain control next year. And flipping the 3rd District is a key race in that effort.
Here's a running list of Democratic candidates looking at Santos' congressional seat.
Anna Kaplan
Anna Kaplan, who served two terms representing the North Shore in the state Senate, announced that she was running for Santos' congressional seat last week. Kaplan lost her reelection bid to Republican state Sen. Jack Martins in a contentious election last year. In an interview with City & State, Kaplan condemned Santos, while asserting the embattled member of Congress was "making a mockery" of the district, specifically pointing to his lies about his alleged "Jew-ish" heritage – underlining her own story as a Jewish refugee from Iran.
Kaplan also highlighted her role codifying reproductive rights in the state, helping New Yorkers receive unemployment benefits and her record flipping her former state Senate seat from red to blue – before it flipped back again. But that record also included support for congestion pricing, a red-hot issue in the district. "Everybody knows my record. George Santos is dangerous and we need to unseat him," Kaplan said. "The path to flipping the House runs through NY-3. My record shows I flipped seats before and I'm going to flip this seat." Is she cool with Jacobs? "She's run for office, so she certainly merits serious consideration," he told Gothamist when she filed.
Josh Lafazan
Josh Lafazan came in third in the Democratic primary for the district last year. The Nassau County legislator announced his campaign for the district last week, but he's been raising money since January – just after saying he was running for reelection for the county legislature. Lafazan described himself to City & State as one the loudest critics of Santos, and he held a protest outside of the member of Congress' vacant district office in January. "It's time we elect new types of leaders with different ways of thinking to actually get things done. I want to make a difference for the community that raised me," Lafazan said. When asked how he plans to flip the Republican district, Lafazan said he had "crossover appeal." He previously ran on the Conservative Party line and sponsored a controversial bill making cops and other first responders a protected class. Lafazan was then-Rep. Tom Suozzi's preferred candidate in 2022, and it's unclear if he'd step aside if the former representative wanted a second chance.
Zak Malamed
Long Island native Zak Malamed announced his campaign to run for Santos seat on Monday. The 29-year-old candidate has never run for office before, but he's well connected nationally after co-founding The Next 50 – a political action committee that supports young candidates across the country. In fact, his campaign told City & State he had raised $225,000 in the first 24 hours after announcing – with some thanks to a cheeky launch video proving his Jewish bona fides with footage from his bar mitzvah. Like others in the race, he's positioning himself as a moderate, saying he aligns with the moderate New Democrat Coalition in the House. Can he get institutional support? "I've been involved in Nassau County politics for some time," he told City & State, saying he knocked doors for Tom Suozzi's 2009 county executive campaign. "The work to earn people's support in a special election would start now. It's going to take some time for a first-time candidate to build up that support. I'm confident we can build it."
Will Murphy
The St. John's Law professor launched his campaign with a couple stories in the New York Post, but hasn't made much of a splash since filing in April. Jacobs told the Post he didn't know Murphy but would be happy to talk to him. He's pitching himself as an outsider, and a moderate "commonsense Democrat."
Darius Radzius
The 1010 WINS and News 12 reporter is trying to go from broadcast news to elected office, much like former state Sen. Rich Funke and former Erie County Comptroller Stefan Mychajliw. But Radzius is also a longtime public affairs officer with the U.S. Navy. The Long Islander filed to run May 16 but hasn't gone public with his plans yet.
Tom Suozzi
All eyes are on the former member of Congress, who declined to run for reelection in 2022 and instead challenged Gov. Kathy Hochul in an ill-fated Democratic primary. That likely hurts his standing here. He and Jacobs were thick as thieves, but Jacobs owes allegiance to Hochul now, and the governor's team likely won't want to see Suozzi rewarded with the Democratic line in a special election. Still, he's a proven winner in the district, which nobody else can say, and that Bidenesque pitch might be enough to convince party insiders, let alone Democratic voters.Suozzi may not run, however. He hasn't filed a campaign committee yet and has a new job consulting at Actum. But CNBC reported in April that he was considering a run, and Jacobs confirmed they've been talking. A source close to Suozzi said: "He likely won't make his intentions known until there is an actual vacancy."
Robert Zimmerman
Does he deserve a second chance? Robert Zimmerman, too, hasn't filed a campaign yet, but he's acting like a candidate, if not a member of Congress, showing up at events around the district. Zimmerman won the Democratic primary in 2022, then lost to Santos in the general election. To some, he's one of the many unfortunate victims of Santos' scams – and a red wave year. To others, he's a guy who should have blown the top off the scandal before The New York Times.
New candidates have reason to launch campaigns to grab attention and raise money, but Zimmerman allies said he can afford to wait, as a well-connected longtime public relations consultant and Democratic Party figure. "It's an insider game," said one Zimmerman ally. "And who's the insider's insider? Robert."
This is a developing story and may be updated.
Powered By
NEXT STORY: NY Senate leader vague about plans for end of session, but 'good cause' eviction as written is out