Campaign Confidential
Mealy's measly attendance: NYC Council member misses one-third of meetings
New York City Council Member Darlene Mealy is facing a reelection battle this summer – and her absenteeism might not be helpful.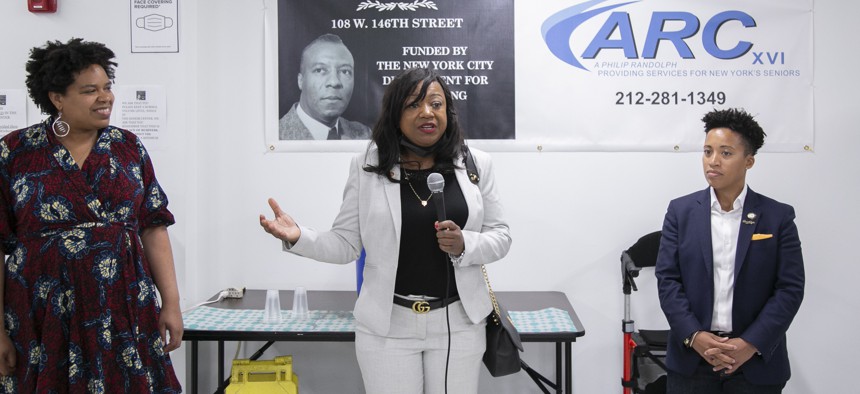 This story is from the Campaign Confidential newsletter, relaunched for 2023. Want it in your inbox? Sign up here. And check out the whole email here.
New York City Council Member Darlene Mealy is back in the council, after four years away due to term limits. But is she really back? The Brooklyn Democrat was absent for 46 of her 145 meetings so far this term – an absentee rate of 32%, according to records reviewed by City & State. 
That's far worse than any of her neighboring members, like Crystal Hudson, who has been absent for just two meetings since the beginning of 2022. Out of the whole council, it seems only Kristin Richardson Jordan has a worse attendance record, after the Post reported she was absent almost half the time. 
Mealy's colleagues have noticed. "Members literally make bets during Stated to see when and if she will come," said one fellow lawmaker. Mealy even missed the budget vote last year, making her the only one of the 51 members not to show.
And it's worse for certain committees. Mealy was marked absent for nine of the 17 meetings of the Committee on Mental Health, Disabilities and Addiction this term. Mealy was never big on meetings, but her attendance record so far this term is worse than any of her previous terms. She missed 28% of stated meetings, committee meetings and others she was expected at from 2014 to 2017, for example. Mealy didn't respond to multiple requests for comment.
Mealy keeps her head down and gets little attention outside District 41, but insiders think she's vulnerable in 2023. Isis McIntosh Green is former chief of staff to Assembly Member Latrice Walker and former leader of the Progressive Democrats Political Association, meaning she'll have the backing of the whole Una Clarke-Rep. Yvette Clarke Central Brooklyn political family. NYCHA tenant leader Reggie Bowman is also running. But don't underestimate Mealy. She shocked close watchers of the council by unseating speaker candidate Alicka Ampry-Samuel – another Clarke ally – with a late spending spree in the 2021 primary.