Campaign Confidential
The NYPD union is targeting NYC Council progressives with 'defund' ads
It's digital-ad-on-a-box-truck season already.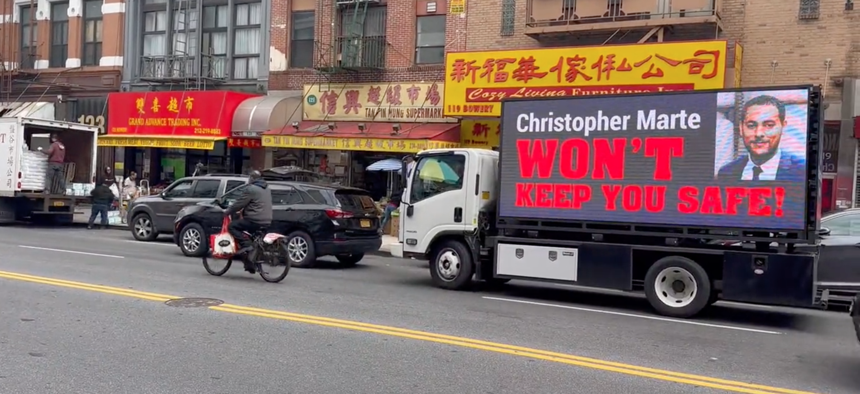 This story is from the Campaign Confidential newsletter, relaunched for 2023. Want it in your inbox? Sign up here. And check out the whole email here.
There are 20 members in the leaner, meaner New York City Council Progressive Caucus after the well-publicized paring down earlier this year. And all 20 could get visited from a video truck from the Police Benevolent Association saying they want to "defund the police" and they "won't keep you safe!"
 The PBA tweeted a video last week from Chris Marte's Manhattan district, promising more stops, but the PBA was silent on when or where.
Does the campaign feel a bit dated? "PBA is revisiting a battle-cry that was in vogue years ago," said one council insider. It's true that caucus members affirmed they want to "reduce the size and scope of the NYPD," but progressives have moved on from "defund" language. And even if the caucus is more cohesive, it's hard to limit the NYPD when the mayor is striking a generous labor deal with no concessions.
Either way, we may be five weeks out from early voting, but it's already digital-ad-on-a-box-truck season. Somebody funded a truck calling out Kristin Richardson Jordan for her poor attendance, but it isn't clear who. The PBA and the Carpenters said it wasn't them, and all her opponents denied knowledge. Truck depot entrepreneur Bruce Teitelbaum, no fan of KRJ, swore he didn't pay for it but, "whoever was behind it? Clever guy."