Politics
Adams mocks Lander as 'loudest person in the city'
The comptroller should be advocating for federal asylum-seeker funding, the mayor said in an outburst at an unrelated press conference, in comments that felt more personal than political.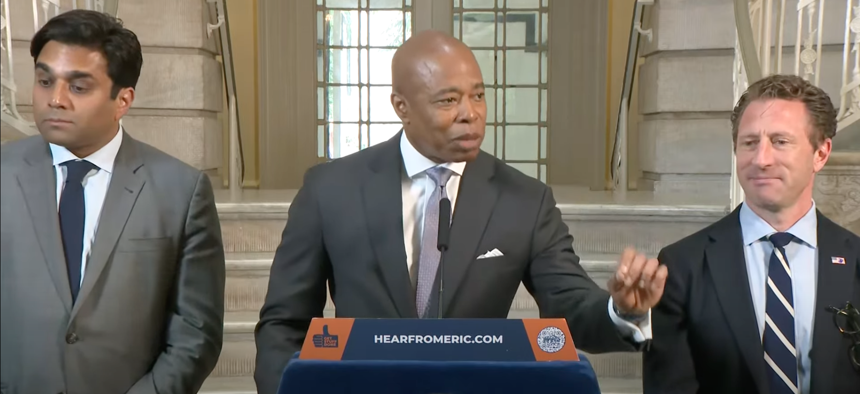 Apropos of almost nothing, New York City Mayor Eric Adams mocked city Comptroller Brad Lander as "the loudest person in the city" Thursday as he escalated tensions between the city's top officials, with Adams claiming Lander wasn't doing enough to get the city federal money for asylum-seeker costs.
"Brad Lander, the loudest person in the city, has yet to go to Washington to deal with the No. 1 issue that this city faces. Think about that for a moment," Adams said at an unrelated press conference Thursday morning. Adams proceeded to briefly mock Lander, imitating his voice saying "I think Eric should –."
Eric Adams' Brad Lander impression - and proof that the comptroller's criticism kind of eats at him. pic.twitter.com/fiL1eASQhX

— Jeff Coltin (@JCColtin) June 8, 2023
Adams went off on Lander for nearly two minutes, set off by a reporter asking him about City Council Speaker Adrienne Adams' lobbying trip to the Capitol this week with her leadership team. He said he touched base with the speaker and she'd be briefing him, then added, "by the way, did Brad go down?" Adams said Lander was the "loudest person, who is in charge of our finances… He has not gone to Washington, D.C. and fought on behalf of New Yorkers to get their fair share." Adams closed with some sharp advice: "Stop trying to be the shadow mayor, and be the comptroller and go to Washington, D.C., Brad, and get us our fair share."
Lander is more progressive than the mayor, with longstanding ties to the city's left-wing figures and institutions that are most critical of the mayor. The position of comptroller is an independent office and, in part, a financial watchdog. So Lander has used the role like many others before him as a check on the mayoral administration, most recently reiterating his call for the troubled Department of Correction to be taken over by a federal receiver. Lander has also publicly questioned how Adams' administration has housed and served tens of thousands of asylum-seekers in the past year, saying the city has spent too much on emergency measures, with little long-term planning. 
That was the focus of Lander's response to the mayor's comments. "What I've consistently been loud about is the mayor's failure to focus on the most urgent thing that City Hall can do to help people move out of shelter: legal services to help people file their asylum applications so they can get work authorization," he said in an emailed statement. "In fact, it was my conversations with federal officials as I have been pushing for more resources over many months that highlighted the urgency of that work. Encouraging those charged with oversight to leave the city or take their focus off City Hall will not help us take effective action to reduce the shelter population or enable asylum-seekers to contribute to the long-term thriving of our city."   
One of Adams' driving political focuses for the past year has been pestering the federal government to pay the city for what it's spending to house and serve asylum-seeking migrants, many of whom are bused to New York City from border states. Adams' budget office has said they expect the city to spend $4.3 billion across this fiscal year and the next. The mayor has even publicly criticized President Joe Biden, a political ally, for not doing enough. 
Adams' criticism of Lander, however, may be more personal than practical. It's common sense for a New York elected official to go to the Capitol every once in a while to advocate for the city's priorities, said one Capitol insider, who asked for anonymity to discuss the power dynamics at the federal level.  "There's value in the premise of the squeaky wheel… But in terms of Brad Lander being able to move the needle on any federal funds for this issue? It's not happening."
New York City is well represented in Washington with Rep. Hakeem Jeffries as House Minority Leader and U.S. Sen. Chuck Schumer serving as Senate majority leader. They announced Wednesday the city would be getting just over $105 million in emergency grant funding – but that's just a sliver of the funds that Adams wants. 
Lander's political allies at the left-leaning group Jews for Racial and Economic Justice didn't take kindly to Adams' caricature of the comptroller.
"There's a longstanding stereotype presenting Jewish men as weak, nasally, effete, and it's hard to see this impression and not be reminded of that. There's also a pretty clear and ugly pattern in contemporary politics of wielding accusations of antisemitism against Black politicians and we are not interested in participating in that," said Sophie Ellman-Golan, director of communications at JFREJ. "There are numerous reasons to oppose Mayor Adams that center on his actual policies and are not open to interpretation: defunding public schools and libraries while giving an additional $1.85 billion to the NYPD, for example."
While many city progressives are looking for a candidate to challenge Adams for reelection in 2025, Lander has not shown many signs of interest. Even if he did, it might not go well. A recent Slingshot Strategies poll showed Adams beating Lander 48-17 with 35% undecided in a hypothetical primary. 
However, Lander seems to get under Adams' skin in a way that few other politicians do. While the two have appeared together at events with some frequency, Adams has often brought up the comptroller and his criticisms throughout the pair's first year and a half in office. 
"The mayor doing an impression of the comptroller shows hypersensitivity to criticism rather than the mayoral leadership needed to navigate an emergency," said Chloe Chik, a spokesperson for Lander.
But even some close to Lander admitted there was some truth in the mayor's comments – like his 23-year-old son Marek Barnette, who reached out to City & State. "My pops very well may be the loudest person in the city!" he said.
Updated with comment from Marek Barnette.
Powered By
NEXT STORY: Hiram Monserrate is off the ballot, but REBNY's PAC is spending on Francisco Moya