Campaign Confidential
Bronx DA challenger gets more money from out of state family than borough residents
Progressive Tess Cohen is challenging the incumbent Bronx District Attorney Darcel Clark.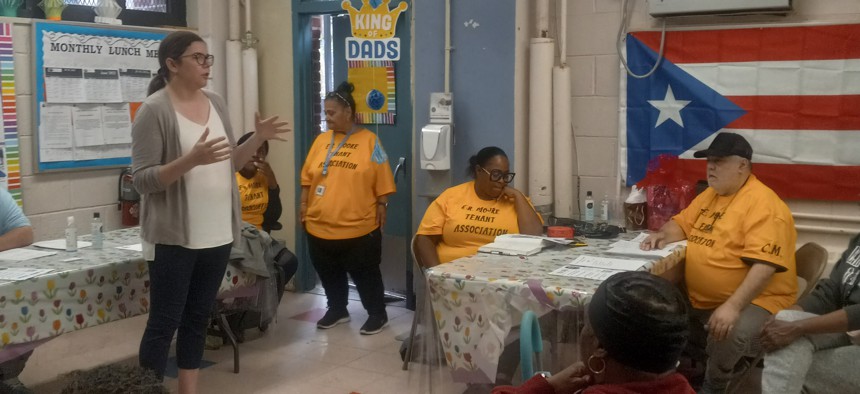 This is an expanded story from the Campaign Confidential newsletter, relaunched for 2023. Want it in your inbox? Sign up here. And check out the whole email here.
Bronx district attorney challenger Tess Cohen has gotten more campaign cash from out of state family members – $21,980 – than she has from Bronx residents – $10,873. 
It's a tough task taking on Bronx District Attorney Darcel Clark, who's got the full force of the Democratic political establishment behind her, and $281,000 on hand as of June 16. (Some $47,003 of that came from individual Bronx donors this cycle, by the way, bolstered by bigger donations from Assembly Speaker Carl Heastie's PAC, Montefiore Medical Center's PAC and billionaire financier Mario Gabelli.) Cohen's got less than $16,000 on hand, and she's only afloat thanks to the $40,000 she's personally loaned the campaign. 
Cohen said "the Bronx machine" is still strong, unlike party organizations in other boroughs, which have weakened. She defended her weak fundraising by saying that every day, she has to decide between going out to knock doors, and doing call time. "And I knock doors."
Cohen is a former assistant district attorney in the Special Narcotics Prosecutor's Office, and she's now a defense attorney and running as a progressive to the left of Clark, criticizing her push to roll back of discovery reforms, and arguing she hasn't done enough to hold the Department of Correction accountable on Rikers Island, where the office has jurisdiction. 
Cohen supports a federal takeover of the city's jails, pointing part of the blame at Clark. "If we have a federal monitor saying that our city government is hiding things from the monitor so that the monitor can't properly do their job, and we don't have other agencies like the Bronx district attorney to fill that void, federal receivership is the only option."
Despite her policy positions, Cohen's campaign has gotten no support from the progressive orgs and electeds who backed Tiffany Cabán for Queens district attorney in 2019 and were so active in the open race for Manhattan DA in 2021. Her website doesn't boast a single endorsement. That may be, in part, because Clark is Black and Cohen is white – and a white candidate hasn't been elected boroughwide since Stanley Simon's last reelection as borough president in 1985.
"I can't say one way or another for sure, but it may be a factor in what some people are thinking of," Cohen said, about being a white progressive taking on a Black incumbent. "But I will say it hasn't been a problem in talking to actual voters. Contrary to what a lot of people told me was going to happen when I was running."
Primary challenges to incumbent district attorneys are pretty rare. While Queens District Attorney Melinda Katz is facing two opponents this month, Brooklyn District Attorney Eric Gonzalez was reelected in 2021 with no opposition, and Staten Island's Michael McMahon is unopposed this year as well. Cohen said she knew it would be a tough race, but is proud to even be on the ballot. "It was really important that people in the Bronx actually had a choice over who their district attorney was," she said, "for the first time in decades."