Politics
Charles Barron expected to lose City Council seat to Chris Banks
The Black radical socialist has represented East New York for 21 of the past 22 years.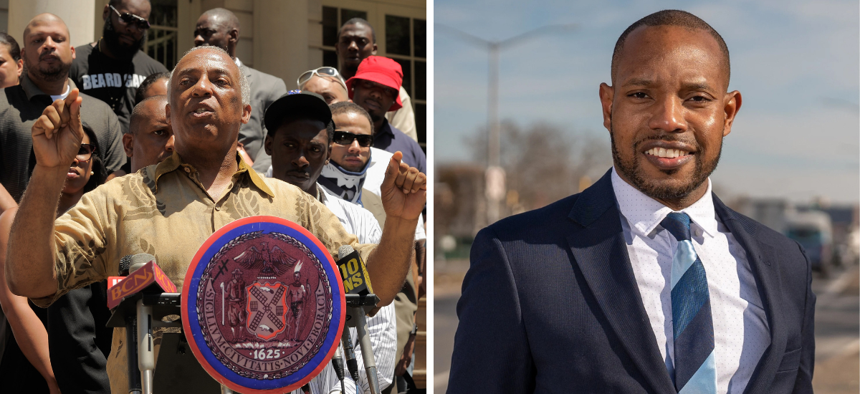 Just one New York City Council incumbent seemed poised to fall Tuesday: Charles Barron. In what is shaping up to be one of the biggest upsets of the night, Barron is all but sure to lose reelection to the City Council, bringing his more than two decades of representing East New York to an end. With 99% of scanners reporting in District 42, he trailed nonprofit director and community organizer Chris Banks by about 7 points, with just 43% of the vote.
A Banks win would mark the end of Barron and his wife Inez Barron's longtime political hold in eastern Brooklyn. Since 2002, the couple has rotated between the same City Council and Assembly seats. District 42 includes most of East New York, Starrett City and sections of East Flatbush. Signs of the Barrons' fading power were already apparent last year, when their handpicked successor Keron Alleyne lost the primary for Assembly District 60 to Nikki Lucas, who also defeated Inez Barron in the race for district leader.  
Banks and the Barrons have faced off before. Inez defeated Banks in the Democratic primary for an Assembly seat in 2012, and Charles beat him for the same seat in 2014. In between, Inez defeated Banks in the primary for this City Council seat in 2013. Nearly a decade later, things are different, as Banks benefited from the support of some powerful allies. House Minority Leader Hakeem Jeffries backed his campaign, as did Attorney General Letitia James and much of organized labor. The Labor Strong coalition, the New York City District Council of Carpenters and the United Federation of Teachers all endorsed Banks, and some of them devoted significant money and resources to the race. According to campaign finance filings, super PACs affiliated with labor unions have reported spending at least $189,000 so far against Barron. 
"Tonight the results sent a pretty obvious message: If you stand with the @CarpentersNyc, we will have your back," tweeted Kevin Elkins, political director of the New York City District Council of Carpenters. "If you screw us and the workers of New York City over then we will take you on and you will lose your election." In a subsequent text message, Elkins told City & State that Barron "doesn't answer calls, doesn't care about making sure there are labor standards on projects in his district and union opportunities for his constituents."
Barron, a former Black Panther who now identifies as a Black radical socialist, has proudly bucked mainstream Democratic support and alliances throughout his time in elected politics. He tried to block municipal unions' deal with the Adams administration to shift retired workers onto Medicare Advantage plans, which earned him the enmity of powerful union leaders like District Council 37 president Henry Garrido. Barron was one of only a few City Council members to vote no on the city budget last year and one of just two who did not vote for Adrienne Adams to become City Council speaker. Kristin Richardson Jordan, the only other member not to vote for Adams, was a close ally of Barron but announced earlier this year that she would not seek reelection. That means the City Council will likely be losing two of its most left-leaning members by the start of the new term in 2024.
There are no Republicans running for election in District 42, so Banks will likely have a clear shot to the City Council. He has already declared victory in the primary against Barron. 
"The people held (Barron) accountable tonight and we thank them for the opportunity and, we're moving forward as the Democratic nominee," Banks told The City Tuesday night.
Peter Sterne contributed reporting.
Powered By
NEXT STORY: Isis McIntosh Green falls short in City Council challenge to Darlene Mealy