Campaigns & Elections
Marjorie Velázquez easily wins City Council Democratic primary in the East Bronx
Her victory sets up a competitive general election race in this relatively moderate district.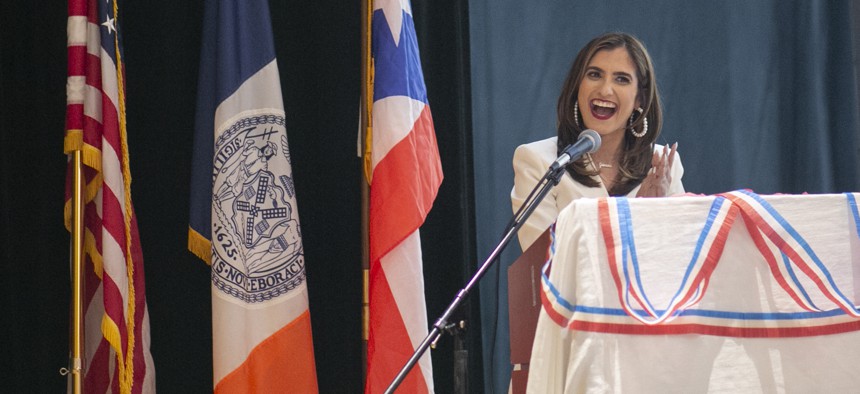 There was excitement in the air at the Bronx Democratic Party headquarters on election night, with the crowd rallying behind New York City Council Member Marjorie Velázquez in District 13. She was quickly pulling ahead in the race as the unofficial election results came out. She had 66% of the vote, and her supporters cheered anytime she entered the room.
With three primary challengers and a contentious rezoning along Bruckner Boulevard playing a key role in the race, victory wasn't guaranteed. While Velázquez struck a decisive victory, the same cannot be said in the Republican Party primary. In one of the closest races of the night, Kristy Marmorato got nearly 48% of the vote while George Havranek had 44% with over 96% of scanners reported. The outcome of the Republican primary will have to be determined next week after the ranked choice votes are calculated. And this is one of the few City Council districts that will have a competitive general election, since the district voted for Republican Curtis Sliwa over Democrat Eric Adams by a margin of 1 percentage point in the 2021 mayoral election.
Velázquez may have won by a large margin, but her win did not come without challenges, especially from the right. Her opponents criticized her for her stance on rezoning and for being too progressive. But Velázquez received a lot of support from her fellow council members, the Bronx Democratic Party, labor unions and other political organizations.
She emphasized her community and said she was confident in the results of the election. "(The results) feel good! It validates our record of accomplishments and it recognizes the diversity that this district has, and I'm just proud to represent them." Velázquez said.
She said now that she is looking toward the general election and she is "carrying the same message of faith over fear and unity as a community to make sure that we are protecting our seniors and veterans and giving them the care they need … making sure that our kids have the best education … and looking at our community and how we all move forward together."