Politics
Some NYC Council members didn't disclose their free tour of Israel
Conflicts of Interest Board filings show other elected officials have been traveling as well.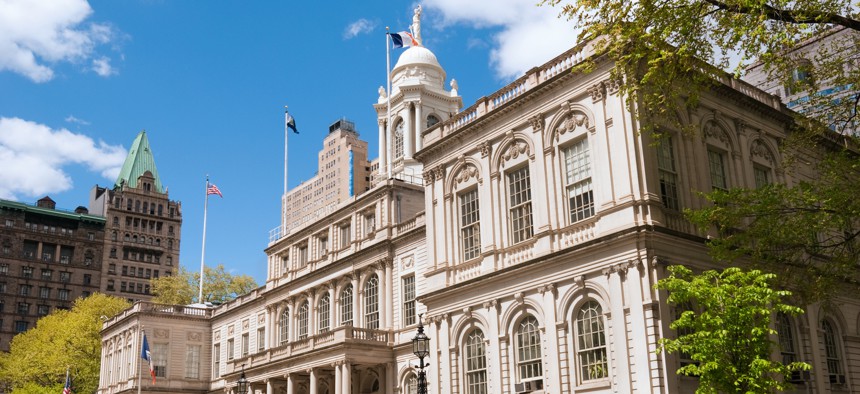 A handful of New York City Council members didn't report a multi-thousand dollar free trip to Israel on their annual financial disclosure filing this year – but all four said they'd fix it after being questioned by City & State.
Council Members Kevin Riley, Sandra Ung, Nantasha Williams and Kamillah Hanks joined eight other colleagues on a trip to Israel in late November 2022. That was one of the longstanding "study tours" for influential New Yorkers organized by the Jewish Community Relations Council of New York. JCRC also pays the full cost, of about $5,000 to $7,500 per person, according to Tzipporah Shapiro, a spokesperson for the civic group. 
But when they filed their annual report with the New York City Conflicts of Interest Board, four members wrongly responded "no" to the question of whether, during 2022, did a non-governmental entity or person pay for their travel-related expenses of $1,000 or more related to their official duties with the city.
"I'm going to file an amendment," Williams said, adding that there was "no nefarious reason," and it was just "an honest mistake," and thanked City & State for the accountability. Riley, Hanks, and a representative for Ung also all said they didn't intentionally leave off the trip, and they would revise their filings.
That's a relatively common practice with COIB. For example, Mayor Eric Adams previously revised five years of report, after reporters uncovered that he was still the co-owner of a Prospect Heights condo with a former partner. Adams wasn't disciplined by the board for that, and these council members won't be getting in trouble either. Elected officials can be fined up to $10,000 for an intentional violation of the law, but "Proof of intent is essential," said Carolyn Lisa Miller, COIB's executive director. "It's not intended for the filers who mistakenly or inadvertently leave information out." 
Miller said that every city elected official has filed a report for the year 2022, and they were all collectively published online on Wednesday. 
Some members may feel reason to be shy about the Israel trip. The JCRC tours often get pushback from critics of the Israeli government's policies, who feel that the trip is a propaganda tour. In 2020, the Democratic Socialists of America even specifically asked candidates who were applying for their endorsement whether they would commit to not traveling to Israel on the "political junket" and align with Palestinian calls to support the Boycott, Divest, Sanctions movement. But many elected officials who aren't aligned with leftists still attend the trips, praising them as a way to learn about a country and a people that mean so much to many of their constituents. 
More free travels 
The member's omissions just underline the fact that, while the reports are a good transparency measure, they're not actively fact-checked by COIB, and the filings can't be trusted to give a full and accurate picture. 
In fact, Adams seemed to once again leave a potential conflict of interest off of his filing this year when he declared that he had no relatives holding a position with the city. The news outlet The City broke the news that Sharon Adams, who is married to the mayor's brother, Bernard, has worked as a specialist with the Department of Education since March. COIB policies make clear that a spouse of your sibling counts as a relative. Bernard himself also used to work for the mayor, but left in February, presumably before Adams filled out the form. The mayor's office did not immediately respond to a request for comment. 
However, the reports are still a trove of information, and an accountability measure that can help track influence in city government. While City & State knew about the JCRC Israel trip based on previous reporting and some social media posts by the members attending, the reports are sometimes the only public acknowledgement of the free trips gifted to some elected officials. 
For example, Council Member Ari Kagan reported that the Uzbekistan Mission to the United Nations covered his trip to the central Asian nation that cost between $1,000–$5,000. Mayor Adams reported that his November 2022 trip to Athens, Greece for the Mayors Summit on Antisemitism cost the Combat Antisemitism Movement somewhere between $5,000 and $55,000. Bronx Borough President Vanessa Gibson and Bronx District Attorney Darcel Clark also reported attending a JCRC study tour to Israel, while Brooklyn District Attorney Eric Gonzalez reported getting a July 2022 trip to Israel paid for by the nonprofit America-Israel Friendship League. Manhattan Borough President Mark Levine went to Israel, too, to speak at a conference that was paid for by the municipality of Bat Yam. 
Some trips are more local. Council Member Althea Stevens got airfare and hotel paid for the Local Progress conference in Denver, run by the social justice focused nonprofit. Council Member Tiffany Cabán went to Denver too, and also to Portland with Local Progress. And Council Member Crystal Hudson got free travel to the Mobius Conference in Palm Springs, a convening "to engage, connect and share evolving topics in art, politics, and culture." On the other side of the aisle, Council Members Joe Borelli and David Carr both were gifted travel to the National Forum of Republican Mayors, City Councilmembers & County Leaders conference in Omaha. Borelli also attended a second conference with the group in Mesa, Arizona, while Carr was also one of the members who did report his JCRC trip to Israel in the filing. 
But at least one of the members who did report that Israel trip may need to revise their filings. Council Member Selvena Brooks-Powers listed the cost as somewhere in the range of $1,000 to $5,000, when the organization said that it costs them more.
Powered By
NEXT STORY: Driscoll down, but not out