Campaigns & Elections
2023 New York City Council primary election results
Tracking the most competitive races across the five boroughs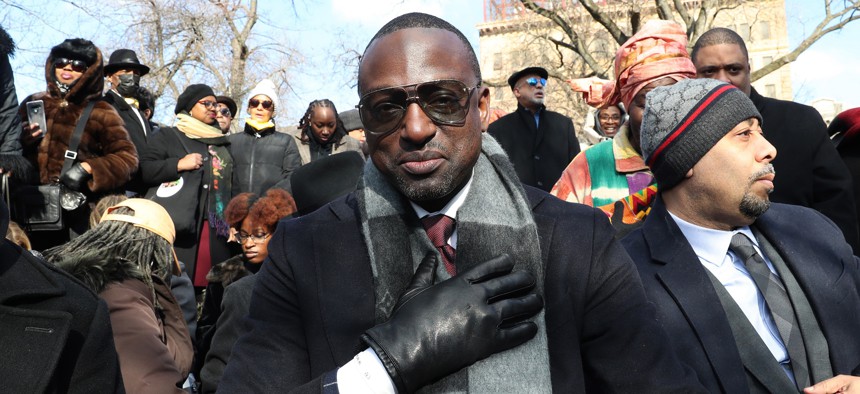 Wait, didn't we just vote for New York City Council? Yes, but the usual four-year terms were cut in half to accommodate redistricting. And all 51 incumbents are eligible to run for yet another two-year term.
Of course, among the most interesting races are the two open seats – one in Harlem, one centered on Bensonhurst. But for many of the incumbents who are running for reelection, it's a checkup with their voters after just 18 months in office – and a test of their political organizing power. The last time there was a redistricting cycle like this, in 2003, not a single incumbent running lost. Despite some energetic primary challengers trying to make that the case again, incumbents largely held on again, with the exception of Council Member Charles Barron, who lost to Chris Banks. More challengers will get a chance in November.
The city Board of Elections released updated preliminary ranked choice voting results on July 11, after completing a second elimination round. Here are results for all the races that turned out to be competitive on election night. The Board of Elections has the full slate here.
Click here to view City & State's primary election results for New York City district attorneys and judges.
District 1, Democratic Primary
Lower Manhattan, including the Financial District and Chinatown
Christopher Marte (Incumbent): 62.6%
Susan Lee: 30.9%
Ursila Jung: 5%
Pooi Stewart: 1.1%
After barely losing to City Council Member Margaret Chin in 2017, Christopher Marte won the open seat in 2021 by defeating a diverse primary field, and again won comfortably in this year's primary. Marte is Dominican, but he had solid support in Chinatown in the last race, and he has worked to grow more support during his term. Some local power players backed grant writer and local activist Susan Lee, who is Chinese.
District 9, Democratic Primary
Central Harlem, Manhattan
Yusef Salaam: 63.9%
Inez Dickens: 36.1%
Al Taylor: Eliminated
Kristin Richardson Jordan (Incumbent*): Eliminated
*Richardson Jordan suspended her campaign in May.
There's an open seat in Harlem, and that doesn't happen too often. And the open seat produced an unexpected result, with Central Park Five member Yusef Salaam leading two experienced elected officials, edging both of them out in ranked choice rounds. Salaam and Assembly Member Al Taylor endorsed each other as their second choices a few weeks before the election in an attempt to thwart the presumptive favorite in the race, Assembly Member Inez Dickens. The candidates weren't too far apart on the issues, but Salaam presented more progressive, hoping to pick up would-be KRJ voters, while Dickens highlighted her legacy as a proven winner.
District 13, Democratic Primary
East Bronx, including Throggs Neck, Pelham Bay and Morris Park
Marjorie Velázquez (Incumbent): 65.5%
Bernadette Ferrara: 19.3%
Irene Estrada: 7.3%
John Perez: 5.6%
New York City Council Member Marjorie Velázquez, who in her first term received backlash over her opposition to (and then support of) a rezoning project in the district, made it easily past her three challengers. Former Democratic district leader and primary candidate Irene Estrada had criticized Velázquez for ultimately supporting the rezoning. Bronx Community Board 11 Chair and conservative Democrat Bernadette Ferrara is also running, as is Army veteran and former state Senate candidate John Perez.
District 13, Republican Primary
East Bronx, including Throggs Neck, Pelham Bay and Morris Park
Kristy Marmorato: 51.5%
George Havranek: 48.5%
Hasime Samantha Zherka: Eliminated
The City Council's 13th District in the East Bronx has the highest share of Republican voters of any district in the (still solidly blue) borough. So it's no surprise to see a competitive Republican primary. Bronx GOP-backed Kristy Marmorato pulled ahead of former Bronx Community Board 10 member and Sliwa-aligned George Havranek in ranked choice voting, while business owner Hasime Samantha Zherka was eliminated in subsequent rounds.
District 19, Democratic Primary
Northeast Queens, including College Point, Whitestone and Bayside
Tony Avella: 51.1%
Christopher Bae: 48.9
Paul Graziano: Eliminated
Tony Avella served in the City Council for eight years, the state Senate for eight years, ran for mayor twice and apparently just can't quit politics. He'll now face a rematch with Republican Council Member Vickie Paladino following a narrow Democratic primary win. Avella bested Christopher Bae, a first-time candidate and former assistant district attorney in Queens who has received support from folks who haven't forgiven Avella for joining the Independent Democratic Conference, like state Sens. John Liu and Jessica Ramos. Bae, who's Korean American, hoped to appeal to the district's growing Asian population. Paul Graziano also ran a pro-downzoning NIMBY platform – even more so than Avella, whom he used to work for.
District 23, Democratic Primary
Eastern Queens, including Bellerose, Douglaston and Little Neck
Linda Lee (Incumbent): 62.6%
Steve Behar: 29.2%
Rubaiya Rahman: 7.5%
Linda Lee, who is Korean, topped Democratic Socialist Jaslin Kaur, who is Indian, in a close primary two years ago. Kaur didn't run again, but third-place finisher Steve Behar, who is white, is back. Also running is Rubaiya Rahman, who is South Asian and runs an autism nonprofit. It's a diverse district, and Lee's incumbency protected her well in this year's primary. This district also votes consistently Democratic, despite its rather suburban nature.
District 26, Democratic Primary
Western Queens, including Long Island City, Sunnyside and Woodside
Julie Won (Incumbent): 60.9%
Hailie Kim: 37.8%
Julie Won defeated 14 other candidates in the 2021 primary, despite having limited institutional support from elected officials and unions. Many predicted she'd face a tough race again, especially after bruising rezoning negotiations. But her only opponent was Hailie Kim, who got eighth place in the 2021 primary. Kim has an energetic campaign with solid fundraising, but Won's power of incumbency was likely too much to overcome.
District 29, Democratic Primary
Central Queens, including Richmond Hill, Kew Gardens and Forest Hills
Lynn Schulman (Incumbent): 54.2%
Ethan Felder: 34.4%
Sukhi Singh: 10.6%
Labor lawyer Ethan Felder got 31% of the vote trying to unseat Assembly Member Andrew Hevesi last year. But Felder was again unsuccessful in his bid to unseat incumbent City Council Member Lynn Schulman, who took the challenge seriously and emerged triumphant. Felder's allies noted that he received more local donations than Schulman, but she had far more campaign cash and more donations overall, thanks in part to her decades as a political staffer before taking office. Also running was Sukhi Singh, a software developer who's active in the Sikh community.
District 41, Democratic Primary
Central Brooklyn, including Bedford-Stuyvesant, Brownsville and Crown Heights
Darlene Mealy (Incumbent): 61.4%
Isis McIntosh Green: 29.5%
Reginald Bowman: 5.1%
Joyce Shearin: 3.5%
Don't count out New York City Council Member Darlene Mealy, who has won this council district four times before, many more times as Democratic district leader, and pulled out another win in this year's primary. Critics like Isis McIntosh Green said Mealy doesn't have much to show for those years in office, and she often doesn't even show up for council meetings.
District 42, Democratic Primary
East New York, Brooklyn
Chris Banks: 50.7%
Charles Barron (Incumbent): 42.6%
Jamiliah Rose: 5.8%
Antipoverty advocate Chris Banks pulled off an upset victory against socialist City Council Member Charles Barron in this heavily blue district. Labor unions spent heavily on this race in favor of Banks, while Barron brought with him more than a decade of experience in the council – and a dynastic-like control of the seat for even longer. Banks ran on a message of change – an unsurprising tactic for a challenge to Barron. Democrat Jamilah Rose, described on her Facebook page as a social justice advocate and a grant writer, also ran.
District 43, Democratic Primary
Southern Brooklyn, including Sunset Park, Bensonhurst and Gravesend
Susan Zhuang: 58.5%
Wai Yee Chan: 31%
Stanley Ng: 9.6%
New York City's redistricting process created a new majority-Asian American district – the first in Brooklyn – making it the rare seat with no incumbent this year. Susan Zhuang, the chief of staff to Assembly Member William Colton, pulled off a comfortable win in the Democratic primary with his backing. In the final weeks of the campaign, it was reported by the New York Post that Zhuang told one voter that her "ideas are the ideas of the Republican Party." Zhuang will now face a competitive general election in November. Both other candidates were Chinese Americans with ties to politics in the district: Wai Yee Chan, executive director of social services nonprofit Homecrest Community Services and education advocate and retired computer programmer Stanley Ng. Chan and Zhuang ran with the support of some local electeds, while Ng has cast himself favorably as a political outsider.
District 43, Republican Primary
Southern Brooklyn, including Sunset Park, Bensonhurst and Gravesend
Ying Tan: 50.7%
Vito LaBella: 47%
Zhuang will face off against Republican community activist Ying Tan in the general election for this new district. Tan, who is Chinese, ran a close race against former state Senate candidate Vito LaBella, who is white. Republican Curtis Sliwa won the district in the 2021 mayoral race, and Republican gubernatorial candidate Lee Zeldin outperformed Gov. Kathy Hochul last year in some of these neighborhoods.
District 44, Republican Primary
Southern Brooklyn, including Borough Park, Midwood and Gravesend
Kalman Yeger (Incumbent): 51.2%
Heshy Tischler: 47.3%
New York City Council Member Kalman Yeger defeated the notorious Heshy Tischler by 30 votes in this low-turnout race dominated by Orthodox Jewish voters.
District 47, Republican Primary
Southern Brooklyn, including Bay Ridge, Coney Island and Sea Gate
Ari Kagan (Incumbent): 75.3%
Anna Belfiore-Delfaus: 12.5%
Avery Pereira: 11.8%
A newly carved up District 47 has caused quite a dustup in the City Council. Redistricting has forced Democratic Council Member Justin Brannan and (newly) Republican Council Member Ari Kagan to compete for this seat as incumbents. And Kagan defected to the Republican Party after the new district lines were finalized. But before he has a shot at the seat in November, Kagan easily fended off a couple Republican primary contenders, including Anna Belfiore-Delfaus, whose residency and recent work as a teacher has been questioned, and special education teacher Avery Pereira.
Powered By
NEXT STORY: Coney Island casino idea draws local opposition