Politics
Justin Brannan knows what it takes for Democrats to win in Bay Ridge
To survive reelection in southern Brooklyn, Brannan is focusing on constituent service and pragmatic politics.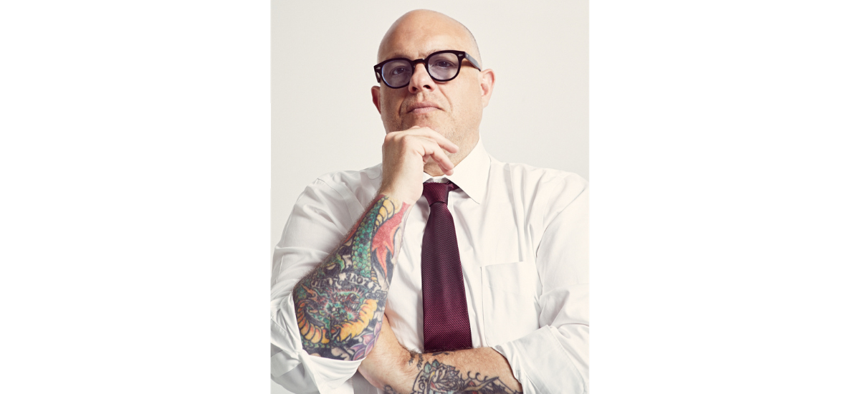 On a Friday night in June, Justin Brannan took his alter ego out for a spin.
It was a few weeks before the New York City Council would finalize a budget deal with Mayor Eric Adams, and Brannan – a Democrat from Bay Ridge and chair of the council's Finance Committee – had spent the day fighting to restore budget cuts to public libraries and programming for seniors.
But at some point in the evening, Brannan pivoted to a different gig. The second-term City Council member traded his typical crisp button-down for a black Sonic Youth T-shirt and his Clark Kent-like black frames for a backwards baseball hat emblazoned with the logo for NYC Emergency Management.
In this get-up, the 44-year-old Brannan melted into the scene at Irving Plaza. The formative early '90s New York hardcore band Biohazard was playing a sold-out show, and Brannan's own hardcore punk band, Indecision, had reunited to open for them.
Brannan, colorful tattoo sleeve on full display, wasn't basking in the spotlight, just keeping it low-key stage left, steadily shredding without flourishes or solos.
But the spotlight has a way of finding Brannan. Just before Indecision began playing, a chant broke out. "COUN-CIL-MAN, COUN-CIL-MAN," a couple of young men and a woman shouted. "JUS-tin, JUS-tin," another guy yelled.
One of those guys was Vlad Rudnick, a Long Islander who knows Brannan through the punk scene. He saw a clear throughline from Brannan's life as a hardcore musician to his career as an elected official. "His inauguration was a really big deal because the punk rockers are out here screaming about changing shit," he said. "This man went into politics and is actively changing shit. He's fighting against the very things that he's been saying in Indecision for years."
Another way to look at it: Brannan raged against the machine, and then he became the machine.
Brannan is something of a paradox. A hardcore punk rocker turned Wall Street clerk turned council member who endorsed both Bernie Sanders and Eric Adams, Brannan's political identity doesn't fit neatly into a box. But to survive as a Democrat in southern Brooklyn – where he faces a competitive election in November – Brannan has succeeded in part by knowing that there are certain boxes he needs to check, even if his political identity doesn't fit neatly into one.
"Justin may have progressive instincts, but he's a hardcore pragmatist," said Howard Graubard, an election lawyer who has worked with and contributed to Brannan's campaigns. "He accurately reflects the broad range of opinion in his district. And he knows how to convey those ideas so that people who are at the margins in the district, could vote either way, can listen to Justin Brannan and understand that he basically speaks for them."
"A 24/7 council member"
Brannan's pre-political resume reads like that of a man not entirely sure what he wants to do with his life.
Brannan clerked for hedge fund managers at Bear Stearns, where he met his wife, before the bank collapsed. He spent time in local radio and worked as a fundraising consultant for nonprofits. He dabbled in venture capital.
But for all his meandering, Brannan's entry into politics was ambitious and decisive. "I remember the first time Justin came and met with me, nobody knew who he was. And he showed up and was like, 'I want to run for Senate,'" recalled George Fontas, a political strategist who ran several campaigns for Bay Ridge's former Council Member Vincent Gentile. That was around 2010, and it was former Republican state Sen. Marty Golden's seat Brannan was eyeing. (State Sen. Andrew Gounardes, who co-founded the Bay Ridge Democrats with Brannan, ultimately took Golden down in 2018.)
Instead of mounting an ill-fated run against Golden, Brannan joined Gentile's office, working his way up as a staffer while growing the Bay Ridge Democrats and getting noticed along the way as someone with a bigger political future ahead of him. He went on to a position at the city Department of Education, working on the expansion of universal preschool for 3-year-olds under then-Mayor Bill de Blasio.
This man went into politics and is actively changing shit."
Vlad Rudnick, Long Island resident
Brannan said he fell in love with the idea of constituent service. "The fact that a person could come into your office with a problem and you could undo that knot and send them on their way within an hour or two hours, and you could change their life – it was like, holy fuck, this is what I need to be doing. This is politics, also? This is cool."
Hanging above Brannan's desk in his Bay Ridge district office is an oversized print of Fiorello La Guardia, the former mayor long associated with a maxim that Brannan has hammered into his political identity: "There's no Democratic or Republican way to pick up the garbage."
Brannan still sees his job as filling potholes, getting a speed bump installed and helping parents with a public school issue. It's the part of his work he talks about most excitedly. But if delivering for his constituents on the hyperlocal level is fulfilling for Brannan, it's also politically necessary. "He understands that he's got a district that is politically marginal and politically volatile, and that in order to hold it, he's got to be a 24/7 council member," Graubard said, describing Brannan as tireless in seeing to that part of the job.
That political volatility makes La Guardia's adage sound a little naive these days, even to Brannan. "There was a time when, if you were a local politician and something happened outside of your little parochial jurisdiction, you weren't expected to have an opinion or a platform on it," Brannan said. "Now I can't get a pothole filled without someone yelling about bail reform. It's like, what the fuck do the two things have to do with each other?"
Brannan talks about that political polarization animatedly. Brannan talks about a lot of things animatedly. It's part of what has helped him cultivate an instantly recognizable and charismatic identity as a politician, both online and in the press. On Twitter, Brannan can be sarcastic when confronted by opponents but is rarely outright combative. He exhibits a friendly, quippy rapport with colleagues across the aisle. He doesn't swear nearly as much on social media as he does in person, but he does post lyrics and other reminders of his edgier past. He trolls Elon Musk. And above all else, he evangelizes about Bay Ridge and its residents.
Bay Ridge is Brannan's home and a large part of his current district, as well as the redrawn district he's running in this year. It's an increasingly diverse neighborhood. Though roughly half of Bay Ridge is white, the neighborhood has a significant Arab American population and is home to growing Asian and Latino communities.
It's also home to more moderate residents than most City Council districts currently represented by Democrats. "The voters in (Brannan's) historical district are the middle of the line. Whether you call them a Democrat or a Republican, they're really centrists," Fontas said. In his view, Brannan's constituents are focused on three top issues: the resources a politician has delivered to the district, public safety and quality of life.
At times, Bay Ridge has bet on Democrats to deliver on those issues. Other times, it has picked Republicans. Though the neighborhood is represented in Congress by Republican Rep. Nicole Malliotakis, it was the Staten Island portion of the district that voted Republican in 2020, while the Bay Ridge and other Brooklyn parts of the district cast more votes for Democrat Max Rose. A year later, Brannan won election in his district even as the district cast more votes for the Republican mayoral candidate.
So far, Brannan has survived by navigating the district's political diversity – its conservative, its moderate and its liberal voters. "He's able to speak a language that has done him really good favors around trying to bridge those gaps," said Camille Rivera, a partner at New Deal Strategies who helped elect progressive lawmakers including Council Members Tiffany Cabán and Sandy Nurse.
As Graubard put it when Brannan first ran and won election to the City Council in 2017, "He is what old-school Bay Ridge looks like in the 21st century. He is a Democrat of liberal instincts, but with the sort of caution old Bay Ridgers think of as common sense."
The council psychiatrist
Few candidates hustled harder than Brannan to become speaker of the City Council in 2021. Brannan established himself as a candidate who could work with Eric Adams and was seen as palatable to some of the body's new progressive members. But he ultimately fell to the wayside in the behind-the-scenes campaigning and horse-trading typical of the speaker's race.
With surrogates for the mayor-elect backing Council Member Francisco Moya, who didn't have the votes of his colleagues, support coalesced instead behind Adrienne Adams, a relatively moderate Democrat from Southeast Queens. Brannan was given the consolation prize of one of the council's next-most powerful roles – chair of the Finance Committee – and insists it all worked out for the best. "I think right now we need an adult in the room, and having someone like Adrienne, who is just a real sort of cool hand, I think is important," Brannan said. "I can be that cool hand, but that's not my default position. It's probably for the best that Adrienne's the speaker," he added with a laugh.
The City Council has increasingly positioned itself as a foil to the mayor this year, and Brannan has been in the middle of the action as finance chair. During this year's budget negotiations, Brannan and other council leaders spoke out frequently against the mayor's attempts to exact more cuts on city agencies. The council was able to reverse some, but not all, of the latest round of cuts in the final budget agreed upon last month.
Brannan said some of his colleagues have dubbed him "the council psychiatrist," in light of his tendency to provide counsel to his colleagues.
"Sounds like a HIPAA violation," Council Member Eric Dinowitz joked, when asked about that moniker. "I advise people to see a licensed therapist," added Council Member Keith Powers, who also ran a robust campaign for speaker, and counts himself as a friend and fan of Brannan.
Council Member Marjorie Velázquez, who had Brannan's support in her 2021 campaign, said that he has shown up for her both personally and professionally. "He was there for me at my darkest time," Velázquez said of Brannan, who she said showed up immediately when her best friend passed away during the campaign. When Velázquez faced the biggest challenge of her first term in the council – the controversial Bruckner rezoning – Brannan served as a sounding board.
Council Member Nantasha Williams, a member of the council's Progressive Caucus, said that Brannan has been able to reach across divisions within the Democratic Party. Some of his more progressive policy positions – charging wealthier people higher civil penalties for offenses like double parking, cracking down on police overtime, even endorsing Bernie Sanders in the 2020 presidential primary – probably help with that.
"Even when he was running for speaker, he had a pretty broad coalition of people, from conservatives and progressives to different parts of the city," Williams said. "It's surprising, sometimes, how certain folks are hesitant to communicate with certain people if they don't share the same political perspective. He can communicate with whoever. That's like half the battle."
All in moderation
The hardcore vegetarian kid covered in tattoos, whose album cover was once accused of anti-Catholic imagery, accepts that he's considered a moderate today.
"I think if people call me a moderate Democrat, it's probably closest to the truth," Brannan said. "It's certainly closer to the truth than saying I'm a democratic socialist."
Terms like "progressive" and "moderate" are malleable. But City Council Democrats had to pick sides based on one interpretation earlier this year, when the leaders of the Progressive Caucus asked its members to sign on to a new statement of principles. Among other things, it included a clause to "do everything we can to reduce the size and scope of the NYPD and the Department of Correction."
A caucus that had included more than half of the council's 51 members lost 15 of those members, and Brannan was among them. "I just think 'defund the police' is just one of the worst phrases that people have ever come up with," Brannan said. "If you have time to have a 10-, 15-minute conversation with every New Yorker, you can explain to them why we can't 'more cops' our way out of every problem. We have to also invest in preventing the root causes of crime – health care, education, jobs, housing. You can't just spend on the police. But saying 'defund the police?' What do you expect it to mean to the average person?"
Of the issues that Brannan leans more moderate on, his position on public safety and the NYPD is one of the more closely watched, particularly in his district. Since 2017, Brannan has been open in his support for increasing NYPD officer salaries to be comparable with other localities, a stance that won him support and campaign contributions from the Police Benevolent Association through at least 2019.
Justin may have progressive instincts, but he's a hardcore pragmatist."
Howard Graubard, election lawyer
But in 2020, at the height of Black Lives Matter protests and amid a push for police reform in the city, Brooklyn Paper reported that Brannan took some of the contributions he received from law enforcement unions and donated them to groups like the Brooklyn NAACP and Communities United for Police Reform. "The PBA coming out in full-throated support of Donald Trump was, I think, a turning point for a lot of people," Brannan said when asked about redirecting those donations today.
As the city faced mounting calls to reduce the NYPD's budget by $1 billion. Brannan ultimately voted with the majority in favor of a budget that shifted some funds away from the NYPD but didn't cut headcount or defund the department in the way that progressives and activists were looking for. Though Republican opponents continue to accuse Brannan of defunding the police, personnel funding for his local precinct has increased, Gothamist reported last year.
The PBA hasn't approached Brannan this cycle. But if they did? "I'd have a conversation with them," he said. "And I would be clear on where I stand."
"He's got the bug"
After redistricting, Brannan's new district cuts out part of Fort Hamilton and stretches down to Coney Island. It features slightly higher Democratic enrollment than his current seat. The downside: Brannan's opponent in November, Republican Ari Kagan, also comes with an incumbent's advantage as the current council member in Coney Island and Gravesend.
As he makes his case to voters this fall, Brannan will point to how he's delivered for the constituents of the current District 43. The millions in capital funds he's delivered for park renovations, the deal for Bay Ridge's first new public high school in decades that he helped secure, the new mixed-use development that will bring jobs to the site of the closed Century 21 store.
But what do voters in Coney Island and Gravesend care about any of that? "With redistricting, he now has to introduce himself to a bunch of new folks who have ideas or preconceived ideas about him already, and he has to bring them over," said one Democratic consultant, who asked not to be named in order to speak openly. "There's a known entity, which is his opponent. He's now a Republican, but he's also an elected official, and he's an incumbent, and incumbency has power."
Kagan, a former Democratic district leader with ties to the United Progressive Democratic Club – a political club that has clashed with Brannan and his allies – registered as a Republican last year. Kagan said that he made the switch as he felt the Democratic Party was moving to the left of his values, including on crime. He denied it was because the redrawing of council districts forced him to compete with other incumbent Democrats.
Now I can't get a pothole filled without someone yelling about bail reform. It's like, what the fuck do the two things have to do with each other?"
Justin Brannan
Casting Brannan as insufficiently focused on public safety or soft on crime seems to be at least part of Kagan's strategy. Kagan declined to be interviewed for this story but said in a statement that he expects the race to be hard-fought. "If voters like the status quo and like looking over their shoulders on the street, Justin Brannan is their guy," Kagan wrote in a text message. "If they want to feel safe, secure and cared for, then I'm confident I'll earn their vote."
Democrats in southern Brooklyn have reason to fear that public safety messaging will resonate with more moderate and centrist voters this year; Republicans running on that message flipped several Assembly seats last year. "I think he needs to swing more moderate if he wants to win his election," the Democratic consultant said.
There's an upside for Brannan to the redrawing of the districts where he's won close elections in both 2017 and 2021: In both years, the district voted for the Republican candidates for mayor but elected Brannan, suggesting that Brannan has a solid base there. But the Republican vote can't be ignored. "There's still an organized group of Republicans that, whether it's by muscle memory or whatever, still survives," Graubard said.
If Brannan wins reelection, he'll face term limits in two years. Is a higher elected office up next? "I think he's got the bug," said Democratic consultant Chris Coffey. "Most elected officials that I know are pretty deeply into being elected officials. And I think Justin thrives on it. And he's good at it."
For now, Brannan said he's focused on the council election in November. "If I fell in love with the idea of doing something else, then yeah," he said of running for another office. "Would it be cool to run for Congress? Sure. Is that my dream? I don't know. I don't know what's going to happen."
According to Brannan, none of this was his dream originally. But he put it all in motion.
- with reporting by Jeff Coltin
Powered By
NEXT STORY: Eric Adams wants to speak to you 'directly'