Ethics
Six supporters of Eric Adams' mayoral campaign indicted
The accused allegedly ran a straw donor campaign to win influence in City Hall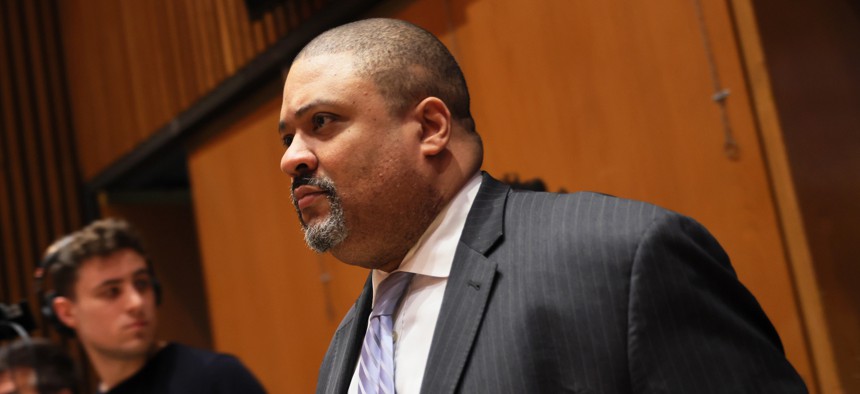 Six supporters of Eric Adams' New York City mayoral campaign were indicted and arraigned in Manhattan Friday, accused of running a straw donor scheme meant to win influence in City Hall. Adams himself, and his campaign, were not implicated in the scheme, and Manhattan District Attorney Alvin Bragg doesn't allege that Adams knew about it.
The 27-count indictment lays out a case that the defendants collectively paid 29 separate straw donors to give to Adams' campaign, between Aug. 13, 2020 and Sept. 23, 2021. 
The straw donors were not named in the indictment, but one of them was said to be a Democratic district leader in Manhattan. It wasn't immediately clear who.
The scheme was meant to take advantage of New York City's public campaign matching funds program, where donations of up to $250 from city residents are matched 8-to-1 with public funds. So multiple smaller contributions mean more money for a campaign, as opposed to fewer, large donations – especially with individuals limited to giving $2,000. 
"Many of the contributions were not matched," New York City Campaign Finance Board spokesperson Tim Hunter told City & State, but he could not say that all of the alleged fraudulent donations were not matched with public funds. The board has internal monitoring that flags some donations – such as some of those made with money orders – and does not make them eligible for matching.
Dwayne Montgomery, Shamsuddin Riza, Millicent Redick, Ronald Peek, Yahya Mushtaq, Shahid Mushtaq and the construction safety company EcoSafety Consultants are all named in the indictment. The indictment identified Montgomery and Riza as relatives who facilitated the scheme. Yahya and Shahid Mushtaq are the owners of EcoSafety, and the indictment alleges that they made campaign contributions in the names of the company's employees without their knowledge. Riza and his own construction company were charged in a separate, apparently unrelated state Supreme Court indictment earlier this year.
City records show that Ecosafety Consultants has one active city contract, as a subvendor on a Staten Island construction project. The company started on April 1, 2021, eight months before Adams took office. 
Montgomery, a retired inspector with the New York City police department, is alleged to be the ringleader of the scheme, and hoped to use the significant amount donated to help open doors in City Hall, once Adams took office.
"Montgomery and an associate regularly updated a spreadsheet with all of the contributions associated with the fundraiser and the amount of matching funds they believed they had generated for the campaign," said a press release from Bragg's office. "They planned to use the contributions as leverage in potential future requests of the Mayor's Office."
Ironically, Montgomery now works as the director of integrity for Teamsters Local 237, a union for city employees. He's also the business agency for the union's law enforcement division. An internal salary report suggested he made $162,992 in that role in 2019. 
"He's been suspended. In no way is this matter connected to the union," Hank Sheinkopf, a spokesperson for Local 237, told City & State regarding Montomery. He also noted that the union endorsed Scott Stringer in the 2021 mayoral primary, not Adams. 
Adams' government spokesperson, Fabien Levy, told City & State that the mayor has known Montgomery for a long time, since they worked in the NYPD together, but did not believe that Adams was familiar with the other five defendants. And Levy suggested the goal of gaining influence in City Hall didn't work, saying that none of the defendants have had a meeting at City Hall with Adams, or discussed business with him anywhere, since he became mayor. 
Asked if the mayor had been interviewed by Bragg's office as part of the investigation in the case, Levy said Adams had not been interviewed. 
Adams' office has broken with mayoral precedent by not releasing his public schedule of official meetings in the past year. And the schedule he released for the first six months of his term omitted most details of whom he was meeting with. 
Evan Thies, the spokesperson for Adams' 2021 campaign, emailed a statement distancing Adams from the case. "The campaign thanks the District Attorney's office for their hard work on behalf of taxpayers," Thies wrote. "There is no indication that the campaign or the mayor is involved in this case or under investigation. The campaign always held itself to the highest standards and we would never tolerate these actions. The campaign will of course work with the DA's office, the Campaign Finance Board, and any relevant authorities."
The indictment alleges that Montgomery and Riza organized fundraisers for Adams. The two defendants also allegedly had a phone call in which Montgomery stated that "[the Candidate] said he doesn't want to do anything if he doesn't get 25 Gs." The indictment mentions two instances in which Montgomery sent Riza emails purporting to invite other defendants and unindicted co-conspirators to meetings with Adams, but it doesn't confirm that those meetings occurred. 
Adams' campaign brought in nearly $11 million in contributions, from more than 15,000 total contributors, according to New York City Campaign Finance Board records, so the allegedly crooked donations in questions make up just a miniscule fraction of his total fundraising. 
Straw donor schemes have happened before in city politics. Harlem real estate developer Gerald Migdol was charged with making more than a dozen donations in other people's names to the 2021 comptroller campaign of Brian Benjamin. Real estate investor Jona Rechnitz also testified under oath that he had made straw donations to Bill de Blasio's 2013 mayoral campaign. He pleaded guilty to fraud charges. 
This story has been updated with more details about the indictment, and updated to clarify that the mayor's spokesperson said Adams had never met any of the defendants at City Hall since becoming mayor.
Powered By
NEXT STORY: New York politicians are looking for a new social media home