Kathy Hochul
Who's who in Kathy Hochul's administration?
Here are some of the insiders the governor has appointed to run the state.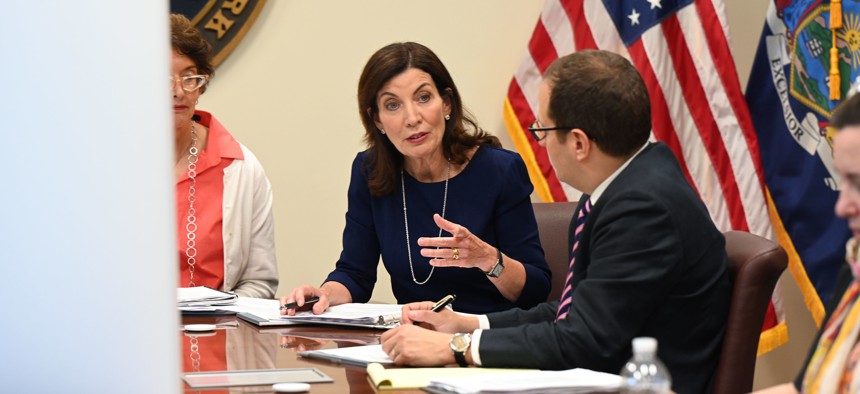 New York Gov. Kathy Hochul is a household name in the state – but there are many influential and experienced people working in her administration who aren't quite as recognizable. The Executive Chamber has an $18 million budget and hundreds of staff working from Albany, New York City and Washington, D.C. Gubernatorial cabinet members advise the governor, politically and legally, on everything from public health to transportation. They oversee her office's daily operations, such as her schedule and what she says to press. Others supervise statewide agencies like the Metropolitan Transportation Authority and the Health Department. And they manage the state's finances. Many staff and cabinet members work behind the scenes to keep the executive branch working, though some are better known due to their extensive resumes or public-facing roles. Here's an introduction to some of the top ranking officials Hochul's administration. 
This post was updated on July 25. 
Lt. Gov. Antonio Delgado
Usually, the LG runs for the role and is elected independent of the governor. In Antonio Delgado's case, though, Hochul appointed him to replace former Lt. Gov. Brian Benjamin and got the Legislature to change the law to put Delgado on the ballot, replacing Benjamin weeks before the primary election. Benjamin resigned in April 2022 after being arrested on campaign finance fraud charges. He maintains his innocence. The lieutenant governor has two concrete jobs: to preside as the president of the state Senate (a largely ceremonial role) and to take over the governorship if the current governor resigns or is impeached. Often, they act as a spokesperson and cheerleader for the governor, promoting the executive and their policies at press conferences, community meetings, summits, events and to politicians, organizations and the public. However, if the governor does not decide to make much use of the LG, they can end up without many tasks to do. The Times Union reported on the distance between Hochul and Delgado, who has been relatively quiet since getting elected. Hochul served as lieutenant governor to Andrew Cuomo, and was reportedly sidelined in the role as well. Prior to becoming LG, Delgado was the first person of color to represent upstate New York in Congress as the representative for the competitive 19th district, which encompassed the Catskills, Hudson Valley, Southern Tier and Finger Lakes. His other hats include being a litigator and a rapper, AD the Voice.
Director of state operations and infrastructure: Kathryn Garcia
Kathryn Garcia was appointed the state operations director shortly after Hochul was sworn in in September 2021, following Garcia's narrow loss to Eric Adams in the June primary for New York City mayor. The state operations director oversees more than 70 state agencies, authorities and commissions, such as the Metropolitan Transportation Authority, the state Health Department and Port Authority. These agencies report to the state operations director through deputy secretaries for final approval. Garcia has a resume of government service, working as the New York Sanitation Department commissioner from 2014 until 2020, during which she led the department through cleaning up after snowstorms and expanding curbside composting. She has also acted as the city's lead czar, COVID-19 food czar, interim chair of the New York City Housing Authority and the chief operating officer at the city's Department of Environmental Protection. 
Chief of staff: Stacy Lynch
First entering the state's Executive Chamber as the chief of staff to former Lt. Gov. Brian Benjamin before becoming a senior adviser to Hochul, Stacy Lynch is now the highest ranking staff member of the governor's office. She entered the role in July 2022, replacing Jeff Lewis, who's been working for Hochul on-and-off since 2009, after he left the role to become a senior adviser to Hochul's campaign and the state Democratic Party. Lewis was partially blamed for Hochul selecting Benjamin to be her initial LG, as the chief of staff was in charge of the vetting process for the people joining the administration. The governor's chief of staff manages their office, staff, schedule and relationships on a day-to-day basis, handles crises, communicates policy agenda to other elected officials and acts as a bridge between the governor and her staff. Lynch has a lot of governmental experience predating her time in the Executive Chamber, including former Mayor Bill de Blasio's deputy director of intergovernmental affairs, which also put her in charge of public affairs for then-first lady Chirlane McCray. Her father, Bill Lynch, was an influential Democratic strategist and an adviser to former New York City Mayor David Dinkins. 
Secretary to the governor: Karen Persichilli Keogh
Replacing Melissa DeRosa from former Gov. Andrew Cuomo's administration, Karen Persichilli Keogh was appointed to be secretary to the governor in August 2021. The secretary acts as the top surrogate for the governor to legislators and political staff. Known in Albany circles as KPK, Persichilli Keogh's most recent job prior to secretary was as head of global philanthropy for JPMorgan Chase & Co. and before that, she was the managing director of the company's state government relations. She was also Hillary Clinton's campaign manager and statewide director while Clinton was a senator, and worked on Clinton's presidential campaign.
Health commissioner: Dr. James McDonald
After Dr. Mary Bassett stepped down after just a year in the role, Dr. James McDonald was nominated to be the state's acting health commissioner in January 2023 and confirmed in June. Rising to extreme prominence during the COVID-19 pandemic, the health commissioner supervises local health boards, reporting and vital records and surveillance of hospitals. They also promote disease control and prevention, healthy lifestyles and emergency preparedness. McDonald is pediatrics and preventive medicine board certified and has experience working in rural and indigenous communities where health care was not very accessible. He worked at the Rhode Island Department of Health for years in various capacities, including as the interim director of health, chief administrative officer of the Board of Medical Licensure and Discipline and medical director for the COVID-19 unit. He has also been a faculty member at the Brown School of Public Health and the Warren Alpert Medical School of Brown University. Since joining the New York health department, McDonald has helped create a food allergy initiative mandating that all food establishments in the state must display an allergy notice for employees and worked to increase access for New Yorkers to the Medicaid Essential Plan.
Budget director: Robert Megna
Robert Megna took over the role of budget director from Acting Budget Director Sandra Beattie after she abruptly stepped down amid a state inspector general probe in February, but doesn't plan to stay long. He will be assisting in the search for a permanent budget director. The budget director oversees the development and management of the state budget and fiscal policies. They make recommendations for agency and department budgets, create tax policy and manage the state's debt portfolio. Megna was already the budget director from 2009 until 2015, making him uniquely qualified for the role, no matter how long it's his. Back when he was the budget director for the first time, Megna passed four on-time budgets for the first time since the '70s and was able to get the state to receive its highest financial rating from three major credit rating agencies in 40 years. He is the president of the SUNY Rockefeller Institute of Government and senior adviser to the chancellor and once was the SUNY senior vice chancellor and chief operating officer.
Counsel to the governor: Elizabeth Fine
Elizabeth Fine has been working as the counsel to the governor since she was sworn in. Counsel advises the governor on constitutionality, consistency and legal implications of legislation presented for her approval. Hochul can also request counsel's advice about legal matters such as executive clemency. Fine has been counsel to former Attorney General Janet Reno, former President Bill Clinton, the Clinton-Gore presidential campaign and the City Council under Speaker Christine Quinn. Most recently she was general counsel and executive vice president at Empire State Development.
Director of policy: Micah Lasher
Micah Lasher was appointed to be the director of policy in November 2021. The director of policy works on policy development that aligns with the governor's stances and goals and supervises other policy advisers. Lasher was the campaign manager for Scott Stringer's campaign to be New York City mayor, was the head of policy and communications for Google's Sidewalk Labs, was the chief of staff to the then-state Attorney General Eric Schneiderman from 2013 until 2016 and was the director of the mayor's Office of State Legislative Affairs under then-Mayor Mike Bloomberg.
Communications director: Anthony Hogrebe
In charge of public communications for the governor is Anthony Hogrebe, who started in the role on July 21, 2023. As the name implies, the director presents the public image of the governor and her administration, such as through coordinating with the press. In June, Politico reported Julie Wood, Hogrebe's predecessor, would be stepping down after almost two years. Before being appointed, Hogrebe was New York City Mayor Eric Adams' first deputy communications director and senior adviser for strategic communications since March 2022. Previously, he was the head of public affairs at the New York City Economic Development Corp., a senior adviser to former New York City Council Speaker Christine Quinn and a senior vice president at public relations firm Marathon Strategies.
Press secretary: Avi Small
Taking over the role on July 1, 2023, Avi Small was promoted from first deputy press secretary to replace Hazel Crampton-Hays, who was the press secretary since September 2021, after her resignation. In this role, he communicates directly with journalists who reach out to schedule interviews, receive written statements and get background information for their stories. News articles will often quote him as a spokesperson for the governor when they're unable to quote the governor herself. Small has a history of communications work. He's been with the state executive chamber since October 2021. Before that, he was a press secretary for the state Senate, and on Corey Johnson's 2021 comptroller campaign and President Joe Biden's presidential campaign in Nebraska. He has also done communications for NextGen Climate, Rachel Harrison Communications and more.
Deputy chief of staff: Melissa Bochenski
Melissa Bochenski served as deputy chief of staff for Hochul when she was lieutenant governor. Before that, she was an executive assistant and an office manager for Hochul while she was a Congress member. The deputy chief of staff is a senior staff member who helps manage the day-to-day operations of the administration and works under the direction of the chief of staff. Bochenski was appointed to her current role in September 2021. Her resume also includes being a strategic relations analyst at M&T Bank.