Politics
The highly visible alliance between Assembly Member Jenifer Rajkumar and Mayor Eric Adams
They share a birthday, an overlapping voter base and a 24/7 approach to being a politician.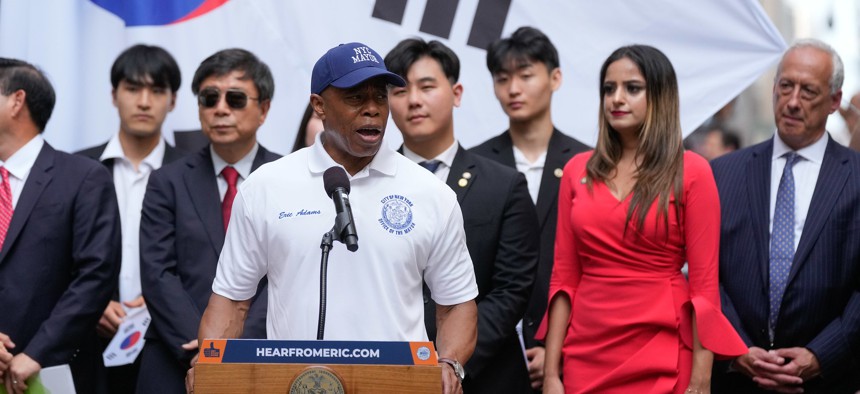 On a chilly day in early December, city officials announced that Manhattan's Fifth Avenue would be closed to cars for a few Sundays to promote safe holiday shopping. Standing quietly behind the podium the entire time was a woman in a striking fuschia coat: Jenifer Rajkumar, an Assembly member who represents Queens. 
If it seems odd that a member of the state Legislature from a different borough was such a visible guest at a small presser about car traffic on a few city blocks in Manhattan, it's not unusual for Rajkumar. Again and again, she appears at city events, often right behind New York City Mayor Eric Adams, wearing a red dress. The involuntary commitment presser in November, a National Action Network Martin Luther King Day celebration in Harlem in January, a Lunar New Year celebration at Gracie Mansion, another mental health announcement in March, an April 20 plea, nationally covered, to President Joe Biden to do more about asylum-seekers coming to the city. On Aug. 17, she attended a celebration of Haitian heritage at Gracie Mansion where the mayor gave her a shoutout: "our good friend, Assemblywoman Rajkumar." At an Aug. 8 reception celebrating Dominican New Yorkers, reporter Chris Sommerfeldt noted that the mayor called Rajkumar, the daughter of Indian immigrants, an "honorary Dominican." 
Rajkumar was appointed as a senior adviser to Adams' transition team after he was elected in 2021. She is quoted in press releases from the mayor's office on topics as varied as sending sanitation trucks to Puerto Rico, protecting the Gowanus Canal from sewage and a plan to revitalize a section of Broadway in Manhattan. "The mayor is a friend," Rajkumar said. "We talk frequently."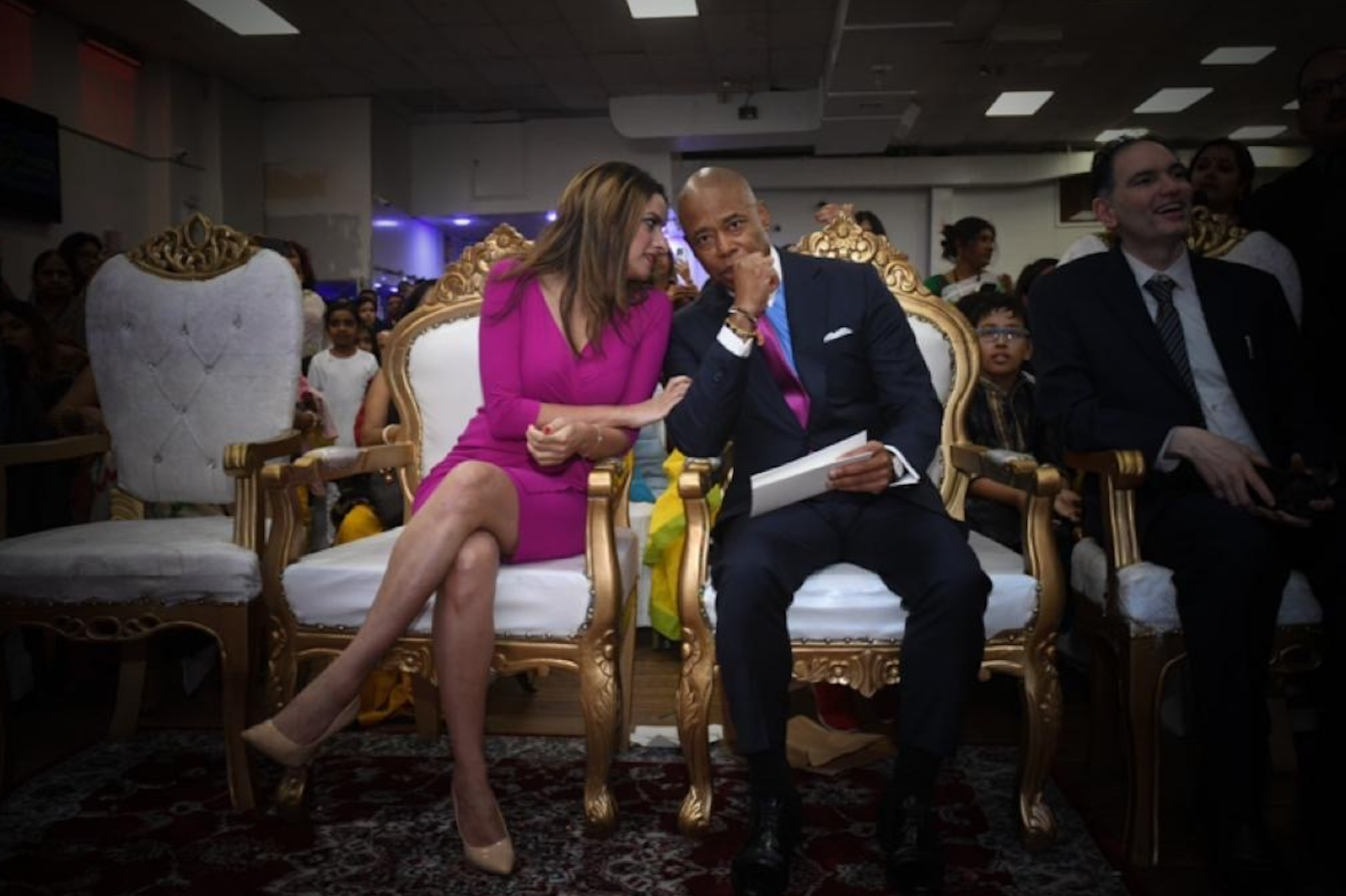 Her ubiquity is not unprecedented, according to Democratic strategist Trip Yang, but it is notable. It indicates that Rajkumar has her sights set on her political future. "I don't mean this in a negative way at all: It is consistent that Jenifer is very ambitious. She sets out her goals, and she accomplishes them," Yang said. Strategist Evan Stavisky put it this way: "Certainly Jenifer Rajkumar is indefatigable, and she will show up anywhere, anytime." 
For Rajkumar, the means – demonstrating proximity to power at every single opportunity, and being as recognizable as possible while doing so – indicate a desired end: to eventually achieve that level of power. In that show-up-everywhere approach, Rajkumar mirrors Adams, a former cop who is known for appearing at emergency scenes, wearing a coat that says "NYC MAYOR," sleeping at his office or in a shelter with asylum-seekers, and riding the subway at all hours. "I'm in a lot of places, yes. That's indisputable. That's a fact," Rajkumar said. "The highest compliment I have gotten from Eric Adams is that I am a beast." At a time when some local electeds have distinguished themselves by criticizing the mayor, Rajkumar has demonstrated singular loyalty. For her, it's a huge bet on one embattled executive that so far seems to be paying off. "Whatever her motivations or politics, building a strong relationship with the newly elected Mayor is a savvy move for a back bench Assembly Member trying to get focus and attention for her district," New York City political strategist Neal Kwatra said in a text. "Ultimately, it accrues to the benefit of her constituents." For Adams, she serves as an ally in the South Asian community, an ally in Albany, and a public symbol of just how much he values loyalty. 
"Look at the greatest mayor of all time: Eric Adams," Rajkumar said at a recent flag-raising ceremony for India at Bowling Green Park. "I'm also proud to say I was the first elected official in Queens to endorse Eric Adams for mayor. And why? Because he's the best."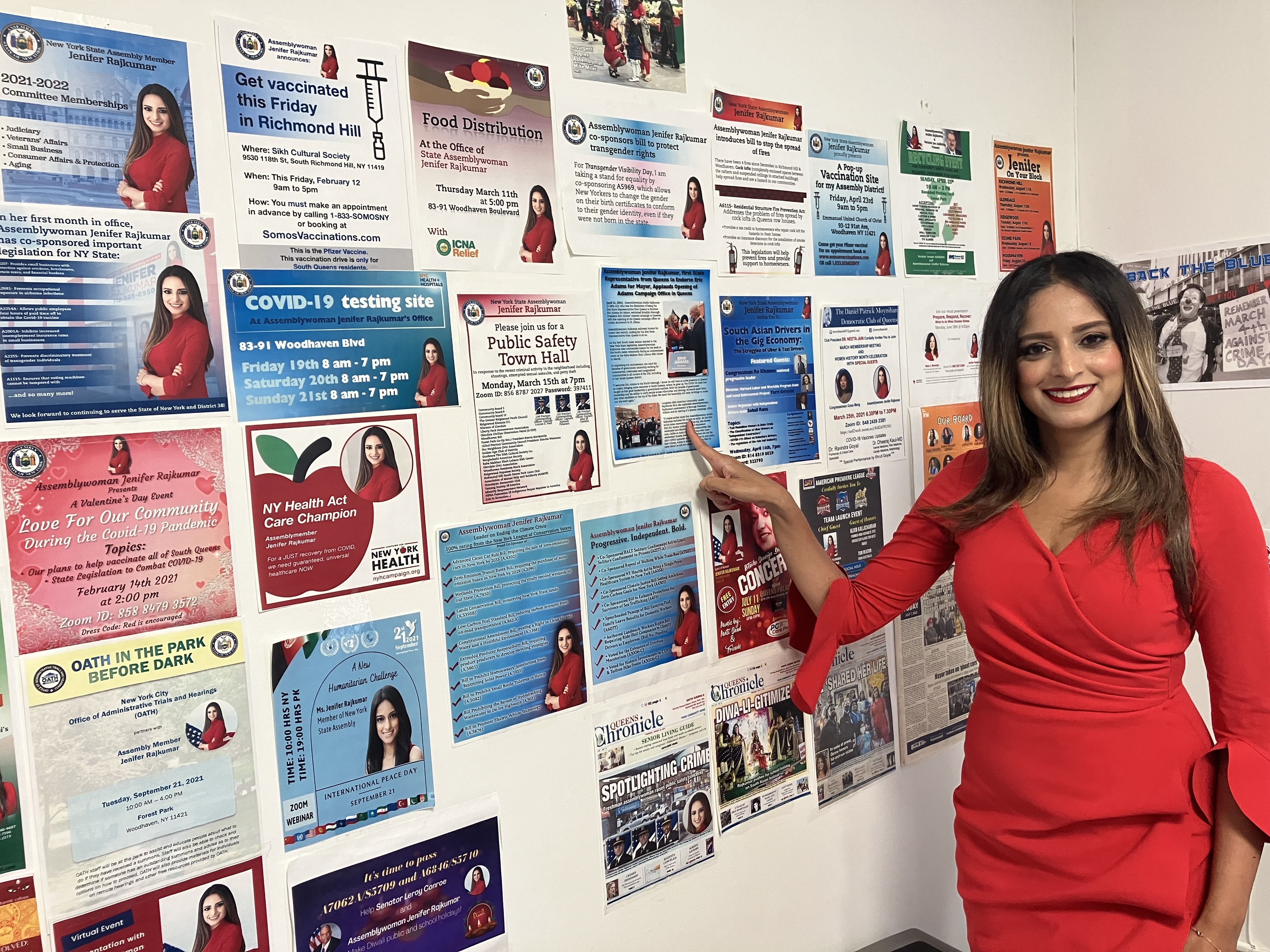 I had been worried that pointing out the red dress focused too much on the fashion choices of a female elected official, but a visit to Rajkumar's district office did away with those concerns. The building on Woodhaven Boulevard in Forest Park is painted white and bright red. There are multiple larger-than-life identical posters of her wearing a red dress across the facade. The same portrait appears on dozens of fliers tacked up to the walls inside. "I wear red. It symbolizes energy, passion and purpose. I painted this office red," she told me. "And to the neighborhood, it symbolizes exactly that: passion and purpose." Her staff say that constituents have begun wearing red to meet with Rajkumar.
In her time in the Assembly, Rajkumar has made advocating for the South Asian community a priority, and she has included the mayor in that effort. Earlier this year, the Assembly and state Senate passed her bill – which had the vocal support of Adams – to make Diwali a public school holiday in New York City. The mayor had promised it would be done, and it was celebrated as a major victory for Rajkumar and for hundreds of thousands of New Yorkers who celebrate the festival of lights. "It took a lot to get over the finish line," she said. "Keep in mind, the community had wanted this for over two decades." 
In March of 2021, she announced her endorsement of Adams to the press outside a Sikh gurdwara. Last summer, the mayor attended a press conference she organized to condemn the vandalism of a Gandhi statue outside a Hindu temple in Richmond Hill. "Mayor Adams has always emphasized the importance of surrounding himself with a diversity of backgrounds and thoughts, and as the first-ever South Asian-American woman to be elected to state office, Assemblymember Rajkumar has proven to be an invaluable partner in offering perspectives and insights that have moved her district and this state forward," a City Hall spokesperson said in an email.
As a supporter of the moderate mayor, Rajkumar has chosen a lane. "I think the other South Asian electeds that are out there are very much entrenched in the left: the Zohrans, the Shahanas, the Shekars," said one Queens Democrat with close ties to the South Asian community, referring to socialist Assembly Member Zohran Mamdani of Queens and progressive City Council Members Shahana Hanif and Shekar Krishnan. "Whereas the community is not all that left. It's a mixed bag."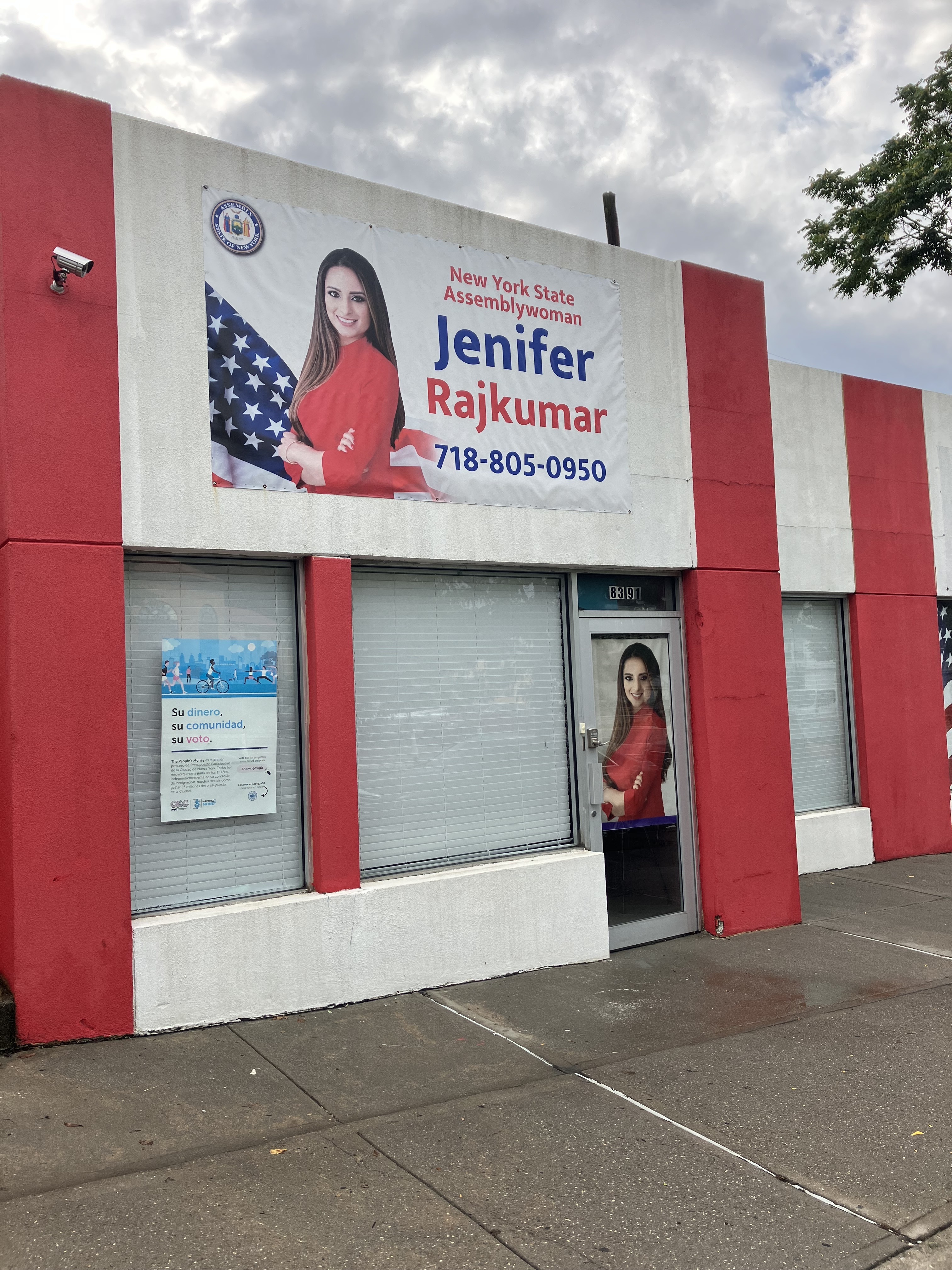 Though she is now prominent in the south Queens district that spans Forest Park and includes the neighborhoods of Woodhaven, Glendale and parts of Ridgewood and Ozone Park, Rajkumar is a relative newcomer. Her political career began in lower Manhattan, where, in 2011, she unseated longtime district leader Linda Belfer shortly after moving to the district. In 2013, while working at a law firm focused on employment and civil rights, she attempted to unseat then-City Council Member Margaret Chin. Yang, who was Chin's campaign manager at the time, called the challenge "formidable," noting that Rajkumar garnered 40% of the vote. In 2016, Rajkumar again attempted to represent lower Manhattan, running for an Assembly seat vacated by disgraced Assembly Speaker Sheldon Silver. She came in second to Yuh-Line Niou with 19% of the vote. After a stint in the Cuomo administration working on immigrant affairs, she moved to south Queens to run in Assembly District 38. "She saw an opportunity to run for office in Queens and was able to capitalize on an opportunity," Stavisky said. She unseated an 11-year incumbent in 2020, becoming the first South Asian woman elected to the state Legislature. During the campaign, she raised more than $230,000, which included $50,000 she donated to her own campaign. (She also loaned her campaign $50,000.) She remains a strong fundraiser, taking in more than $30,000 in the most recent off-year cycle.
"She's clearly someone who wants to be seen as a rising star in Democratic Party politics," Yang said. She's making progress. Though ideologically she was more moderate than other insurgent young women who unseated incumbents in 2018 and 2020, she garnered attention for contributing to a generational shift within the Legislature. Last month, after the mayor had complained openly that the city's leaders needed to step up their calls for aid as migrants continue to arrive in New York, she sent a letter, initially signed by 54 other elected officials, to the Biden administration asking the president to authorize migrants to work and declare a federal state of emergency among other recommendations. A Queens staffer pointed out that many of the signatories on that letter were fellow Adams allies, while prominent critics of the mayor did not appear. Rajkumar's chief of staff Vjola Isufaj said they sent the letter to "everyone." On July 31, Rajkumar organized a rally to continue to pressure the federal government to step up.
Rajkumar said that she doesn't agree with Adams on everything, but she couldn't think of an example off the top of her head of an issue that they differ on. What makes Adams the G.O.A.T., the greatest of all time, according to Rajkumar? "He is bringing forgotten voices to the table of power. He is making sure all corners of this city are represented." Asked for examples of that, she called her Diwali bill "a prime example," and Isufaj interjected to suggest the flag-raising ceremonies that the mayor has frequently held in Bowling Green Park.
Rajkumar wouldn't say what she hopes to do in the future, politically. But she did bring up her favorite speech. It's "The Man in the Arena" by Teddy Roosevelt. "It is not the critic that counts, not the man who points out how the strong man stumbles," she recited from memory. "The credit belongs to the man who was actually in the arena, whose face is marred by dust and sweat and blood." I noted that that seems to describe Adams' attitude toward leadership, and she gently corrected me: "It was also my favorite poem long before I met Eric Adams." She said she once quoted the speech at a campaign rally for Adams, and a framed poster of the excerpt was displayed in Adams' office after he was elected mayor. Of course, as she pointed out, Roosevelt, like Rajkumar, served in the New York Assembly before he eventually went on to become governor of New York, and then president.