Politics
Top DOC lawyer Paul Shechtman resigns
Shechtman's decision to quietly step down last week suggests DOC Commissioner Louis Molina's legal arguments may not even pass the smell test with his own lawyers.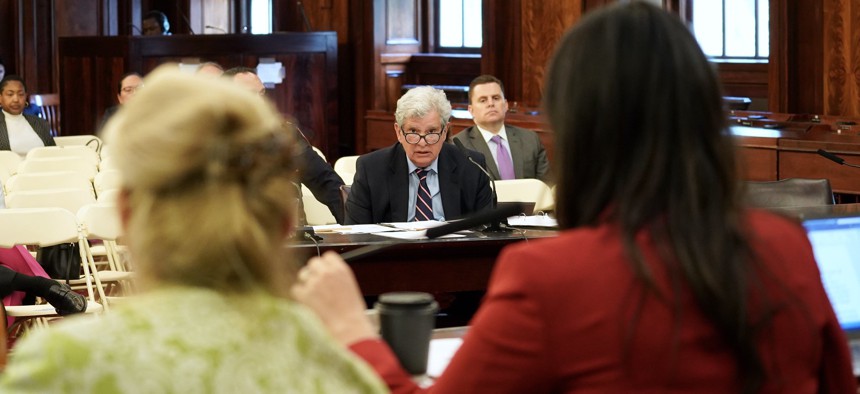 On Friday evening, members of the New York City Department of Correction's elite "cabinet" of advisors assembled with Commissioner Molina to toast farewell to Paul Shechtman, the Deputy Commissioner of Legal Affairs, on his last day at the department. 
Shechtman joined DOC in August 2022, the latest chapter in a storied career in which he represented everyone from Lil' Kim to former correction officer union boss Norman Seabrook. At the time he joined DOC, he told a reporter, "This is a chance for me to do something meaningful in a city I really care about." His departure a little over a year later follows a string of unfortunate legal missteps by Molina and comes at a precarious time as the DOC faces the prospect of potential federal receivership.
Ongoing lawsuits
As part of a 2015 settlement in Nunez vs City of New York – a class action lawsuit brought by the Legal Aid Society on behalf of people in DOC custody experiencing unconstitutional forms of physical violence in City jails – DOC is subject to oversight from a court-appointed federal monitor, who must file periodic reports describing whether or not DOC is being transparent with the court and complying with the terms of the settlement.
Shechtman was initially brought in to DOC in an attempt to broker peace between Molina and the federal monitor, sources told City & State. But the monitor's recent court filings belie a relationship rife with contention and divisiveness.
In May, the federal monitor reported that Molina had not disclosed a string of violent incidents to the monitoring team, and in other instances when DOC did share information, it turned out to be grossly inaccurate. In June, the federal monitor accused DOC of stonewalling investigations. "Despite the Consent Judgment's requirement that staff are to be encouraged to cooperate with the Monitor, the Monitoring Team has learned that, in at least some cases, the opposite is true" the monitor wrote in his June 8 report to the court. 
Laura Taylor Swain, the federal judge presiding over the case, twice called hearings in the wake of the monitor's disclosures. Shechtman did not represent DOC at either hearing, leaving City Law Department lawyers to speak on behalf of the department. Instead, Shechtman sat mute in the courtroom behind Molina clutching his legal binder.
The Nunez case is not the only legal case that DOC is fighting. In January, DOC cut off the Board of Correction's unfettered access to video footage from Rikers Island. As City & State reported at the time, Molina attempted to defend that decision by citing a New York State appellate court ruling, but his interpretation of that decision appeared to be wrong. Last month, the Board of Correction filed a lawsuit against Molina and DOC, alleging that the decision to cut off video footage violated the New York City Charter.
In August, City & State reported that Shechtman had told attorneys at other city and state agencies that he worried Molina's politics and positions were "making him look bad."
Part-time deputy commissioner
Shechtman is not the only deputy commissioner and member of Molina's "cabinet" of top advisors to depart recently.  When Molina took the reins of DOC on Jan. 1, 2022, there were six deputy commissioners. four of them – Raymond Spinella, Nadene Pinnock, Sarena Townsen,  Patrick Gallague – have since fled the department or been forced out, according to a City & State analysis of DOC staffing. During that time, Molina has brought on eight new deputy commissioners.
Even while working at DOC, Shechtman continued teaching law school classes at Columbia University on Monday evenings and at Yale on Friday afternoons, according to Conflict of Interest Board filings obtained by City & State.
Townsend, who served as DOC's Deputy Commissioner of Trials & Investigations until being pushed out by Molina, told City & State that she was not surprised Shechtman only lasted a year at DOC. "By all accounts, Mr. Shechtman is a seasoned, strategic, honest attorney. It therefore doesn't surprise me that someone of his reputation would clash with this administration," she said. "To avoid federal receivership, the Department has to present arguments under oath that DOC has improved conditions and accountability on Rikers. But they have not. Without a General Counsel willing to endorse doctored or cherry-picked data, receivership is becoming more of a reality than ever before."
A checkered history
This is not the first time that Shechtman has abruptly resigned from a high-profile public post.  In 1996, after only a year in the role, he stepped down from his position as New York State's Director of Criminal Justice under then-Gov. George Pataki, after the state Legislature shot down almost all of the Republican governor's proposed criminal justice policies. Shechtman's agency was the architect of Pataki's proposed policies, which included such unpopular ideas as housing juvenile offenders in the same units as adults and bringing back the state's death penalty.
In 2008, the New York State Commission on Judicial Conduct admonished Shechtman for failing to report that a judge he had appeared before on two occasions also happened to be his client. The commission censured the judge, Michael Ambrecht, for the clear conflict of interest, but one member of the commission also called out Shechtman.  
"I am troubled by the apparent conduct of Mr. Shechtman," attorney and commission member Joseph Belluck wrote in a written opinion. "Mr. Shechtman, well known as an ethics advisor and indeed a former chair of the State Ethics Commission, was hired by respondent [Ambrecht] for the express purpose of representing him… he earned over $40,000 on the two cases in which he appeared before respondant while serving as respondent's attorney. While it does not alleviate the burden on respondent to avoid any appearance of impropriety, in my view Mr. Shechtman bears a considerable portion of the blame."
The DOC and Shechtman did not respond to requests for comment from City & State.
Powered By
NEXT STORY: Port Authority hires Philadelphia police commissioner for security post