2024 New York congressional battleground
Who's running against Anthony D'Esposito in NY-4?
A current state senator and a former Olympic figure skater are among those looking to unseat the Republican incumbent in this purple district on Long Island.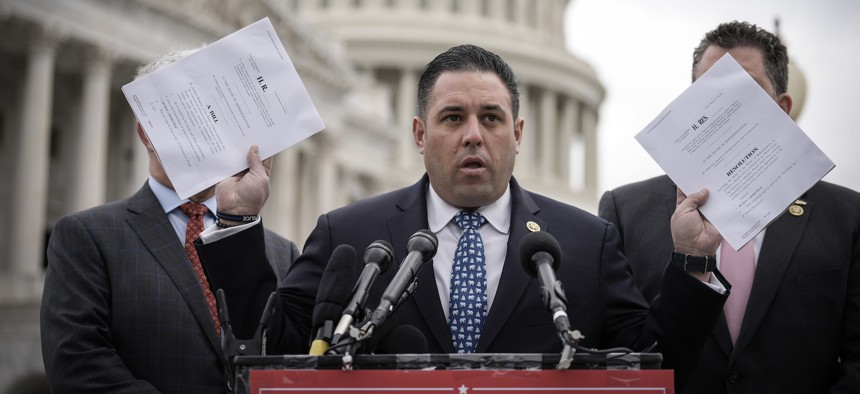 Long Island will be one of the key battlegrounds that will determine control of Congress next year, and the 4th District is as purple as they come. Once represented by former Democratic Rep. Kathleen Rice, the seat opened up when she announced her retirement, and it fell into Republican hands when Rep. Anthony D'Esposito emerged victorious last year. Now, Democrats are targeting the district in 2024 in an attempt to win back what was once thought to be a relatively safe seat. This post was last updated on Sept. 20.
REPUBLICAN
Anthony D'Esposito
D'Esposito, like so many other New York Republican members of Congress, rode into office in 2022 on the mini red wave that hit Long Island and Hudson Valley amid concerns over crime. Despite the district's Democratic enrollment advantage, he pulled off a narrow victory. The retired New York City police officer has largely stayed under the radar since taking office, but he has already taken a strong lead in fundraising as he prepares for what will likely be a tough reelection. He has brought in over $1.2 million so far.
DEMOCRATS
Laura Gillen
Gillen, a Democrat, ran against D'Esposito last year, losing by a small margin as GOP gubernatorial nominee Lee Zeldin swept Long Island. The former Hempstead town supervisor is trying her luck again in a crowded primary for the chance to take on D'Esposito once more, in a year Democrats are hoping will be more favorable in New York. Gillen made history in 2017, when she became the first Democrat to run Hempstead in a century. But her victory was short-lived; she lost her reelection in 2021, part of another red wave that ousted Democrats from nearly every county-wide position on Long Island. Gillen is a distant second in terms of fundraising, having raised over $370,000.
Kevin Thomas
Thomas will have to give up his current state Senate seat in order to run for Congress, making his decision to jump into the race a gamble. First elected in 2018, Thomas was one of several Democrats to unseat Republican incumbents, helping his party win control of the state Senate – control that has since grown into a super majority. He has generally legislated as a moderate and notably was one of the only Democrats to offer his support for Hector LaSalle, Gov. Kathy Hochul's original pick for chief judge of the Court of Appeals, whom nearly all of his colleagues rejected. Thomas has no fundraising numbers yet to report, according to the FEC.
Patricia Maher
Baldwin resident and attorney Maher announced that she would run in May. She cited D'Esposito's support of the Limit, Save, and Grow Act, which would prevent the Department of Education from forgiving student loans on a limited basis, as her impetus to run. President Joe Biden used that method to offer some debt forgiveness after the Supreme Court struck down his far broader executive order on the matter. Maher previously ran in 2014 against former Rep. Pete King.
Gian Jones
Jones is no stranger to political campaigns, but he hasn't won any yet. The real estate professional and former Assembly staffer has run multiple times in the past against state Sen. James Sanders of Queens, once in an open primary and again in an attempt to unseat him. Jones is now trying his hand at running for Congress.
Patrick Lawrence Henry
Henry has also filed to run but does not appear to have any campaign presence.
Correction: The history of who represented the 4th Congressional District has been corrected. Rep. Kathleen Rice preceded Rep. Anthony D'Esposito, not Rep. Tom Suozzi.
Powered By
NEXT STORY: New York City Council is getting younger – defying national trends