2023 elections
2023 New York City Council general election results
Follow the latest results from all the races to watch.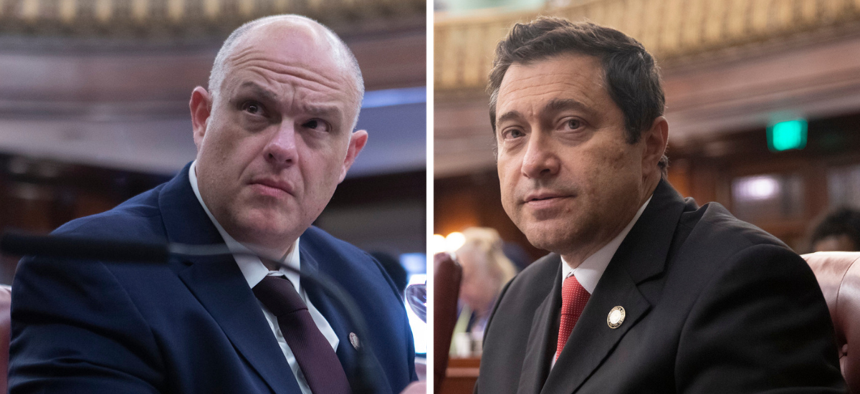 Suspicious donations, intraparty backstabbing, gun charges – this general election season had it all. And that was just with only a handful of competitive races for the New York City Council.
While most of the 51 City Council seats will not be competitive, several moderate to purple districts in Brooklyn, Queens and the Bronx have seen all-out campaigns, as Republicans aim to grow their small minority in the council and Democrats hope to fend off a rightward shift similar to the one that parts of the city saw in last year's state legislative elections.
Those hard-fought campaigns included the victory by Democratic Council Member Justin Brannan over Republican Ari Kagan, who, thanks to redistricting, faced off for the same southern Brooklyn district in what was one of the nastier races this year.
Just next door is the open seat for the newly created majority-Asian American district, which was won handily by Democrat Susan Zhuang.  Republican Ying Tan was defeated, splitting the vote with Conservative Party candidate Vito LaBella to Zhuang's benefit.
In northeast Queens, incumbent Republican Vickie Paladino won a rematch – one of several this year – with former state Sen. Tony Avella, whose prior service in the district made him a competitive challenger, though his membership in the controversial state Senate Independent Democratic Conference may have left a sour taste in some Democrats' mouths.
Facing what's likely to be very low turnout, campaigns have turned to labor unions and fellow elected officials to help get out the vote in a final push over the weekend. Former Rep. Lee Zeldin, who outperformed as the Republican candidate in last year's gubernatorial election in some outer borough neighborhoods that overlap with competitive districts, has shown up to campaign for Council Member Inna Vernikov in southern Brooklyn and Kristy Marmorato, who will likely win her race against Council Member Marjorie Velázquez in the Bronx. Democratic Rep. Grace Meng was pounding the pavement for Avella and incumbent Democrat Sandra Ung in Queens.
District 13
Kristy Marmorato (R, C): 52.46%
Marjorie Velázquez (D): 46.81%
98.33% of scanners reported
District 19
Northeast Queens, including College Point, Whitestone and Bayside
Vickie Paladino (R, C): 60.18%
Tony Avella (D): 39.44%
99% of scanners reported
District 20
Queens, including Flushing, Queensboro Hill and Murray Hill
Sandra Ung (Democratic): 58.05%
Yu-Ching James Pai (Republican, Conservative): 31.45%
Jin Liang Chen (Better Flushing Party): 9.91%
98.90% of scanners reported
District 23
Eastern Queens, including Hollis, Douglaston and Bellerose
Linda Lee (D): 63%
Bernard Chow (R, C): 35.53%
97.37% of scanners reported
District 29
Central Queens, including Kew Gardens, Rego Park and Forest Hills
Lynn Schulman (D): 67.86%
Danniel Maio (R, C): 27.28%
Sukhi Singh (Common Sense): 4.26%
97.67% of scanners reported
District 43
Southern Brooklyn, including Sunset Park, Bensonhurst and Gravesend
Susan Zhuang (D): 58.53%
Ying Tan (R): 26.30%
Vito LaBella (C): 14.55%
99% of scanners reported
District 47
Southern Brooklyn, including Bay Ridge, Coney Island and Sea Gate
Justin Brannan (D): 58.17%
Ari Kagan (R, C): 41.31%
97.76% of scanners reported
District 48
Southern Brooklyn, including Brighton Beach, Manhattan Beach, Sheepshead Bay
Inna Vernikov (R, C): 67.12%
Amber Adler (D): 24.22%
Igor Kazatsker (Team Trump): 8.10%
97.46% of scanners reported
Powered By
NEXT STORY: Why isn't Eric Adams endorsing many City Council candidates?