Politics
Five takeaways from the House Ethics Committee report on George Santos
The member of Congress won't be running for reelection next year.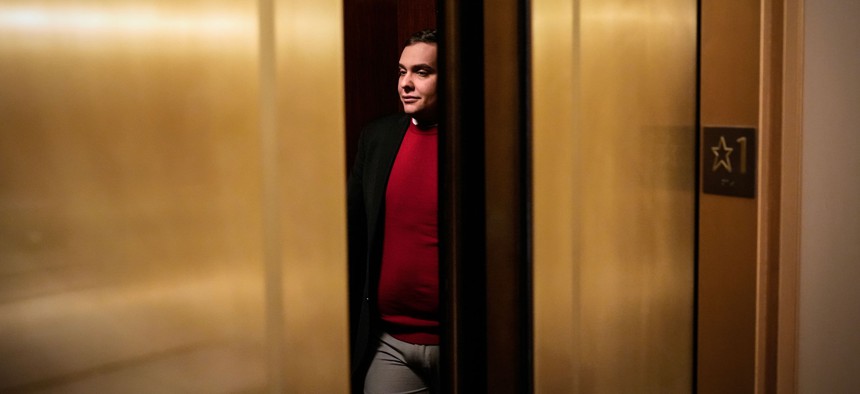 At the end of a monthslong investigation, the House Ethics Committee concluded that there was "substantial evidence" that Rep. George Santos "violated federal criminal laws" in a damning report. The committee wrote, "Representative Santos sought to fraudulently exploit every aspect of his House candidacy for his own personal financial profit. He blatantly stole from his campaign. He deceived donors into providing what they thought were contributions to his campaign but were in fact payments for his personal benefit."
Santos disagreed with the committee's conclusions in a statement on X, posting, "If there was a single ounce of ETHICS in the 'Ethics committee', they would have not released this biased report." 
He added: "I will however NOT be seeking re-election for a second term in 2024 as my family deserves better than to be under the gun from the press all the time."
Santos' decision to not run for reelection clears the way for a wide-open fight among the Republican contenders. The Democratic field is already starting to coalesce around former Rep. Tom Suozzi. Former candidate Zak Malamed dropped out on Nov. 8, and Politico reported first in Playbook on Nov. 14 that outgoing Nassau County Legislator Josh Lafazan would also drop out of the race. Both of them endorsed Suozzi, while former state Sen. Anna Kaplan remains in the race.
Here are five takeaways from the report and what might follow in the days after its release.
Move to expel?
Earlier this month, the House failed to expel Santos in a 179-213 vote that was brought by his fellow New York Republicans in Congress. Reps. Anthony D'Esposito, Nick LaLota, Mike Lawler, Marc Molinaro and Brandon Williams were behind the initial push, and even though the House Ethics Committee did not recommend expulsion, the group may try to make their case again to the full House. They were posting on X soon after the report was released.
LaLota posted: "The bipartisan Ethics Committee confirmed what most New Yorkers knew months ago: George Santos is a total fraud who stole an election to get to Congress. The House must use our Constitutional expulsion powers."
Molinaro wrote: "As expected, this report confirms what we knew: George Santos is a fraud, committed fraud & should not serve in the House of Representatives. This is why I called for his resignation, voted for his expulsion & believe he needs to be removed from Congress."
D'Esposito said: "The newly released House Ethics Committee report on George Santos is in alignment with my long-held belief that this fraudster has no place serving in the People's House, and I once again call on my colleagues to join me in advocating for George Santos' expulsion from Congress."
More investigations
The House Ethics Committee report may not be the end of the trouble for Santos. The committee referred the following findings to the U.S. Department of Justice: "(Santos) knowingly caused his campaign committee to file false or incomplete reports with the Federal Election Commission; used campaign funds for personal purposes; engaged in fraudulent conduct in connection with RedStone Strategies LLC; and engaged in knowing and willful violations of the Ethics in Government Act as it relates to his Financial Disclosure Statements filed with the House."
And his former campaign staffers have recently pleaded guilty to fraud and conspiracy charges.  Samuel Miele, Santos' fundraiser, pleaded guilty to a federal wire fraud charge for pretending to be a staffer for then-House Speaker Kevin McCarthy in an attempt to raise money for Santos. And his former campaign treasurer Nancy Marks pleaded guilty to one charge of conspiracy to defraud the United States in relation to a $500,000 loan Santos said he made to the campaign but that Marks knew had not been made.
Lavish personal spending
The committee detailed many separate instances of campaign funds being transferred to the Devolder Organization, a company Santos controlled, or being used for ostensibly personal expenses for which the committee could find no reasonable political connection.
On Nov. 29, 2022, the committee found a $20,000 campaign transfer to the Devolder Organization, which the committee noted had a negative account balance before the transfer. In the following week, the money was used to "make about $6,000 worth of purchases at Ferragamo stores, withdraw $800 in cash from an ATM at a casino, withdraw $1,000 in cash from an ATM near Representative Santos' apartment, and to pay Representative Santos' rent."
In the report, the committee noted that the Office of Congressional Ethics raised specific concerns about a few expenditures, including $2,281.52 spent at resorts in Atlantic City. A former staffer told the committee that there weren't "any sort of fundraising or campaign things in Atlantic City" during that trip, but that Santos said he liked playing roulette, often with his husband.
Santos also had several examples of spa services or cosmetic procedures that the committee said "could not be verified as having a campaign nexus." During the 2020 campaign, he made a $1,500 purchase for "Botox" on the campaign debit card at Mirza Aesthetics, but did not report that to the Federal Election Commission. There was also a $1,400 charge on the campaign debit card that was described as "Botox" at Virtual Skin Spa. The committee also found "an unreported PayPal payment of $1,029.30 to an esthetician associated with a spa in Rhinebeck, New York."
Fictitious loans?
The committee said that according to Federal Election Commission reports, Santos reportedly made nearly $800,000 in personal loans to his own campaign committee and $27,000 in loans to his leadership PAC, GADS PAC, during the 2020 and 2022 campaigns. "The (Investigative Subcommittee) determined that there is substantial evidence that most of the reported personal loans were not actually made or properly disclosed to the FEC," the committee wrote. In reviewing Santos' bank statements, found no evidence for five of the six purported loans during the 2020 election cycle. The committee determined he made $3,500 in loans in 2020 while receiving $31,200 back in repayment from his campaign funds. In the 2022 election cycle, Santos reported to the Federal Election Commission that he made a total of $715,000 in personal loans to his campaign. But the committee found that just before making those payments, "Santos and two companies he owned or controlled were paid $800,000, in three installments." However, due to the Department of Justice's deferral request, it could not pursue these payments further, but in a footnote, the committee writes, "The ISC had serious questions regarding whether these payments were intended to benefit Representative Santos' campaign and thus were unlawful excessive contributions."
Political contribution scheme
RedStone Strategies LLC, a company that Santos helped found, sent "at least $200,000," according to the report, from its bank account to Santos' personal bank accounts. On Oct. 21, 2022, the committee reported that the company received $25,000 from a political contributor after Santos sent that donor a text message: "I'm needing some help on the outside for next week on TV." And on Oct. 26, 2022, RedStone received another $25,000 from a different donor. Once it had that $50,000, the money was transferred to Santos' personal accounts, according to the committee. "The funds were used to, among other things: pay down personal credit card bills and other debt; make a $4,127.80 purchase at Hermes; and for smaller purchases at OnlyFans; Sephora; and for meals and for parking. The (Investigative Subcommittee) did not find evidence showing that the contributions received from Contributors 1 and 2 were used to support Representative Santos' candidacy."
Powered By
NEXT STORY: Hochul again praises Jacobs at Democrats' state committee meeting