Politics
Hochul again praises Jacobs at Democrats' state committee meeting
The governor is standing by the state Democratic Party chair in the face of losses on Long Island.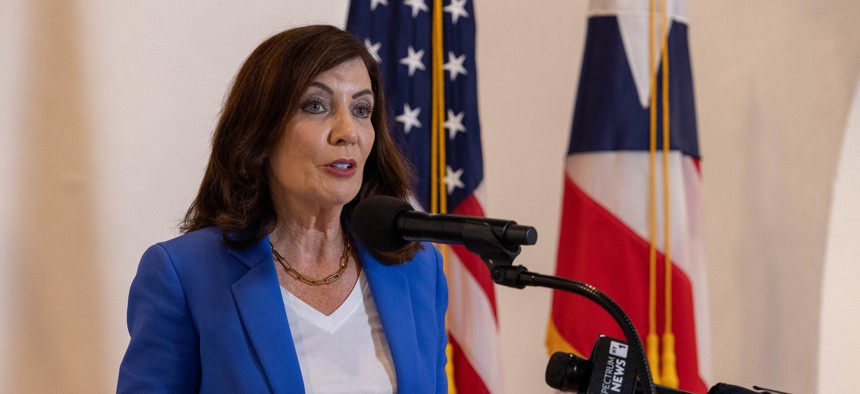 Gov. Kathy Hochul made an appearance at the state Democratic Committee's annual meeting on Long Island on Wednesday, where she once again praised the work of state Democratic Party Chair Jay Jacobs, even as he continues to face calls for his resignation amid continued losses in his own backyard of Long Island. 
Hochul praised the success of Democrats around the state for winning key seats, like the district attorney race in Dutchess County, a position that Republicans had long held. She called the list of victors "a damn good list," including in areas of the state where Democrats were expected to underperform. "I want to commend the leadership of Jay Jacobs for pulling us together," Hochul said to applause, before offering additional praise and calling for another round of applause. 
Jacobs has faced calls for his resignation since at least last year, when many in the party blamed him and his leadership for massive Democratic congressional losses, which resulted in the party losing control of the House. Although the party performed well in other parts of the state, Republicans once again dominated on Long Island, particularly in Nassau County, where Jacobs also serves as county party chair. It was the third year in a row that Republicans did well on the island. 
Hochul acknowledged the Long Island losses, but did not opine on Jacobs' role as the head of the Nassau County party. "Yes, we have some areas we need to go back," Hochul said. "But guess where I'm spending my entire day today: Long Island. We're coming back for Long Island." She argued that Democratic messaging resonates with Long Islanders, but "they're just not hearing it loud enough."
Hochul offered a similarly rosy outlook while in Puerto Rico for the annual Somos legislative conference, where she touted statewide victories while largely sidestepping what Democrats should do to win back Long Island. While there, she declared that the party would flip five congressional seats – including two in Nassau County and the seat of Nick LaLota, a first-term Republican in Suffolk County.
Jacobs, as he has consistently done in the face of past criticisms, brushed off critiques of his performance as both state and Nassau County Democratic Party chair. On Wednesday, he compared his critiques to claims by supporters of Donald Trump who have falsely claimed widespread election fraud in 2020. "Have you ever had a conversation with an election denier? ... And you had those conversations and you laid out the facts, did you find you had much success in changing their minds?" Jacobs asked rhetorically after defending Democrats' performance on Election Day. "A different realm, (but) the facts don't seem to change other people's minds on the other stuff."