Politics
Rodneyse Bichotte Hermelyn's no-good, very bad night
The Brooklyn Dems chair had campaigned hard for Marjorie Velázquez while undermining Justin Brannan's reelection fight against Ari Kagan. Velázquez lost, and Brannan won.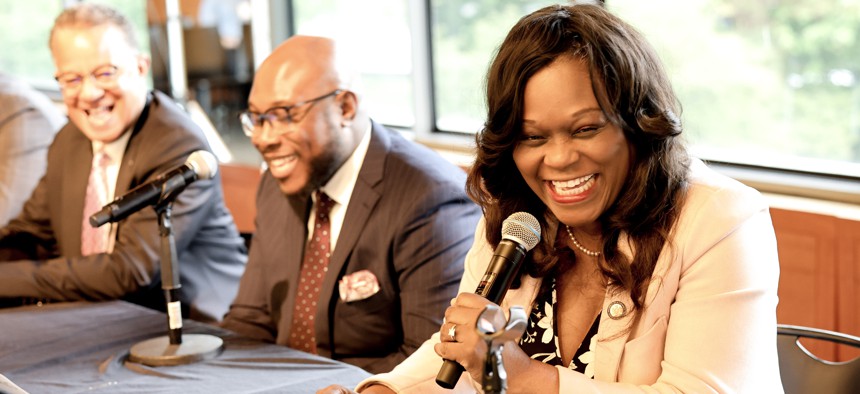 On Tuesday, Democratic New York City Council Member Justin Brannan won reelection, soundly defeating Republican Council Member Ari Kagan in southern Brooklyn. It was a victory for the Brooklyn Democratic Party – though not necessarily for the party's leader, Assembly Member Rodneyse Bichotte Hermelyn. That's because Bichotte Hermelyn had seemed uninterested in – if not actively hostile toward – Brannan's reelection.
Instead of providing support for Brannan's reelection, she seemed to invest most of her political capital and energy on campaigning for Council Member Marjorie Vélazquez in the northeastern Bronx – which eagle-eyed political observers may note is not a part of Brooklyn. Bichotte Hermelyn personally campaigned for Velázquez, and the Brooklyn Democratic Party even helped organize a "day of action" for volunteers to go to the Bronx and campaign for her. 
The county party's call to campaign for Velázquez seemed to confuse Brooklyn Democrats. "Um, I wish all the luck in the world to @cmmvelaz and every Democrat running, but there's a hotly contested race in Southern Brooklyn that should be more important to @bkdems. Re-elect @JustinBrannan!" one person posted on X. "What on earth are you doing leaving contests in BK to go to the BX?!!" another asked. On election day, Velázquez was the only Democratic incumbent to lose her Council seat, falling to Republican X-ray technician Kristy Marmorato in a surprise upset. 
Bichotte Hermelyn did not only campaign in the Bronx. She also campaigned for Susan Zhuang, the conservative Democrat running in the Council district adjacent to Brannan's. On election night, she attended Zhuang's victory party. But she never campaigned for Brannan, and in the days leading up to Election Day, Bichotte Hermelyn made moves that seemed designed to undermine Brannan's reelection campaign.
As City & State previously reported, Bichotte Hermelyn nearly touched off an intra-party civil war last week when she released a statement blasting Brannan in response to a New York Post story rehashing years-old harassment allegations against the council member. "We have received a barrage of concerns and disturbing allegations against Councilman Justin Brannan for harassing and tormenting an ex-staff member with autism, who was under Brannan's supervision at the time. … Some have asked for Justin Brannan's resignation, which I have not taken a position on, as we wait for all the facts to come to light about these disturbing incidents," she said in the statement.
Brannan was dumbfounded by Bichotte Hermelyn's decision to wade into the race with a statement boosting allegations spread by his opponent, and he wasn't the only one. Eight Democratic clubs in Brooklyn released a joint statement condemning Bichotte Hermelyn. A group of 16 Democratic district leaders in Brooklyn also released a statement criticizing the party leader. "Over the past several weeks, it has become increasingly clear that the County Chair has been acting against the best interests of our party," the district leaders said. "Rodneyse Bichotte-Hermelyn, the Chair of the Brooklyn Democratic Party, has repeatedly used Party resources to attack Councilmember Justin Brannan in order to undermine his campaign for re-election."
Bichotte Hermelyn then singled out Tori Kelly – the chief of staff to state Sen. Andrew Gounardes, a co-founder of the Sexual Harassment Working Group and one of the 16 Democratic district leaders who had signed that statement criticizing her – and accused her of hypocrisy for turning a blind eye to Brannan's alleged harassment despite having been sexually harassed herself. "It's hypocritical of Tori to pick and choose which victims of workplace abuse matter more or less based upon our political alliances," Bichotte said in a statement. "She is to be reminded that victims of unsafe and toxic workplace environments have a right to come forward and share their story while seeking justice."
That went over about as well as you'd expect. "I'm deeply dismayed by the Chair's weaponization of someone's traumatic experience to defend her failure to represent the BK Dem party," said Erica Vladimer, another co-founder of the Sexual Harassment Working Group – which was founded by former Albany staffers to change the culture in the Capitol.
Some of Bichotte Hermelyn's critics even suggested that she wanted Kagan, Brannan's Republican opponent, to win the race. After all, Kagan had been a Democratic district leader and close ally of Bichotte Hermelyn for many years before switching parties last year. Bichotte Hermelyn insisted that she truly supported Brannan but just wished to hold him accountable. She dismissed concerns that her public criticism of Brannan would benefit Kagan.
On Election Day, though, the Kagan campaign went ahead and reprinted her statement on its campaign literature, along with the logo of the Brooklyn Democratic Party. Bichotte Hermelyn criticized the campaign literature – which contained copies of her exact words – as "false GOP talking points."
Brannan told City & State that the whole experience was surreal. "It reminded me of someone going through an out-of-body experience, not realizing that those were her words and that these were the consequences of her own actions," he said.
After declaring victory over Kagan, Brannan called for Bichotte Hermelyn to step down as party leader – or for Democratic district leaders in Brooklyn to replace her as chair of the county party. "I don't have a vote in that process," he said. "I'm not a district leader. But based on the amount of phone calls and, you know, people that have reached out to me about her actions during this campaign, I don't see how she has the confidence of many of the district leaders, if any of them."
In response, Bichotte Hermelyn once again accused Brannan of trying to dodge accountability. "It's disappointing that Justin Brannan would call for me to go as Chair of the Brooklyn Democratic Party because of my call for accountability for him allegedly engaging in a toxic environment and harassing an autistic former City Hall staffer. … Unlike the GOP, we can support our fellow Democrats while still holding them accountable," she said in a statement.
Ironically, Bichotte Hermelyn's attacks on Brannan may have benefited his campaign. "She really united the party by her actions in colluding with my opponent," Brannan said. "Because the influx of volunteers we got at the tail end of the campaign, we wouldn't have gotten those if we had the full-throated support of the county leader, that's for sure. Quite the opposite."
Brannan said that some people who otherwise would not have volunteered for his reelection campaign did so just to spite Bichotte Hermelyn. "We suddenly got an influx of volunteers and folks who typically are not allies," he said. "They're friends of ours but not people who we're typically aligned with who wanted to help because they couldn't believe that the county leader would be parroting the talking points of a Trump Republican. I don't think that was her intention, but that's what happened."