2024 New York congressional battleground
Who's running in NY-17 in 2024?
Incumbent Republican Rep. Mike Lawler is in national Democrats' crosshairs, but he's pulled off impressive victories more than once.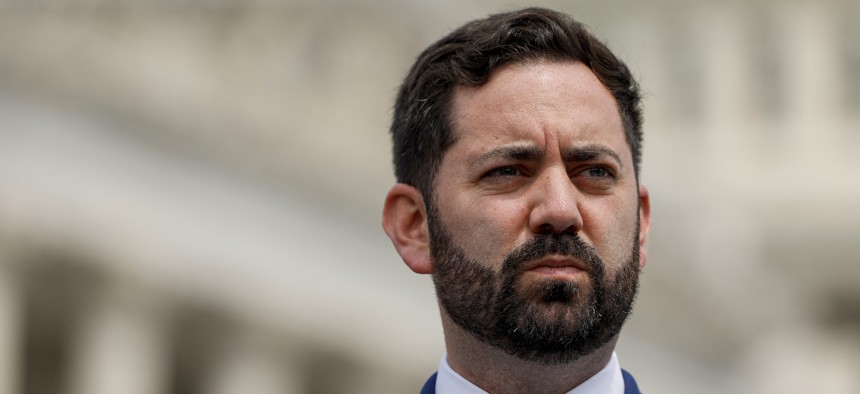 The 17th Congressional District stirred up a lot of drama in 2022 after redistricting as decisions were made about who should run in which district. And the general election shocked political observers when former Rep. Sean Patrick Maloney, the person running the Democrats' congressional campaign apparatus, couldn't even win his own race. With the victory of Republican Mike Lawler, the Hudson Valley seat wound up being one of several that Republicans flipped in New York, helping them gain control of the House. It's now considered one of the most competitive districts in the country and garnering visits from D.C. heavyweights. 
The 2024 cycle promises to be just as hotly contested, with a prodigal son returning for a second chance to represent his district and the challenge of unseating the GOP incumbent. Here's a list of every candidate who has announced a run for the seat. This article was updated on Nov. 29.
GOP
Incumbent Rep. Mike Lawler 
The incumbent Republican Rep. Lawler will need to defend his seat next year after flipping it in 2022 when he bested former Rep. Sean Patrick Maloney. Lawler won the seat just two years after winning his first elected position in the Assembly – against a Democratic incumbent no less. Before that, he worked as a Republican political consultant and previously helped lead the state Republican Party as its executive director. Although his personal electoral history is short, Lawler seemed to bring his political experiences to the forefront to defeat the one-time head of the Democratic Congressional Campaign Committee. 
Since taking office, Lawler has worked to raise his profile, remaining incredibly active on social media, where he often criticizes New York City officials, Democrats and, particularly, Gov. Kathy Hochul. Lawler is also a frequent guest on Fox News, whether to talk about New York City policies he disagrees with or in his capacity as a member of the Foreign Affairs Committee. Closer to home he had a raucous reception at a Suffern town hall in November. And he has introduced very targeted bills, such as one to defund public universities that promote antisemitism after a CUNY Law School grad was accused of antisemitism in her commencement speech. But he has also managed to rack up some bipartisan bonafides, including a shoutout from President Joe Biden, that could help him in his Hudson Valley swing district. Biden praised Lawler as "the kind of Republican I was used to dealing with" during a trip upstate in May.
Recently Lawler, along with other New York Republicans, has been able to count on support from D.C. in his bid for re-election in the battleground district. New Speaker Mike Johnson scheduled a December visit to his district for a big ticket fundraiser in Bronxville. 
DEMOCRATS
Mondaire Jones
After a quick foray to Brooklyn, Democrat Mondaire Jones has returned to the Hudson Valley to win back a seat in Congress. The former representative decided not to challenge Maloney in 2022 when redistricting would have had them competing for the same seat. Instead, he moved to New York City and decided to shoot his shot at the newly created 10th Congressional District, which encompasses Lower Manhattan and parts of Brooklyn. But he lost to Dan Goldman in that crowded primary and was left with nothing.
So Jones is trying his hand again back on his home turf, announcing in early July that he was entering the race to unseat Lawler. He succeeded running as a progressive in the 2020 Democratic primary against other, more moderate members of his party, including a sitting state senator originally seen as the favorite in the race. And he handily won the then-heavily Democratic district in the general election. But the factors are much different this year, with new district lines changing the demographics and a tough Republican opponent as the incumbent. And in his announcement video, it seems that he is already attempting to distance himself from the wing of the party associated with defunding the police. The video featured a retired police officer explicitly saying Jones "funded the police."
The primary field for Jones narrowed in November when former Katonah School Board Member Liz Gereghty, a Democrat and also the sister of Michigan Gov. Gretchen Whitmer, pulled out of the race. 
MaryAnn Carr
MaryAnn Carr officially announced her candidacy for the Democratic primary in July. Originally from rural Mississippi, Carr is a Westchester County information technology director and former Bedford Town supervisor. She was the deputy supervisor during 2020, after being a Bedford Town Council member from 2016 until 2019. If elected, she said her focus would be on gun violence and women's rights.
Amanda Salazar and Austin Jefferson contributed reporting.
Correction: This article originally called Liz Gereghty a local school board member. She stepped down from the position on June 15, a month after announcing her congressional run. This article also originally referred to MaryAnn Carr as Bedford Town supervisor. She held the role in 2021, but does not currently serve in the position.
Powered By
NEXT STORY: Election integrity advocates sue to stop use of touch screen voting machines in New York