Kathy Hochul
Opinion: The data is clear - Kathy Hochul must return to the political center
An analysis of election results and two recent polls show divisive issues like criminal justice reform and calls by some Democrats to "defund the police" nearly handed a win to the GOP in the midterms.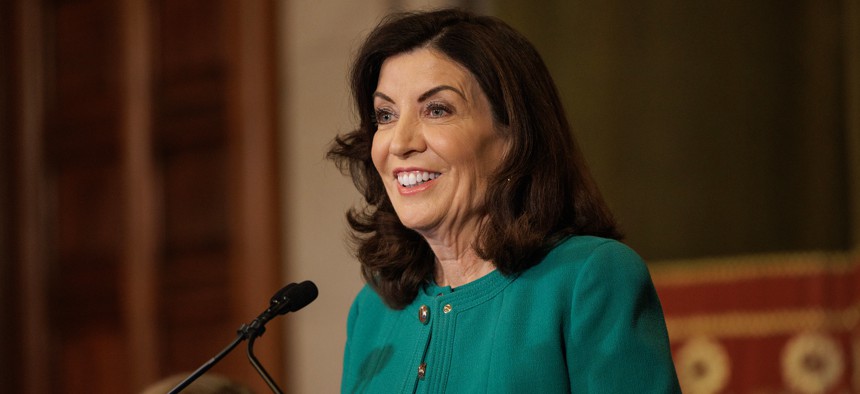 Since the outcome of the November 2022 New York State Governor's race was decided, political professionals and pundits across the country have been working overtime to understand what exactly took place in one of the traditionally bluest states in the country that led a much closer race than many would have predicted.
To help decode the results, we conducted an analysis of three streams of data –  first, data recently released by the New York State Board of Elections second, a statewide election day exit poll conducted by the Associated Press, and third, a recent stateside poll conducted by Siena College.
The results of our analysis paint an unmistakably clear conclusion: Kathy Hochul must return to the political center. Divisive issues like criminal justice reform and calls by some Democrats to "defund the police" nearly handed a win to the GOP in the recent statewide election. 
It's no accident that Eric Adams, a former cop, is today the mayor of New York City.  Democrats must be mindful of how far left – and indeed out of touch – our party has become to many key voter segments.
Topline Results
Despite a statewide registration advantage of 3.6 million, more Democrats than Republicans, Gov. Hochul wound up with less than 53% of the vote to Lee Zeldin's 47%, a margin of victory of 325,395 votes out of 5.7 million votes cast.  Beyond the closest governor's race in a generation in New York state, many are suggesting that Hochul's slim margin of victory - not redistricting – likely cost the Democrats key seats in the U.S. House of Representatives.
Vote Performance
With the caveat that the November 2018 election for Governor took place in a dramatically different political atmosphere, there are nevertheless some important comparisons worth making, which demonstrates the full extent of the swing to the GOP.  Indeed, compared to their performance in November 2018, Democrats experienced a staggering swing of 1.1 million votes (no typo!) into the GOP column. But it just wasn't the magnitude of the shift to the GOP that is notable, there were important undercurrents taking place, too – many of which were surprising.
One big reason for the close election outcome was Hochul's twin New York City problem – turnout was low and many registered Democratic voters defected and voted Republican.
In terms of turnout, New York City's share of the statewide electorate dropped from 35% of the statewide total 4 years ago to 30% in 2022. And worse for Democrats, turnout across the state remained the same from 4 years ago - 55% of non-New York City voters turned out, while in the 5 boroughs, turnout dropped from 44% in 2018 to 36% in the recent election. 
With New York City such an important - and overwhelming - bastion of Democratic votes, this lower turnout adversely – and significantly - impacted Hochul's share of the vote, while statewide, GOP turnout mirrored a presidential election year. This data backs up what we have been hearing anecdotally – Democrats lacked an effective "Get Out the Vote" program to ensure key voter segments cast a ballot. 
But the second part of the Hochul-New York City problem was the relatively poor electoral performance of Democrats and the data we reviewed on this point is quite clear. There was significant Democratic defection even in New York City - many Democrats, notably in southern Brooklyn (Bensonhurst, Gravesend, and Borough Park), northern (Whitestone) and western (Middle Village) Queens, and in the eastern (Country Club and Throggs Neck) Bronx ended up supporting GOP candidates – indeed Hochul won roughly 500,000 fewer votes in New York City than Andrew Cuomo had 4 years prior.  As an example, Cuomo won Queens 4 years ago with 79% of the vote, while Hochul won Queens with just 62%, an area of the state which saw significant defection of Democrats into Zeldin's camp. 
The exit polls provide even more color commentary on this point. The AP VoteCast exit poll conducted among 3,000 voters across the state quantifies the extent of the Democratic defection among Democratic voters.
According to the exit poll, Zeldin won 17% of Black voters and 34% of Latinos, while also winning the white vote with 55%. And despite some reporting suggesting Black voters "saved" Hochul, it appears there was a drop off among Black voters – the voters who support Democrats in far higher numbers than any other comparable demographic group. Indeed, just 1 in 10 (11%) voters statewide who cast a ballot were Black, exactly the same number as were Hispanic. If this trend holds, it represents a sea of change in statewide political power among people of color and represents an important harbinger for the future. 
And Zeldin's strength with Jewish voters - particularly those in the Orthodox and Hasidic communities was an important signal for Democrats not to take Jewish votes for granted.
Further compounding Hochul's problems, the outer borough, white ethnic voters, the so-called Reagan, Giuliani, and Bloomberg Democrats proved to be elusive, too.  Hochul won less than half of non-college educated voters, winning just 48% of women in that category and 44% of men, what has traditionally been a bedrock of the Democratic coalition.
So while there is lot of data to sort through, much of Hochul's sub 55% point vote total is largely explained by a seaming lack of a five borough New York City strategy which resulted in lower turnout (an engagement and enthusiasm problem), and an inability to reach and win over voters that she was the right candidate for them (a persuasion problem).
But analyzing data from the other parts of the state makes clear that being the "upstate," non-New York City candidate did not help Hochul in other key geographies of the state.
In general, as a Buffalo native with upstate sensibilities, it is not surprising that Hochul performed well upstate in metropolitan areas including Albany, Ithaca, Rochester and Syracuse, and obviously Buffalo. Indeed, this was entirely expected. What was surprising, however, was how muted her margin of victory was versus the Democratic performance four years ago. In 2022, Hochul received 52.8% of the vote in Erie County, where Buffalo is located, versus the 51.4% received by Andrew Cuomo four years ago – a very minor uptick.  Hochul received 53% in Monroe County (Rochester), versus Cuomo's 51%. Most expected the upstate candidate to perform significantly better than she did.
Traveling further south, into the northern New York City suburbs, Hochul found muted support there, too. Hochul won Westchester with 60% of the vote versus 67% that Cuomo had received. Hochul lost Rockland County winning just 43% of the vote versus Cuomo who won the county with 53% of the vote.
On Long Island, which in fairness was an area represented by Zeldin in Congress, and thus represented his political base, the story was about the red wave coming ashore with a tsunami-like height.  Hochul lost Nassau County winning just 44% of the vote, while Cuomo won the county four years earlier, with 57% of the vote – representing perhaps the most dramatic shift to the GOP. 
While many on the far left are blaming Democratic Party Chairman Jay Jacobs for the Democrat's shortcomings, the Democratic turnout on Long Island was robust - in fact more robust than in many more Democratic areas of the state - and the reason the focus should instead be Hochul's messaging approach was that it was out of sync with what was on the mind of Long Island voters, not something that can fairly be pinned on Jacobs.
Exit Polling
So what issues were on the minds of statewide voters? 
The exit polling confirmed what a number of commentators have spoken about – Hochul's messaging miscalculation.  Less than half of the electorate (41%) reported being "angry" about Roe v. Wade being overturned, and by contrast, 77% were confident in the accuracy of the vote count. It certainly appears that Hochul put far too much of her messaging arsenal into driving these themes – neither of which resonated with enough of the voters she needed to reach and persuade.
Indeed, in terms of what issue drove their vote, 31% of Hochul voters mentioned the economy and jobs, 15% mentioned climate change, and 10% mentioned crime, and just 13% mentioned abortion. Even the majority of Hochul's voters didn't see abortion as their key voting issue. Indeed, 55% of Hochul's voters felt that abortion was an important factor in who they supported, but not the most important issue. Just 37% of Hochul voters felt that abortion was the most important factor, which says in retrospect she needed a broader messaging strategy. While Hochul poured quite literally millions and millions of dollars into messaging her position on this issue, the data paints a vivid picture of the limitations of this messaging approach.
By contrast, crime was a top issue for both Hochul (80%) and Zeldin voters (94%), with about 85% in both the Hochul and Zeldin camps reporting that they were concerned about the level of crime in their community, including 51% who said they were very concerned.  Hochul should have presented a more empathetic and compassionate voice to the issue of crime and not be 'fearful' of the issue as Eric Adams has properly warned.
The Siena Poll
The Siena poll just out also paints a clear picture of voter dissatisfaction with Hochul's job performance on a range of key issues – including of course crime and rising costs.  Indeed, 58% of registered voters say that Hochul has not made communities safer from crime.
And the poll makes clear what voters want Hochul to focus on. Thirty six percent want addressing crime to be Hochul's top priority, 31% say it should be cost of living issues, and 12% cite affordable housing.
And perhaps most rattling, as New York looks ahead to the future, 55% say that Hochul did not make New York a place where people want to live, and not leave, as the State struggles with people looking to move elsewhere.  This data point is not surprising, since just 38% say that the state is moving in the right direction.
Takeaway
With Hochul's upcoming inaugural address, State of the State speech, and budget, as well as the important local elections across the state in 2023 and the looming 2024 presidential election just a year later, she has a unique opportunity to chart a bold direction for New York state, as we work our way out of the pandemic and rebuild the economy against a backdrop of raising costs and inflation. Hochul, a devoted political moderate, needs to chart a course back to the political center, for the good of her own political future, as well as her fellow Democrats. 
Hochul would be wise to listen to the resounding message that voters delivered on economic and personal security issues on Election Day and drive forward an expansive legislative agenda that addresses the real life concerns of New Yorkers – including the good number of Democratic voters who defected to Zeldin, or stayed home and didn't vote.
Democrats, nationally, and in New York State have significantly forfeited the branding that we are the party of the people on economic issues and Hochul has a real opportunity in her first full term to demonstrate to voters that she feels their pain and is using her powers as Governor to substantively improve the daily lives of New Yorkers.
To borrow a line from 1992 - yes, it's still the economy, stupid.
Bradley Honan and Elisabeth Zeche are partners in the Democratic polling and data analytics firm, The Honan Strategy Group. Honan also is co-president of the New York Metro Chapter of the American Association of Political Consultants.
NEXT STORY: Opinion: Southern Brooklyn deserves better than Ari Kagan