Eric Adams
Opinion: The mayoral primary challenge we need
It's not about finding a leftist challenger to Eric Adams. It's about finding a competent one.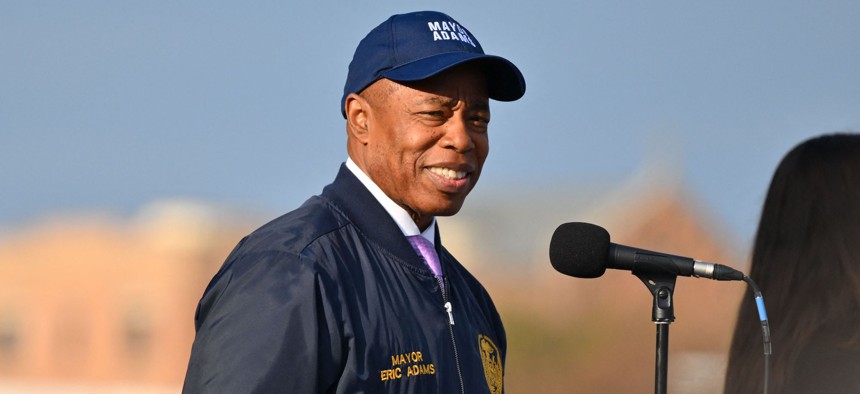 They say that politicians campaign in poetry and govern in prose, but Mayor Eric Adams is governing in fables, flag-raising photo-ops and talking points straight out of the MAGA playbook.
Now he's handing over his phone and iPad to the FBI after their raid of his chief fundraiser, part of an investigation into potentially illegal donations and influence-peddling by the Turkish government – the latest and most serious in a series of close calls with corruption.
We already knew the mayor's relationship to the truth and to the work are tenuous at best, as policy plans have been replaced with thin-skinned mantras like "Let your haters be your waiters" and "When does the hard part start?"
The hard part started. The city has fumbled its response to the influx of asylum seekers, to toxic air, to flooding, to the ongoing humanitarian crisis at Rikers Island. Legally-mandated bus lanes are unbuilt; food stamps and housing vouchers are undistributed. 
It's no surprise. Turnover of top staffers is far above average. Tens of thousands of city roles are vacant. The plug can be pulled on long-planned city and community collaboration at the whim of the Adams inner circle.
Mayor Fiorello La Guardia once said that there's no Republican or Democratic way to pick up garbage. But with inefficiency, favoritism and hypersensitivity to criticism rampant in City Hall, Adams was blowing the basics of nonpartisan governance long before the FBI buttonholed him.
When the mayor does get ideological, it's to oppose immigration, lambast the separation of church and state and oppose police accountability while unleashing cops on the unhoused. 
With Democrats like this, who needs Republicans?
The mayor's critics have long been discussing a 2025 strategy to take him on, but the left still can't coalesce around a candidate. 
It makes sense. To position themselves for a primary, a candidate must persuasively claim they can raise big and win citywide. They have to bring together Times-reading elites and the activist left without unleashing the backlash of the Post. In an identity-aware, majority-minority city, it can't be a white man trying to oust the city's second Black mayor.
Folks who check many but not all of these boxes, who likely nurse ambitions to the mayoralty – Brad Lander, Antonio Reynoso, Mark Levine, Jessica Ramos – have good reason to just wait until 2029. Of course, if the mayor resigns, we can expect all these folks and more to jump into a special election to replace him.
But even if the mayor survives the FBI's current investigation, the city can't bear six more years of a mayor with passing interest in the truth, whose blue loyalties are to police and not the Democratic party, a schmoozer too often seen everywhere except behind his desk. 
The biggest obstacle to recruiting a candidate to take the mayor on has been improperly framing the challenge. It's not about finding a leftist challenger: it's about finding a competent one. The city needs a candidate who can unite an anti-Adams constituency across the city's ideological and geographic spectrum.
That contingent is growing and is bound to balloon if accusations of corruption get more airtime. In June, a Siena poll found 39% of city residents disapproved of the mayor's performance; his unfavorables were at 50% with Black New Yorkers, a key 2021 constituency.
In looking for someone to take Adams on from the left, the anti-Adams bloc is preemptively limiting its appeal to adherents of the Working Families Party or Democratic Socialists of America, groups currently at a nadir in citywide influence.
But would a non-leftist excite voters to the mayor's left? If a non-Adams challenger emerged from the center of the party, it would certainly serve them to approach asylum seekers, Canadian wildfire smoke or homeless encampments with more humanity than the incumbent.
Still, that shouldn't be hard if the candidate isn't a former Republican. Would anyone in New York's center-left mainstream possibly show Adams-level fealty to an unaccountable NYPD, cut school and library funding or spread the message that the doors of New York City are closed?
Even more, it's crystal clear that realizing progressive values requires a government that works. 
Failure to get food stamps out the door means more hungry neighbors. Failure to deploy non-police interventions to help New Yorkers with mental illness means more arrests and incarceration. Failure to issue vouchers means more evictions. Failure to build bus infrastructure means slower service for low-income New Yorkers and more car emissions, asthma, and traffic deaths.
There might not be a Republican or Democratic way to pick up trash, but improving the city's services, staffing levels and streetscape would mean delivering on the promise of Democratic governance.
Progressive voters get it: they preferred the technocratic get-shit-done Kathryn Garcia to Adams in 2021. Maya Wiley's supporters broke for her 129,000 to 49,000 in the final round of ranked choice voting. However, the organized left didn't expressly make that preference clear; 74,000 Wiley voters ranked neither, and Adams won by 7,197 votes.
Hopefully, leftist groups plotting against Adams will view 2025 as an opportunity to successfully elect a new mayor, and help shape their agenda, even if the candidate isn't a dyed-in-the-wool ideologue.
As Democratic consultant Evan Roth Smith wrote after the first FBI raid news emerged, "2025 starts today."
It's time for someone to raise their hand and begin coalescing the non-Adams electorate. His support won't soften all on its own; it will take a standard-bearer to make the case and rally the opposition.
It's time someone raises the flag – the rare flag-raising the current mayor won't attend.
Ryder Kessler is a Democratic campaign professional and member of Manhattan's Community Board 2. Last year, he ran in the Democratic primary for Assembly District 66 in Manhattan. (Opinions expressed in this op-ed do not reflect the views of CB2.)
Powered By
NEXT STORY: Opinion: Tomorrow is election day in New York City – but it shouldn't be