Personality
Cuomo wanted to be the one to solve political dysfunction. He became the epitome of it.
Lt. Gov. Kathy Hochul will have her work cut out for her restoring public trust in a state government Cuomo always claimed to want to reform.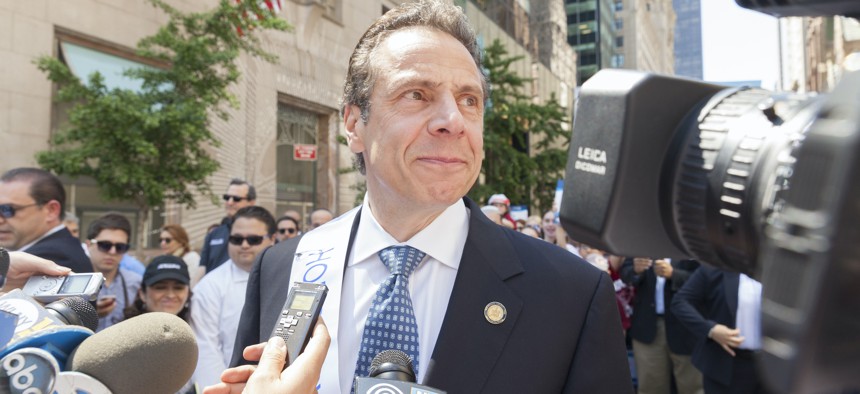 Cuomo returned to a familiar theme as he announced his resignation Tuesday. He said was not worried about what sexual harassment allegations and a possible impeachment by the state Assembly would mean for himself. No, the governor claimed in an online address, making government work for New Yorkers was what mattered most for the Empire State. "Government really needs to function today. Government needs to perform," he said. It's a variation on an idea that Cuomo has referred to many times before as his guiding principle. "I've spent my entire life doing one thing, making government work" Cuomo said for the umpteenth time in 2015. 
This idea supposedly drove him to reduce red tape and impose fiscal discipline during his tenure as secretary of the Department of Housing and Urban Development. His ability to get things done helped him secure historic penalties against predatory student lenders during his time as state attorney general. And Cuomo accomplished many things throughout his three terms as New York governor: He passed on-time budgets and established himself as a dominating force in a state Capitol long-defined by dysfunction. His ability to shepherd landmark legislation on matters like gay marriage and gun control empowered him with a reputation as an all-powerful master player of political chess. His claims to be able to make the wheels of government turn got etched into concrete, glass and steel at bridges, airports and other public works across the state. It is also the promise he ultimately failed most acutely to keep.
This is the governor who promised to tell New Yorkers the facts about COVID-19 while his own administration was withholding data on the COVID-19 deaths of nursing home residents. A bombshell report by state Attorney General Letitia James detailed his sexual harassment and gendered treatment of staffers after he presented himself for years as a champion of women's equality. He established a Moreland Commission in 2013 to investigate corruption in state government and then stopped it from investigating his political allies. Then there are his recent attacks on James and her investigators. They make for an interesting comparison to his solemn vows more than a decade ago when he was attorney general promising to conduct an impartial investigation of then-Gov. Eliot Spitzer. Cuomo's ongoing denial that he sexually harassed anyone despite ample testimony to the contrary underscores how facts have played second fiddle to his political survival. 
There are more than a few signs that Cuomo's rhetoric about good government was always a means to another end. "So much of Cuomo's tenure (as governor) has been him trying to avenge the ghost of his father," Christina Greer, an associate professor of political science at Fordham University, told City & State. "This is nothing but a Greek tragedy, playing out over and over again." Mario Cuomo served as governor in the 1980s and 1990s at a time when old school liberals like himself were losing strength as a political force. Cuomo has said he inherited from his father a faith in government as a potential force for good, but Mario Cuomo's thwarted reelection to a fourth term in office in 1994 also underscored the dangers of appearing as too much of a political lefty at a time when a new generation of New Democrats led by newly-elected President Bill Clinton were defining their party as fiscally conservative and socially moderate.
His time as an assistant secretary – and later head – of the Department of Housing and Urban Development gave Cuomo ample opportunity to build a political brand. The idea of making HUD customer friendly though public-facing "community builders" did not exactly work out, but Cuomo did succeed in increasing the credit rating of the much-criticized federal agency. "His goal was to improve the department because housing was the business he was in prior to coming to HUD,'' Denise Muha, executive director of the advocacy group National Leased Housing Association, told The New York Times in 2002 as Cuomo got ready for his first ill-fated run for governor. ''But his goal also was to run for office in New York. There was no one who didn't know that.'' The wannabe candidate against George Pataki, the Republican who had ousted his father years before, presented his time in the federal government as indisputably civic-minded. "We took this big old government that nobody could make work and we transformed it,'' Cuomo said in 2002 of his time working for the Clinton Administration.
This theme reappeared several years later when he bounced back from his 2002 primary defeat to win the race for attorney general after his predecessor Eliot Spitzer got elected governor. "I am looking forward to working with Governor Spitzer to fulfill the mission of restoring the public trust in government that the people of New York demand and deserve," Cuomo said after his inauguration in January 2007. Cuomo pursued much malfeasance that the public might expect a top law enforcement officer to tackle. He investigated villainous car dealerships, greedy telemarketers and dubious practices by student lenders alike, but what he is most remembered for today is how he used the office to undermine Spitzer. This included a controversial investigation into Spitzer's use of state troopers to surveil a Republican state senator. Cuomo and his family had done similar things while his dad was governor, but that did not stop Andrew Cuomo from issuing a damaging report that focused on Spitzer, who would eventually leave office because of a prostitution scandal. "(Cuomo) has essentially been preparing for the next job since he was sworn into this one," City & State's predecessor publication The Capitol wrote in 2010 as Cuomo was within reach of getting elected governor. 
The challenges facing Cuomo were very similar to the ones he saw plaguing his father years before. State lawmakers were still missing the April 1 deadline to pass a budget. State finances were a mess. The fall of Spitzer and other political figures meant that public confidence in state government remained low as another new governor promised change. "That's what this administration is going to be all about – restoring the pride," Cuomo said after getting inaugurated as governor for the first time ten years ago. "Making the government work, my friends. So people once again trust the government and trust the institution. So that people once again believe in government, in themselves, and in this state." The following years would give New Yorkers some reasons to hope that he might be able to succeed where white knights like Spitzer had failed. 
Top achievements of the Cuomo era include a series of timely budgets and the passage of a litany of progressive bills. He made good on a campaign pledge to get gay marriage approved by the Legislature after years of failure. Legislative leaders joined him in creating the Joint Commission on Public Ethics to crack down on corruption. Republicans teamed up with Cuomo to limit state spending and tax increases. Democrats leaned on him to pass legislation like a landmark gun control package in the wake of the 2012 mass shooting at the Sandy Hook Elementary School in Newtown, Connecticut. His support of the breakaway group of Democrats known as the Independent Democratic Conference did not make Cuomo look like a loyal Democrat, but it did lend some credence to his claims that getting things done was his biggest priority. "It will be fascinating to see, decades down the road, how historians will measure the tremendous productivity, in governmental terms, of Cuomo's tenure, versus how this ended," Bruce Gyory, an adjunct professor of political science at the University at Albany, said in an interview. More legislative accomplishments followed the 2018 Democratic takeover of the state Senate, which Cuomo was only too eager to tout.
Yet, Cuomo has had a way of making his hands-on approach work against him. His ability to buck conventional thinking saved New Yorkers months of subway delays while repairs continued on a key tunnel connecting Brooklyn and Manhattan, but his infamous micromanagement of the Metropolitan Transportation Authority also led to wasted time and resources, which in turn hurt the broader cause of subway modernization. "Towards the end of my tenure, I felt that the job had become somewhat intolerable," Andy Byford, the former head of New York City Transit who resigned in early 2020, later said. Cuomo could move legislation with a phone call to key legislators, but his favorite tool of political power could also make a mockery out of the reforms he champions. One good example is a reported 2019 phone call he made to Assembly Speaker Carl Heastie that seemingly affected a potential investigation into former Cuomo aide Joe Percoco. That was not exactly what Cuomo was promising when he and legislative leaders celebrated ethics reforms years before. 
There are many other examples of when Cuomo has arguably been too clever for his own good, but COVID-19 shows just how far he can go by claiming it is all about making government work. 
The first confirmed cases began popping up in New York in the early Spring. Cuomo told City & State in an interview at the time that battling a deadly pandemic was a lot like making a fine wrist watch tick. He obviously would be the fine jewel inside guiding the hands along. "This is all about government performance," he said in the interview inside the office adjacent to the Red Room at the state Capitol where he would stage dozens of press briefings in the subsequent months. While President Donald Trump was downplaying the damage wrought by the pandemic and suggesting that Americans consider injecting themselves with bleach, Cuomo presented himself as a serious-minded leader with a realistic approach to saving as many lives as possible. Much has been written since then about how Cuomo too failed New Yorkers by waiting too long to act against COVID-19 despite many warnings, but no one can dispute that millions of people had faith in what he was doing.
Republicans were giving Cuomo high marks in the spring of 2020 and his approval ratings had never been better. So-called Cuomosexuals were fantasizing about a dark horse run for the presidency. He got an Emmy for public services rendered at his much-celebrated COVID-19 briefings. A book about his experience during the pandemic became a bestseller. Things had never been better, but outstanding criticism about matters like a multimillion dollar book advance and his handling of the coronavirus in nursing homes hinted that everything was not quite right. "Pretty good ending for a New York Tough kind of year," City & State wrote last December while proclaiming him as a winner of the year. "We'll see where these new allegations of a toxic workplace and sexual harassment (which the governor's office denies) take things in 2021." The next eight months would show. 
The beginning of the end for Cuomo began on Feb. 10 with a fateful meeting between state lawmakers and Secretary to the Governor Melissa DeRosa where she confided that his administration had not released data on nursing home deaths because Trump might use it to his political advantage. Two weeks later, former gubernatorial staffer Lindsey Boylan detailed allegations of sexual harassment first aired the previous December. His political troubles only worsened through March as multiple investigations opened into alleged misbehavior that included sexually harassing gubernatorial staffers, safety concerns at the Mario M. Cuomo Bridge, the alleged use of state resources to write his book and the cover-up of data showing the true spread of the coronavirus in nursing homes across the state. He would fight back by assailing investigators and by claiming he was the victim of politically motivated attacks. So much for instilling public faith in government. His political survival was on the line, and longtime political allies and critics alike believed that Cuomo would have to be impeached and removed from office by state lawmakers. 
The release of James' much-anticipated report at the beginning of August, however, suggested that Cuomo's days in power were ending. His remaining political support eroded as longtime allies called for his resignation. Cuomo appealed to New Yorkers and state lawmakers alike to believe him rather than investigators, but it was becoming increasingly difficult to argue that he was a source of stability rather than dysfunction. His political problems had become the number one issue in state government rather than the resurgence of the coronavirus or outstanding problems with his administration's rollout of relief programs for struggling tenants and undocumented immigrants. 
It falls to Lt. Gov. Kathy Hochul to start trying to fix all that now that Cuomo has announced he will vacate the Second Floor of the Capitol within 14 days. 
Cuomo became governor like his father, but he leaves office having not accomplished what he has claimed was the ultimate goal. Transforming New York into an exemplar of good government would have been a big challenge for any governor, but it is hard to argue  that Cuomo accomplished anything enduring on this front. Yet, Cuomo did pay homage to this much-stated goal as he announced his resignation Tuesday. "I love NY and I love you, and everything I have ever done has been motivated by that love," he said. "The best way I can help now is if I step aside and let government get back to governing."