Winners & Losers
Winners & Losers: NY primaries edition
Candidates aside, here's who's phones are ringing off the hook – and who's reassessing.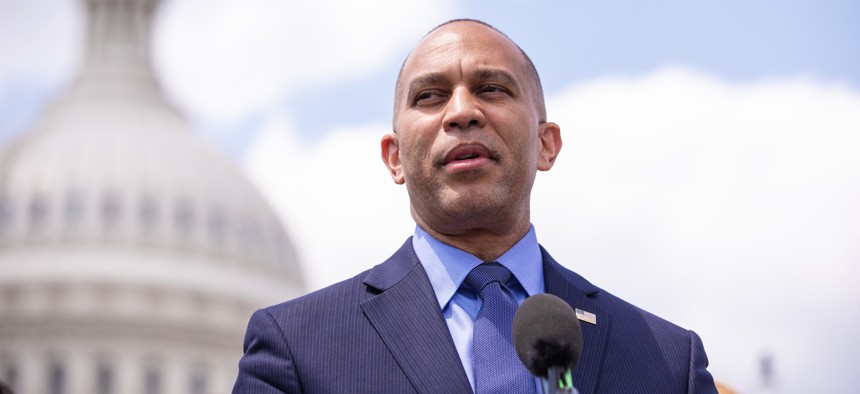 The top level Winners & Losers from last night are obvious. Look at the candidates who won and lost. But things get more interesting when you look at the behind-the-scenes players and power brokers, so:
WINNERS
Keith Wright: Rumors of his lack of juice were greatly exaggerated. The Manhattan Democratic Party leader was Yusef Salaam's top supporter, and got a huge win over oft-rival Inez Dickens in the heart of Harlem. 
Rep. Hakeem Jeffries: His longtime political annoyance, Council Member Charles Barron, is going to lose, with lots of credit to the minority leader's political consigliere, André Richardson. 
The 14 other Spanos: Yonkers Mayor Mike Spano has more than a dozen relatives on payroll – and since he overturned term limits twice on his way to a primary victory, they'll keep their jobs.
YIMBYs: Council Members Marjorie Velázquez and Julie Won's (eventual) support for upzonings didn't hurt them, Open New York fav Yusef Salaam will be replacing NIMBY Kristin Richardson Jordan, and all that on the day that the courts ruled against the Elizabeth Street Garden's attempt to stop an affordable housing project on the site. 
LOSERS
Eric Adams: The mayor only got publicly involved in one council race this primary cycle, backing Inez Dickens, and she got routed. His campaign is touting decent support today in the Siena poll, but his endorsement record suggests candidates shouldn't bother. 
Justin Brannan: His former staffer Wai Yee Chan lost definitively, even though he corralled support for her from his Bay Ridge Dems political operation. Meanwhile, newly Republican Council Member Ari Kagan won his primary easily, setting up a marquee November matchup between incumbents. And for Brannan, those losses outweigh a good showing for his judicial delegate slate. 
Rodneyse Bichotte Hermelyn: The Brooklyn Dems threw support behind Turquoise Haskin for civil court judge, and she got slammed boroughwide by Linda Wilson. "When you're the county chair, you're expected to win judicial races," quipped one insider. 
Black radical socialists: No more Barron. No more Richardson Jordan. And while Salaam has called himself an abolitionist before? He specifically said he wasn't a "defund the police" guy on the campaign trail.
Powered By
NEXT STORY: Commentary: Remembering Dick Ravitch, New York's civic treasure