Criminal Justice
The balancing act looming over incoming NYPD head Keechant Sewell
Sewell could have to answer to two New York City Police Department veterans: Mayor-elect Eric Adams and his rumored pick for deputy mayor of public safety, Philip Banks III.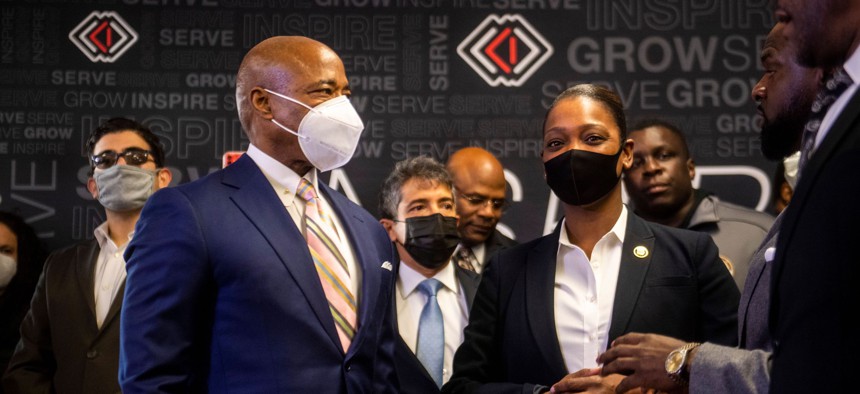 When incoming New York City Police Department Commissioner Keechant Sewell spoke publicly for the first time after Mayor-elect Eric Adams announced she would become the first woman to lead the NYPD, the Nassau County Detectives Chief confidently declared, "My name is Keechant Sewell. I am the police commissioner of the New York City Police Department."
"I stand here today because a man boldly and unapologetically made a decision … that gave women in policing across this country an opportunity. Not a favor, but a chance … to work with the finest, most storied police department in the world," Sewell said during a Wednesday press conference at the Queensbridge Houses, where she grew up.
While the law enforcement community has been largely complementary of Sewell and her impressive rise through the ranks in Nassau County, some said it was no secret that Adams, a former NYPD captain, will "be his own police commissioner."
"She's kind of a cutout for Adams. I think Adams will be his own police commissioner. That's a very real proposition. You know, she just doesn't have the national credit to go up against him or the local credit," Jeffrey Fagan, a Columbia Law School professor who specializes in policing and law enforcement reform, told City & State.
In fact, Adams' expected top-down approach with the NYPD reportedly drove another top candidate, Seattle Police Chief Carmen Best, away from the job. The New York Post reported on Wednesday, citing sources, that Best was concerned by Adams' plans to reinstate the position of deputy mayor of public safety, fearing the appointee would circumvent the commissioner's authority. The position is widely expected to be filled by former department chief Philip Banks III, who has been acting as an adviser to Adams on policing issues. 
Despite Adams' likely involvement behind the scenes, Sewell will be the public face of the department tasked with balancing the tricky politics of reversing some of the progressive policies implemented throughout the past quarter-century, and some experts foresee a battle brewing with liberal lawmakers. 
"Her biggest challenge has nothing to do with police work, per se. It has to do with politics. She made a statement today that's in direct conflict with the City Council. She said she believes in enforcing quality-of-life crimes," Joseph Giacalone, an adjunct professor at John Jay College of Criminal Justice and retired NYPD sergeant, told City & State. "That's where she runs into trouble, her and Adams. So it's going to be an interesting tug of war."
Policing "quality-of-life crimes" also known as "broken windows policing" is a controversial practice that urges cops to crack down on minor offenses under the assumption that the people committing them could engage in more serious crimes.
Sewell said in recent days that "quality of life crimes have to be enforced when appropriate."
However, her biggest task, according to experts, will be mitigating the skyrocketing gun violence in New York City that has driven shootings during the past two years up to levels not seen since the mid-2000s.
"I think the biggest challenge that she faces is that the level of gunplay in Nassau County is nowhere near what the rate of gunplay is in New York City," Fagan said. "The gun markets, the availability of guns, is quite different in the city than it is in Nassau or Suffolk or any other suburb."
Sewell has vowed to be "laser-focused" on cracking down on gun crimes.
At the same time, she will be tasked with rebuilding morale among cops who feel demonized by progressives and railroaded by policies such as bail reform laws, which they claim have resulted in an uncontrollable catch-and-release system that has driven up crime such as burglaries and assaults.
Fagan noted that as Sewell embeds herself in the 36,000-member uniformed force, she must also find a way to meet the demands of the public who have been seeking more transparency and accountability related to officer discipline. 
"If she's going to try to become the strict parent to the rank-and-file, she may get some blowback," Fagan said. "And that's going to cause some tension."
Giacalone said that while "the infusion of fresh blood is good for the department … I would have preferred an insider. I'm sure if the cops on the job today were allowed to talk about it, they would say the same thing."
Sewell is no stranger to the issues that have plagued community-police relations in New York and cities across the country. Nassau County's police department, though much smaller, has had its own problems with race issues and police brutality and a weak record on its dealings with bad cops.
Sewell's jump from a department of just 2,400 officers to the nation's largest was of little concern to experts who said that her leadership qualities meet the demands of any job. 
"In Nassau her ability to be the leader that she is capable of was not in her control. I think that working with Mayor-elect Adams will serve the people in the greatest city in the world very well," Long Island civil rights attorney Frederick Brewington told City & State. 
The sentiment was echoed by New York State Association of Chiefs of Police Executive Director Patrick Phelan. 
"She's had an excellent career in Nassau County, and I think she's got a proven record of leadership. I think she's an excellent choice for the position," Phelan told City & State.
Giacalone pointed out that Long Island and the NYPD have been trading cops for decades. A large number of NYPD cops live on Long Island. As Sewell joins the NYPD, another top cop will depart for Suffolk County. NYPD Chief of Department Rodney Harrison was tapped to be Suffolk County's next police commissioner this week.
"I think she'll benefit from the fact that Adams was an NYPD captain. And I believe they're appointing Banks," Giacalone said. "So she's going to have plenty of influence from insiders."
Sewell faced questioning on Wednesday about her experience-level that could suggest she isn't ready to take on a job of this magnitude. The rhetoric was familiar territory for John Jay College Professor Emerita Dorothy Schulz, the first female captain of the Metro North Police, the predecessor of the MTA Police.
"Now people can recognize that women in high positions are real," Schulz, who retired in 1988, told City & State, while adding that focusing too much on Sewell's gender is counterproductive in normalizing women as leaders.
"I used to get called every time a woman was named a chief somewhere to comment on their competency, not on their sex," Schulz said. "And I think that's important, because … I don't think we want to go back to like, 'oh, look, it's a woman,' because that's not really helpful in the long run."
With reporting by Rebecca C. Lewis.